Heavy rains, coastal flooding, roadway flooding and strong winds will be a threat again Thursday night into Friday as another dynamic system moves up the East Coast.
High pressure will be losing its influence of the area quickly Thursday morning. While you can expect to see some sunshine, clouds will be thickening. Morning lows start around 30 on the mainland and 40 at the shore.
If you need time for outdoor plans, the morning will be the time to do so. A strong low pressure system will be ejecting out of the Deep South. With it will be a northward rising warm front, which starts showers between noon and 3 p.m.
This will be the first phase of our storm. The rain will be steady for the afternoon. Winds will be on the rise out of the south-southeast as well. Bring the umbrella if you're heading out. High temperatures will be mild in the low 50s.
Temperatures will stay there overnight and even rise as the warm front passes through. Once it lifts north, the rain activity will decrease to just hit or miss, with this likely occurring from 7 p.m. to midnight.
Then the winds and rain will become more fierce. Southeast winds at 15 to 20 mph will blow, accompanied by heavy rain. We will squarely be funneling in warm air and we will watch for a line of thunderstorms — yes, thunderstorms — to develop from the unstable air.
The rain will continue straight into the morning commute Friday, which will be slick. However, the winds will lighten up as low pressure nears. During this time, coastal flooding will become a threat from the onshore winds and full moon. Expect minor flood stage for most, though it will be locally moderate in spots.
High tides will peak between 6 to 8 a.m. Move your cars if you need to and be prepared for a few road closures (Route 40, Route 30, Shore Road, Dorset Avenue Bridge, etc.) as well.
High temperatures will likely peak just shy of 60 degrees in the morning. Then, a cold front will sweep through, bringing a decline of temperatures for the day. Rain coverage will decrease into the afternoon as drier air moves in. Still, I do not foresee large chunks of dry time. This will continue into Friday evening. The last drops should exit sometime late Friday.
1 to 2 feet of water will carry away cars and SUVs. However, the impact from rushing water s…
Rainfall totals of 1.25 to 2 inches (locally 3 inches in any thunderstorms) will be likely. Pockets of roadway flooding, even more than the usual, will be likely.
A flood watch will be in effect from 7 p.m. Thursday to 7 p.m. Friday a a result.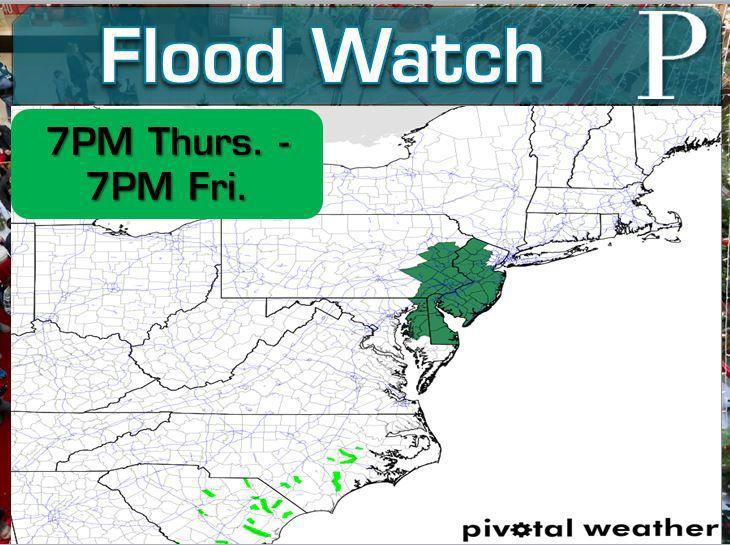 Meanwhile, spotty river flooding on the Maurice, Great Egg Harbor or Mullica Rivers will be a threat. After this storm passes, we likely will have the 1.22 inches of rain needed to get to the top spot for wettest year on record at Atlantic City International airport.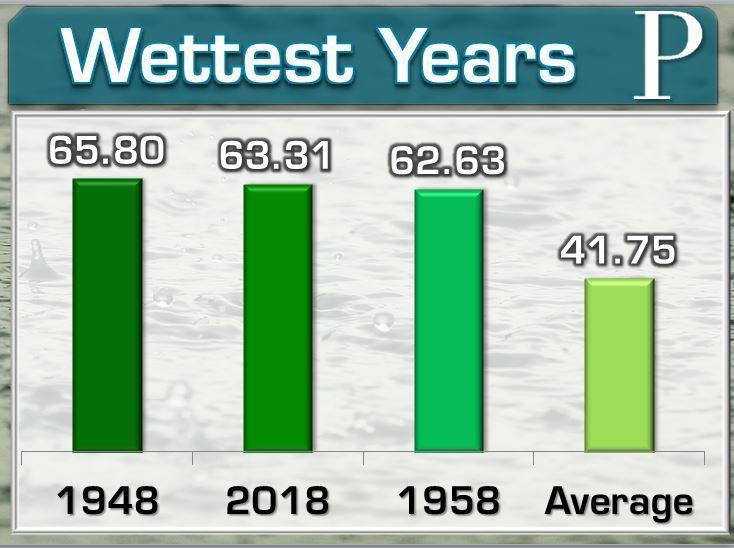 For the last weekend before Christmas, you can expect dry weather. Saturday will see strong northwest winds blow, but highs will be around 50 degrees under a mix of sun and clouds. Sunday will see full sunshine, with highs just a degree or two cooler.
Monday will try as hard as it can to give us a White Christmas. A weak system will pass, which will squeeze in a rain or snow shower into the region. Though, accumulations will be unlikely.
UPPER DEERFIELD TOWNSHIP — Lynn Maun heads outside her home each and every morning to a gree…