11:40 a.m.: Route 40 in West Atlantic City has been closed due to flooding, according to the Atlantic City Police Department.
Motorists will be directed on to the Atlantic City Expressway that are leaving the city and are advised to take an alternate route.
10:40 a.m.: That was quick. With wind gusts not expected to be above 50 mph for the rest of the day, the wind advisory was removed. Gusts to 40 mph will still be possible into midday. 
10:30 a.m.: The flood warning that was in effect for Ocean, Atlantic, Cape May and eastern Cumberland counties has expired. Western Cumberland county is still in the warning, however.
Additionally, the high wind warning in Cape May County was downgraded to a wind advisory. The wind advisory still continues until 11 a.m. for all of South Jersey. 
7 a.m.: Galloway Police sent an advisory Friday morning, warning of "serious flooding issues" at the municipal complex parking lot.
"If you need to visit the Police Department please utilize 6th Avenue to Tess Conover Drive and park at the Atlantic County Library. We are hoping the waters will recede later today," the advisory says.
6:30 a.m. Friday: The rain from Michael is just about out of South Jersey. Only Long Beach Island is still experiencing rain, which will end quickly. 
The rainfall across the region was heavy. Radar estimated rainfall shows a large swath of 1.5 to 3 inch amounts, with locally higher amounts. Be careful committing Friday morning, as flooded roadways will continue to be an issue until the water levels recede.
A flood warning is in effect for Ocean, Atlantic, Cape May and the eastern half of Cumberland County until 9:30 a.m. Western Cumberland county is under a flood warning until just 7:45 a.m., as a result of the rain ending earlier there.
Winds have also been very strong throughout the morning, as anticipated. Atlantic City International Airport reported a gust of 54 mph at 5:13 a.m. Friday morning!
Sustained winds of 20 to 30 mph have been common in Cape May county and will continue into the morning. A high wind warning is in effect until 11 a.m. for Cape May and coastal Atlantic Counties. The rest of the region is in a wind advisory. Expected gusts up to 50 mph in the warning area, where downed trees and power lines are possible.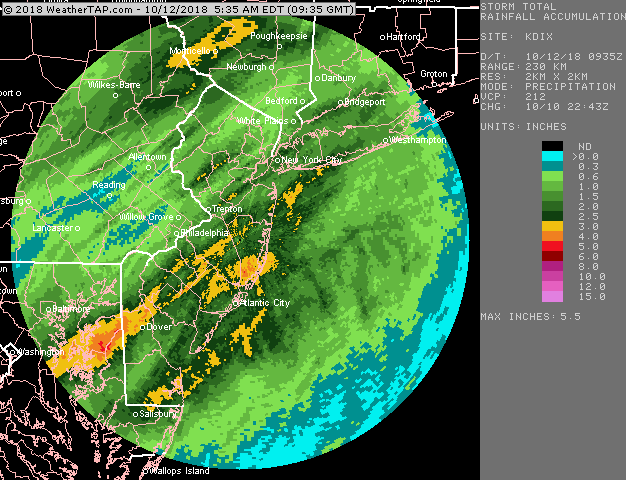 The Wildwood Police Department sent an advisory overnight that the George Redding bridge is closed due to flooding.
The Ship Bottom Police Department posted Friday morning that the usual areas of Long Beach Blvd, Route 72 E & W, Central Avenue, Barnegat Avenue, and Shore Avenue are not passable.
Atlantic City Electric's outage map has reported several outages throughout the region as of 7 a.m., with about 1,200 affected customers.
3:00 p.m.: The forecast is mainly on track. However, conditions in Cape May county do look to be worse.
Tropical Storm Michael, a 50 mph storm at the time of writing, will pass off the Delmarva Peninsula. This will bring heavier rain bands and stronger winds into Cape May county. 
A thunderstorm on Thursday morning brought generally between a quarter to half inch of rain for the Parkway corridor on east. As of 3 p.m. rainfall totals range from a tenth of an inch in Cumberland County to three quarters of an inches in Mullica Township and Eagleswood. 
Scattered showers and thunderstorms will continue to pass throughout Thursday. This is not directly from Michael but rather from tropical air in the southwestern Atlantic. 
The Storm Prediction Center upgraded Cape May County into a "slight" risk for severe weather Thursday, a level 2 of 5 threat. 
I believe that severe weather is possible, but still less than likely. The amount of sunlight is running out, which will cut off the storm's fuel. Still, they do list us for a risk of damaging winds and a 2 percent likelihood of a tornado.
Rain from Michael still looks to arrive between 7 p.m. to 10 p.m. from Cumberland County on up to LBI. A wind swept rain continues overnight. With the storm being a little closer, I pushed the end time back an hour to 4 a.m. to 7 a.m.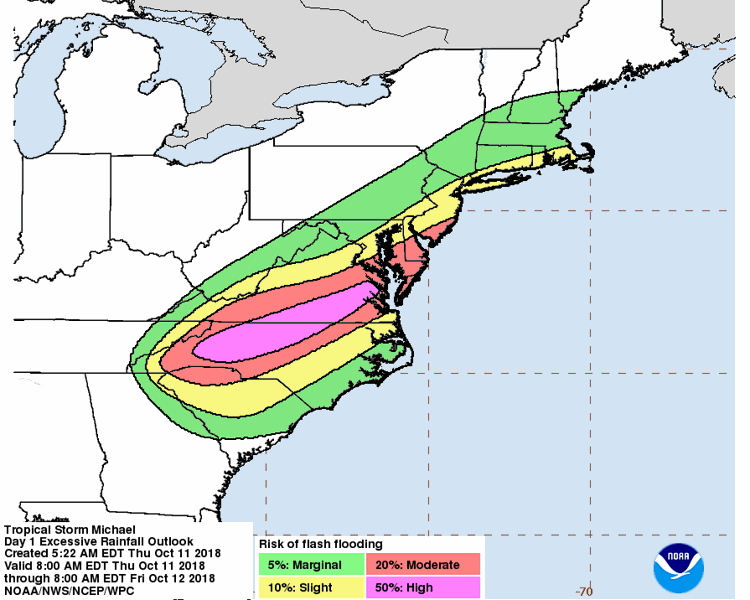 The National Hurricane Center has put the region in a moderate risk for excessive rainfall. Up to 4 inches of rain will be likely toward Cape May County. Meanwhile, the I-95 corridor may only see an inch (this is a gradient similar to what we deal with for blizzard, just this time it's with rain).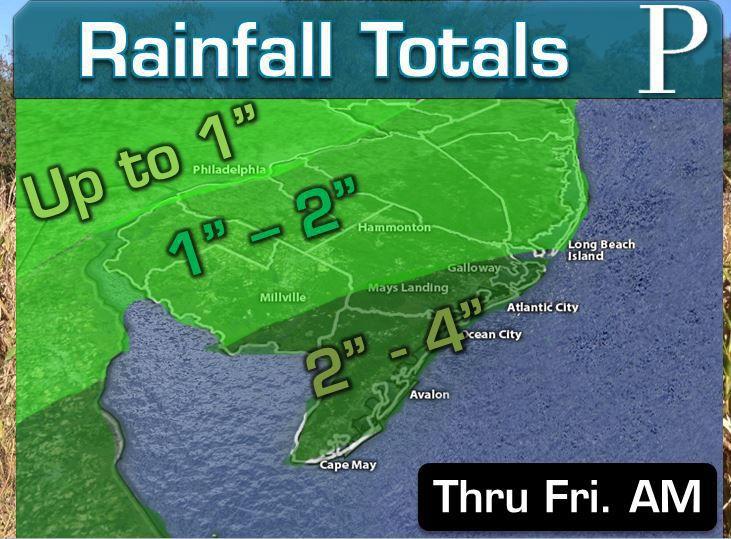 My wind gust outlook still looks to be OK. I bumped up the highest gusts to 55 mph for the region that includes most of Cape May County, Somers Point and Absecon Island. Here, small tree limbs and power lines can still go down. In the event of damaged power lines, Atlantic City Electric is prepared.
"Additional rainfall and wind gusts beginning Thursday evening could down trees and power lines, and cause customer service interruptions. We are committed to providing our customers with safe and reliable energy, so we are closely following the weather conditions, and our employees and local contractors remain ready to respond," Frank Tedesco, Senior Communications Specialist for the company, said.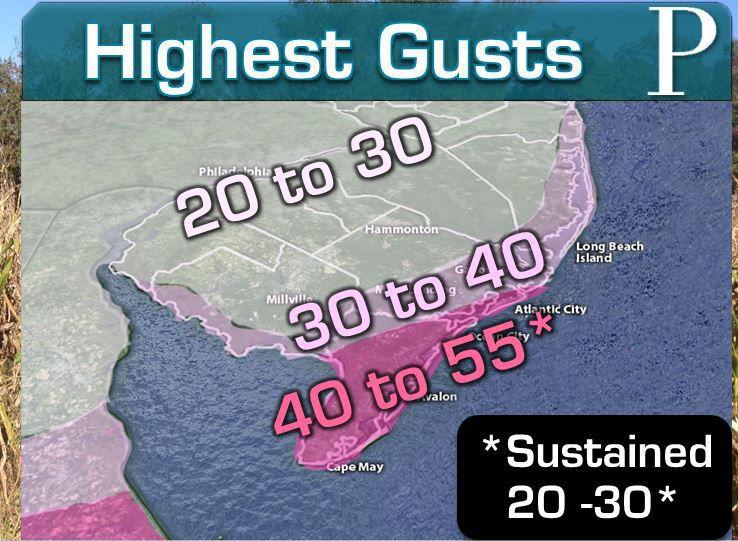 After the storm gets out, you'll see the seasons change before your eye. In a matter of 2 hours, you will go from balmy and humid to crisp and sunny.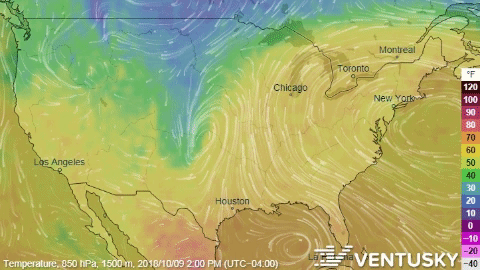 Hurricane Michael made landfall as a Category 4 hurricane on the Florida Panhandle Wednesday.
Michael made landfall near Mexico Beach, Florida, earlier Wednesday afternoon with 155 mph (…
Now, the combination of that and a sweeping cold front will bring gusty winds, a round of coastal flooding and heavy rain. Enough rain to prompt the National Weather Service to put all of South Jersey in a flash flood watch.
A line of showers and thunderstorms are just entering Cape May county as of 6 a.m. This will be the beginning of our hit or miss activity throughout the day. The watch will be in effect from 2 p.m. Thursday until 5 a.m. Friday. The threat can be broken down into two parts. The first will be due to thunderstorms that will develop during the afternoon. With an extremely soupy atmosphere in place, rainfall rates of 2 inches per hour are likely in any storm that may occur. 
Watch as Meteorologist Joe Martucci discusses how Tropical Storm Michael and a pattern busti…
The second will be from the wind-swept rain that the remnants of the hurricane and a cold front bring. This will start after the evening rush on Thursday and continue throughout the night. Rain will then end by the end of the morning rush Friday, from west to east.
Rainfall totals of 1 to 2 inches will be likely for Cumberland, western Atlantic and southern Ocean counties. Meanwhile, eastern Atlantic and Cape May Counties will see upwards of 3 inches. Thunderstorms will increase the rainfall totals locally in anywhere that receives them. 
About a month after returning from the Carolinas for Hurricane Florence relief, New Jersey T…
Roads, streams and creeks all have the potential to flood. The threat will be greatest in urban areas as well as the barrier islands, which are built up. Aided by the wettest September on record in the Atlantic City area, the sandy Pine Barrens are even soggier than usual. 
If you see flooded water, turn around don't drown. This will be especially important under the cover of darkness, when the hurricane will bring its heaviest rain. If you live near a small stream or creek, be prepared for rapid rises in water.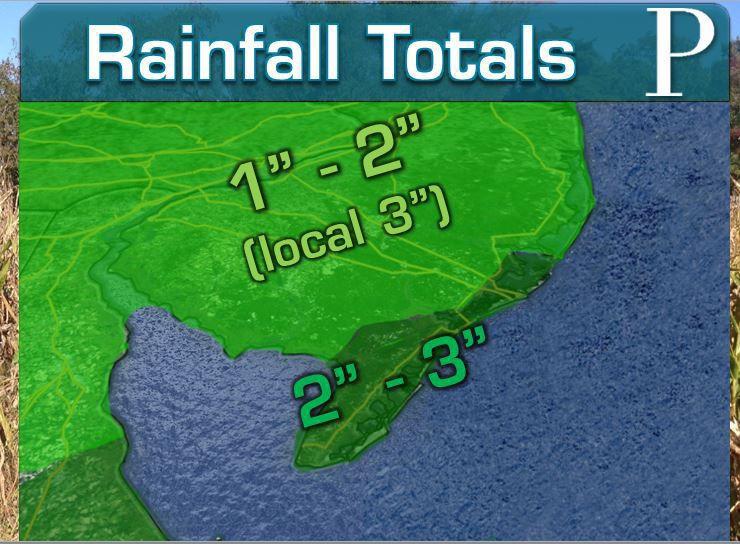 In addition, gusty winds will be likely as the storm makes it's closest approach. I believe gusts in the 40s with sustained winds of 20-30 mph will be common in Cape May County. In facts, winds are strong enough for the National Weather Service to issue a Wind Advisory for Cape May and coastal Atlantic County from 2 a.m. Friday to 8 a.m. Friday
Winds this strong can blow down tree limbs, power lines or even high profile vehicles on the bridges. Scattered power outages will be expected.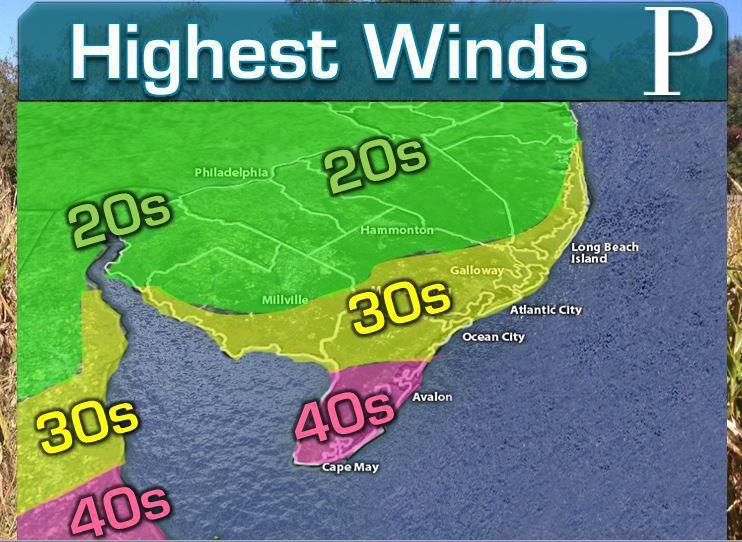 In addition, minor stage coastal flooding will be expected during the Friday morning high tide. Move your cars if you have to, with the first block or two of bayside roadways having water on them.