Damaging winds will be possible and a tornado will not even be ruled out for part of the area as temperatures soar. A severe thunderstorm watch has been issued by the Storm Prediction Center.
The watch, in effect through 8 p.m., is in place for all counties north, but not including, Cumberland and Cape May countiees in South Jersey. A watch means that the ingredients for severe thunderstorms will be present, but is not an immediate threat.
Thunderstorms will be possible after 3 p.m., as a line of storms moved out of Pennsylvania. Downed tree limbs, power outages and other wind damage will be possible in any storm. 
While a low risk, there will be the potential for a weak tornado as well, as there is enough spin in the atmosphere to create a tornado. On average, two tornadoes strike the state each year.
Ocean and Burlington counties will have the highest potential to see severe weather, being closed to the low pressure system in Canada and having the best severe thunderstorm parameters. Those elsewhere have a smaller risk and Cape May County could very well stay dry. The Storm Prediction Center makes this distinction in their severe thunderstorm risk for the day.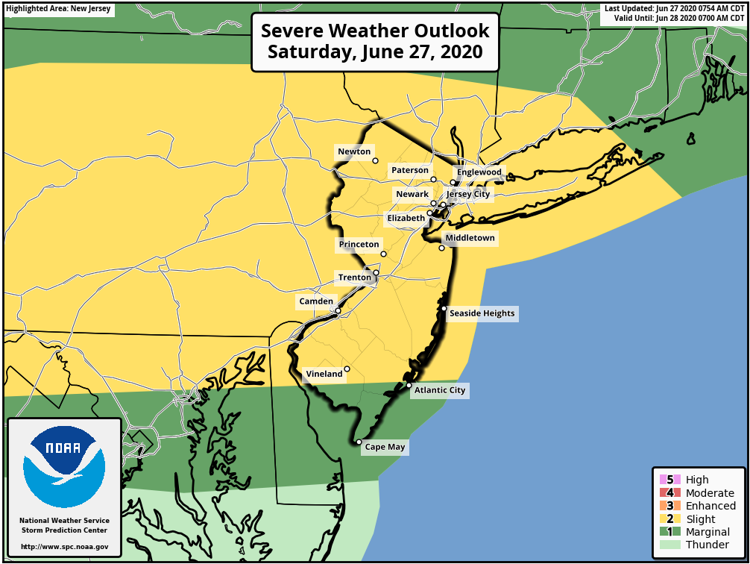 Like hurricanes and tornadoes, severe thunderstorms have five categories to distinguish them…
Temperatures will rise around 90 degrees on the mainland, with mid-80s at the shore. Overnight, expect a very spotty, non severe, shower in South Jersey. It will be balmy, with lows only in the low 70s.