Dad will be able to get plenty of grill or backyard time in for Father's Day. Good timing, too, as the rest of the week will be littered with shower and storm risks.
We'll start out with a mix of sun and clouds with temperatures warm enough to not have any extra layers on. High pressure located off the southeast coast will bring in the southwest flow into the area. It won't be sticky, but it won't be as dry as Friday or Saturday either.
Temperatures will rise up into the mid-80s into the afternoon under a partly to mostly cloudy sky. Shore trips, fishing or hanging out with Dad outside are all looking good. Yes, there will be showers and storms to the northwest, but I still believe high pressure will be strong enough to keep most of the day dry.
From 6 p.m. to 10 p.m. the risk for a line of storms will be present. That will continue into the evening. Storms will have the potential to be slow-moving and bring heavy rainfall, a recipe for roadway flooding. The Storm Prediction Center in Norman, Oklahoma has placed South Jersey, west of the Parkway, in a slight, level 2 of 5 risk, of severe weather. Those to the east are in a marginal, level 1 of 5 risk. While the late timing of the storms, gives me hope that we stay sub-severe, it will not be ruled out. Damaging winds will be the main threat, but a weak tornado or hail will be a low risk as well.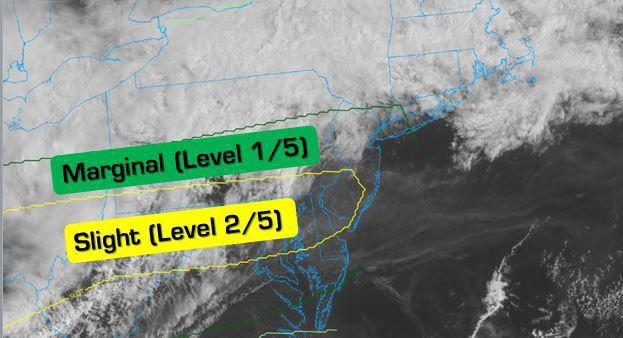 Storms will continue into the night, ending during the pre-dawn hours Monday. I do not come with many changes to the forecast for the week ahead. An unsettled pattern will be with us as a stationary front sits right overhead. That will give up the starter fluid needed to spark up showers and storms, whenever there is a trigger.
Monday and Tuesday will be about the same. We'll have dry mornings with a mix of sun and clouds. Temperatures will start shy of 70. Humidity will be enough to feel it throughout the day, but it will not be overly sticky.
Then, after about 2 p.m. or so, the daytime heat will fire up isolated to scattered storm activity.
Not everywhere will see one, and it will not be a washout. Still, like Sunday, the risk for roadway flooding will be present in these slow-moving areas of rain. The risk of severe weather, in the form of damaging winds, will be somewhat of a concern, too. Storms will then taper during the evening.
Wednesday still looks to be the wettest day of the week, as an area of low pressure rides along the front. The storm coverage will still be hit or miss, but they will be present all day long, instead of the afternoon and evening. If anything, this would be the day to avoid outdoor work or your home improvement plans, simply because it will be tough to pinpoint a dry chunk of time.
There will be a more potent system coming through the latter half of the week. This would be a solid rainmaker, with additional flooding concerns.
At this point, the timing is not known, but it will not be two straight days of a washout.
As the number of people outside goes up during June, so does the risk for lightning, and bei…
Finally, a happy Father's Day to all of the dads out there. Your ability to help with life's greatest challenges, or even something as small as teaching how to throw a football, is second to none.