Rounds of showers and storms will be present over the next three days, bringing much needed rain to parts of the area.
Temperatures, coming off another 90-degree day on the mainland Monday, will fall for this period, too.
Our cutoff low pressure, a low-pressure system removed from the general flow of the atmosphere, such as the jet stream, sits in New England. This will influence our weather through Thursday.
Tuesday morning will start out between 65 and 70 degrees, just around average for this time of year. Similar to Monday, it will not be all that muggy to start, as a west wind turns to the north.
So you will see a sunny beginning to the day, with some areas of patchy fog. Cloud cover increases as the afternoon goes on. Most of the day will be dry. After 2 p.m. or so, though, showers and storms will flare up.
Storm coverage should be fairly limited, looking more like calls for isolated storm coverage. Many of you will still need to water your plants or lawn. Otherwise, it'll be a pleasant day, with highs in the mid-80s in Vineland and inland areas, with low 80s in Ventnor and the shore.
This should end our heat wave, as we did actually get into the low 90s at Atlantic City International Airport on Monday, bringing our streak to four days.
Storms will taper off by about 10 p.m. or so Tuesday. However, clouds will be slow to move out. Morning lows come Wednesday will be 65 to 70 again.
Often during the spring and summer, you'll hear a Meteorologist say "isolated", "scattered" …
As Wednesday progresses, a piece of energy will pass through the area, enhancing rainfall coverage.
The morning still looks dry, however, you can expect scattered storms for the afternoon and early evening.
We are running below average in the rainfall department, so the higher coverage of storms could be a benefit. Storms can drop a quick half inch of rain as they pass. Highs will again be in the low to mid-80s, warmest well inland.
A very spotty shower will be around Wednesday night. So, if you wanted to leave the windows open for sleeping, keep that in mind. We'll fall into the 70s during the evening.
On Thursday morning, lows will be in the upper 60s inland to low 70s at the shore.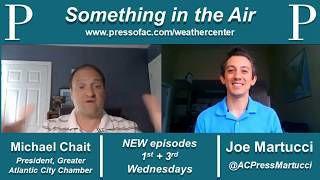 There's a slight update to the forecast Thursday, compared to the past couple of days. Storms no longer look likely at the shore, leaving it to just isolated afternoon mainland storms. So, if you want to hit the beach, you should be good. Unless your outdoor mainland plans are super sensitive to rain, you'll be OK. Highs will be a bit warmer than Wednesday.
The Fourth of July weekend looks to bring a dry and hot Friday, with typical summery weather Saturday and Sunday. Highs Friday will soar into the mid-90s inland, with a cooling sea breeze. Both Independence Day and Sunday will be back in the 80s everywhere, with just spotty afternoon storms.
Also, happy birthday to my mom on Tuesday!
Hurricane forecast increases again in July update
The July 7 Atlantic Hurricane season update from Colorado State University has another increase in the amount of tropical activity expected. 
Including the fived named storms that occurred at the time of the July 7 update, which put the 2020 Atlantic Hurricane season on a record breaking pace, CSU forecasts 20, named tropical storms or hurricanes to occur. That is an slight increase from the 19 last predicted in the June update. Out of the 20, 9 hurricanes and 4 major, category 3 or greater (at least 111 mph sustained winds) are forecasted, the same as the June update. 
"We have maintained our above-average seasonal hurricane forecast for the 2020 Atlantic season." the CSU report read, which is led by Philip J. Klotzbach, Michael M. Bell, and Jhordanna Jones. 
The 1981-2010 average of activity includes 12.1 tropical storms, 6.4 hurricanes and 2.7 major hurricanes, respectively. 
There still remains an above average risk of a major hurricane making landfall on the East Coast of the United States, including the Florida Peninsula. The 45% chance is virtually unchanged from earlier updates On average, there has been a 31% probability in the last century.
CSU attributes warmer than average waters in the subtropical Atlantic Ocean, slightly warmer than average waters in the tropical Atlantic as reasons for the active forecast. Furthermore, a possible transition from a neutral El Nino Southern Oscillation to a La Nina late this summer would promote an active season. In a La Nina, there's a lack of wind shear, or change of winds with height, which can rip storms apart.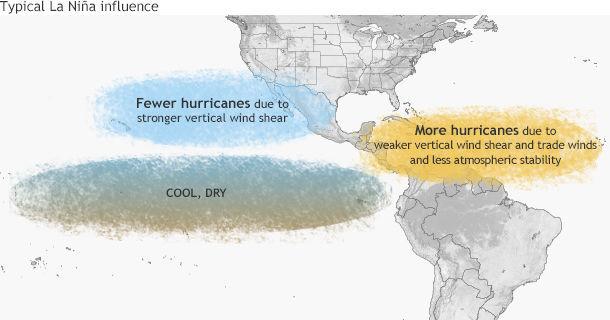 Tropical cyclone names rotate every six years. Exceptionally notable hurricane names, such as Sandy, become retired by the World Meteorological Organization. However, no names were retired in 2014, meaning 2020 will have the same list as then.
Arthur - Used
It's the sixth year in a row that a named tropical system has developed in the Atlantic Hurricane Basin before the June 1 official start.
Bertha - Used
Tropical Storm Bertha is the second tropical storm or greater storm to have formed in the Atlantic Hurricane basin before the official start June 1. This is only the sixth time since records have been kept in the 1700s that two tropical storm or greater storms have formed before the start. 
Even though the official start to the Atlantic Ocean hurricane season is June 1, May has not…
Cristobal - Used
Dolly - Used
Dolly was the third earliest fourth named (D storm) storm in Atlantic Hurricane history, which goes back to 1851. It also flared up further north than any tropical storm before July 1 in recorded history, according to Sam Lilo, postdoctoral researcher at the National Oceanic and Atmospheric Administration
#Dolly has formed in the North Atlantic - the 3rd earliest 4th Atlantic named storm formation on record (since 1851). Danielle is earliest on 6/20/2016. Debby is 2nd earliest on 6/23/2012 at 12 UTC. Dolly in 2020 formed on June 23 at 1615 UTC. #hurricane pic.twitter.com/1Ha6ZnxHqc

— Philip Klotzbach (@philklotzbach) June 23, 2020
Edouard - Used
The Atlantic Hurricane season continued its blistering pace. Edouard, which developed July 6, was the earliest fifth named (with the letter "E") storm in Atlantic Hurricane history, which goes back to 1851. This is according to Philip Klotzbach, Meteorologist at Colorado State University, who issues a highly reputable hurricane forecast each year and is used by The Press. 
The previous record was held in 2005 with Emily, which occurred on July 12. 2005 holds the record for the most active hurricane season on record in the Atlantic Hurricane basin, with 27 named storms.  
However, all of the storms to this point have all been tropical storms. Some, like Edouard, likely would not have even been noticed before the satellite era, as they were out to sea and may have been missed by shipping routes. 
Fay
Gonzalo
Hanna
Isaias
Josephine
Kyle
Laura
Marco
Nana
Omar
Paulette
Rene
Sally
Teddy
Vicky
Wilfred