The winter outlook in South Jersey appears to be one with more snow shoveling and more bundling up than escaping out the door jacket-free.
However, the lack of an El Nino or La Nina may mean we should take the forecast with a grain of (rock) salt.
Jim Sullivan, lead long range forecaster at WeatherWorks in Hackettstown, Warren County, points to the winter of 2013-14 as a "decent" comparison year, when Atlantic City International Airport experienced 43.8 inches of snow.
To make long-range winter predictions, forecasters compare conditions during the year's summer and fall to those in years past to find similar setups. That helps determine what it will be like during winter.
To make this winter's prediction, Sullivan used 17 comparable winters — five saw more than double the average snowfall at the airport, while three saw less than half. Between 1981 and 2010, the average snowfall at Atlantic City International Airport has been 16.5 inches. Cape May has averaged 14.9 inches in a year, while Seabrook Farms in Upper Deerfield Township averages 13.4 inches.
"There is probably an enhanced risk for a few nor'easters if we can get into that negative North Atlantic Oscillation," said Sullivan.
The North Atlantic Oscillation can influence storm tracks and the strength of winds. A negative NAO can lead to a cold and active pattern for a period of time.
Short rounds of wintry temperatures and perhaps a snow nor'easter or two will continue into November and December. South Jersey's snowiest period should be January and February, with a more springlike end to the season in March.
The El Nino Southern Oscillation measures whether whether temperatures off the equator between South America to the central Pacific are above average, which is considered El Nino, or below average, La Nina. This year, though, it's a neutral state, with normal temperature averages. According to Columbia University, there's about a 60% chance the neutral state stays during December, January and February.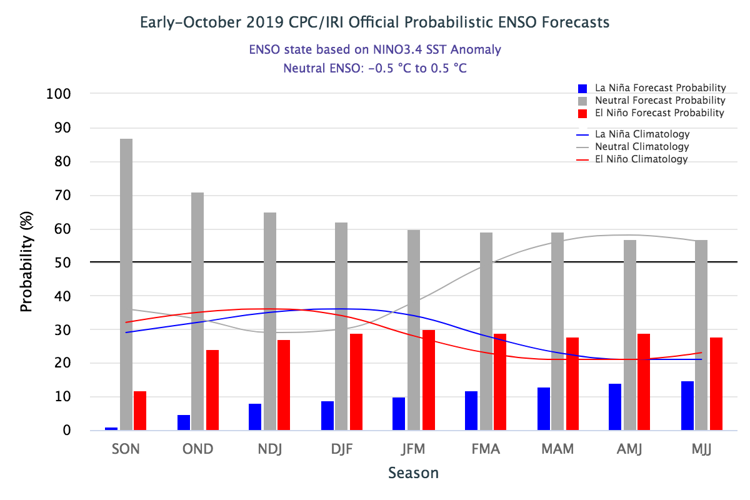 Using water temperatures from other parts of the globe, as well as snow cover already on the ground, South Jersey likely shapes up to see plenty of flakes on the ground, with shots of arctic chill as well.
Part of these well-below average early season temperatures will come from Alaska. Temperatures are 2 to 3 degrees Celsius warmer than usual in the Gulf of Alaska, just to the south. The jet stream, the river of air that separates cold air to the north and warm air to the south, responded.
Since the latter half of October, the jet stream has generally raced south from Alaska and into the Plains, keeping the warmer Gulf of Alaska waters to the south of it. From there, it has turned east and gently curved back north. When the jet stream is over or south of New Jersey, cold shots have been the case. When it is to the north, seasonable temperatures have been the case.
However, there's also another jet stream to contend with, the moisture laden sub-tropical jet.
"The water temperature pattern in the tropics and in the Pacific Ocean favors split flow. The subtropical jet goes into Baja California," Sullivan said.
That moisture-laden subtropical jet provides the precipitation needed for large winter storms. The arctic and subtropical jets can meet up in the Plains, developing a low pressure system.
The winter ahead is expected to feature plenty of storm systems. How they perform could range from quick escapes out to sea to turns up the East Coast that form nor'easters.
Sullivan also adds that warmer than average water temperatures off the Jersey Shore make it hard to snow during the November to December time period.
To get nor'easters, blocking is needed. Blocking comes from large scale weather patterns that are nearly stationary. Some of South Jersey's biggest storms have come when a blocking high pressure sits over Greenland, with a relatively lower pressure in Great Britain. That brings the jet stream, which is generally the storm track, near the Northeast.
Sullivan said a lack of blocking was evident in October, but since then "factors such as strong Siberian snow cover advance and the development of an Aleutian (Alaskan) low pressure this month are more consistent with a pattern that may support more blocking during the winter months."
It was Cohen who discovered the relationship between snow cover in Siberia during October to faraway places, like the Eastern United States, months later. The more October snow, the better likelihood of the polar vortex dropping down, bringing cold and snow.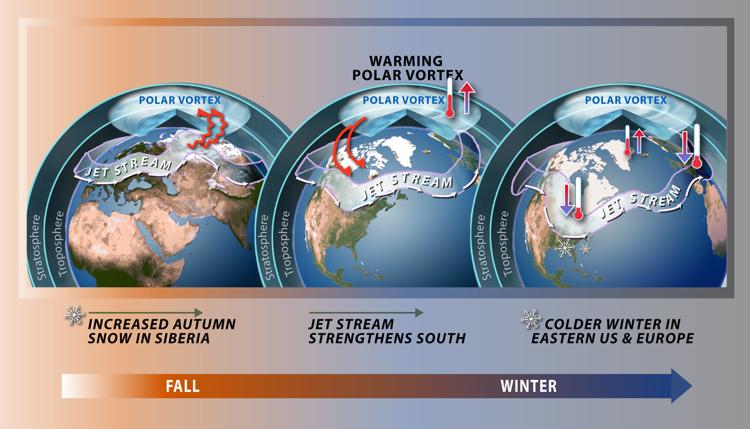 "Siberian snow cover was pretty high. Rutgers' Global Snow Lab ranked it fifth out of 52 years. It was comparable to 2013," said Judah Cohen, director of seasonal forecasting for atmospheric and environmental research. That following winter, Atlantic City airport saw 43.8 inches of snow."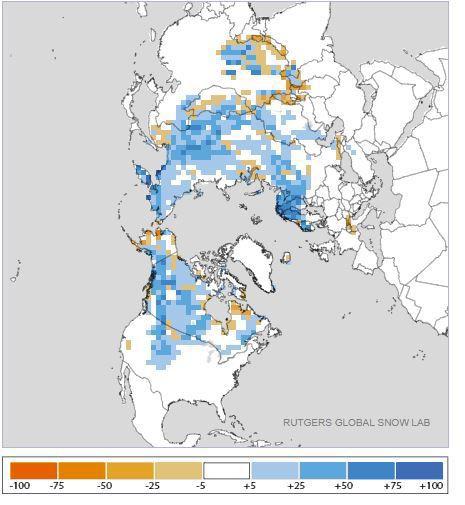 As a result, the relationship is strong, with above-normal snow in the East and New Jersey, Cohen said.
7) Nov. 22, 1989
Two days before, South Jersey Nov. 20 with afternoon temperatures in the 60s. However, as The Press archives show, strong winds swept through on Tuesday. Which, presumably, was an icy wind, enough for 1.5 inches of snow to fall Nov. 22.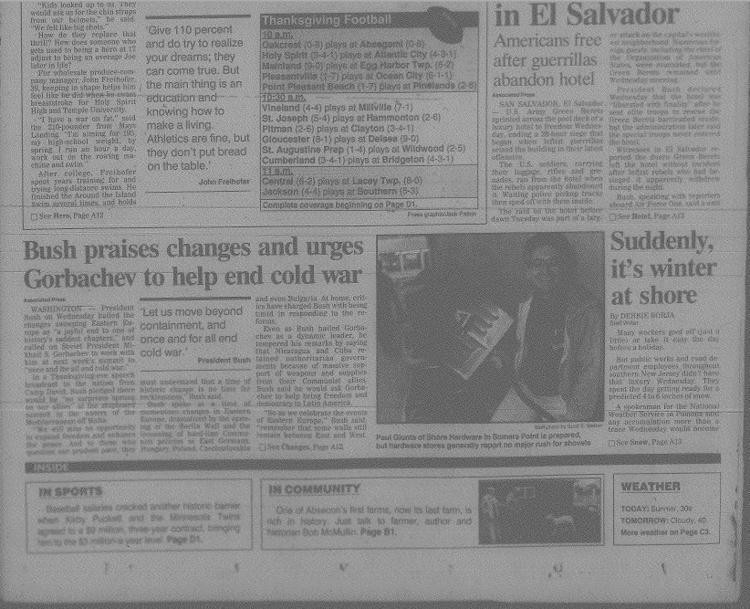 Talk about cold turkey, that snow pack and cold air lingered into Thanksgiving the following day. Both the high and low temperatures are record cold to this day, with a high of 31 and a frigid low of 10 degrees. 
6) Nov. 19, 1955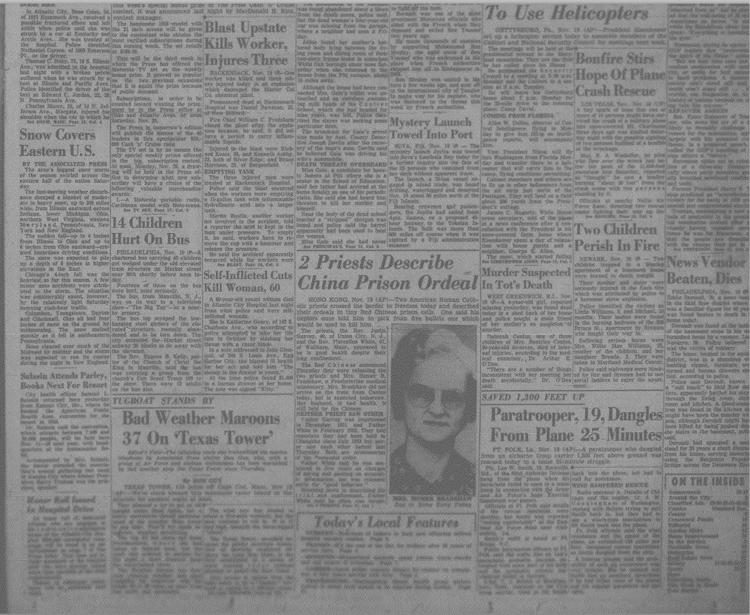 Eight people were injured, two seriously, as a mix of snow and rain fell across the region. 0.4 inches of snow fell on that cold Saturday. 
5) Nov. 16, 1936
It was only 0.1 inches, but it's enough to be measurable. 
4) Nov. 13, 1904
The earliest, by year, on the list, the 0.2 inch amount came with temperatures not even falling to freezing. 
3) Nov. 7, 2012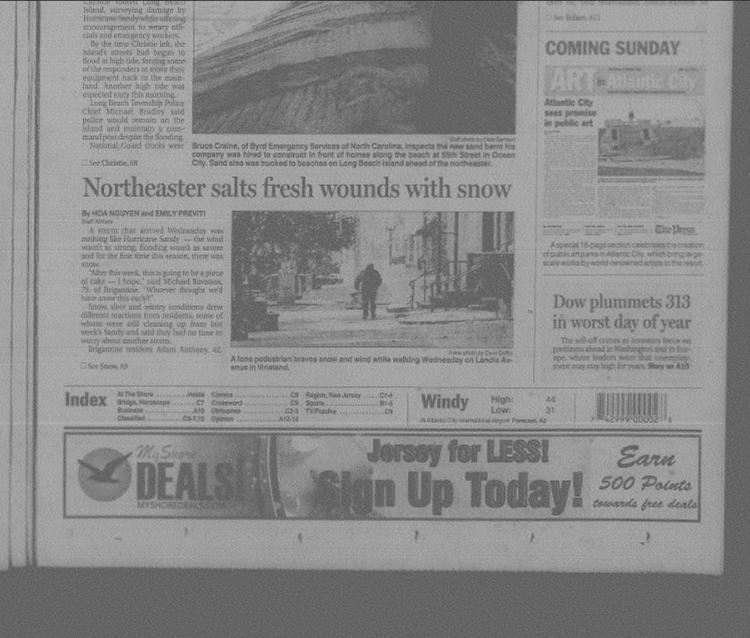 This will forever be known as the post-Superstorm Sandy snow storm. Not even two weeks removed from the destruction and devastation of the storm, 2.5 inches of snow fell on that date as rain turned to snow. 
The heavy, wet snow, accumulated on debris yet to be carried away, the National Weather Service in Mount Holly noted. 18,000 Atlantic City Electric customers were without power.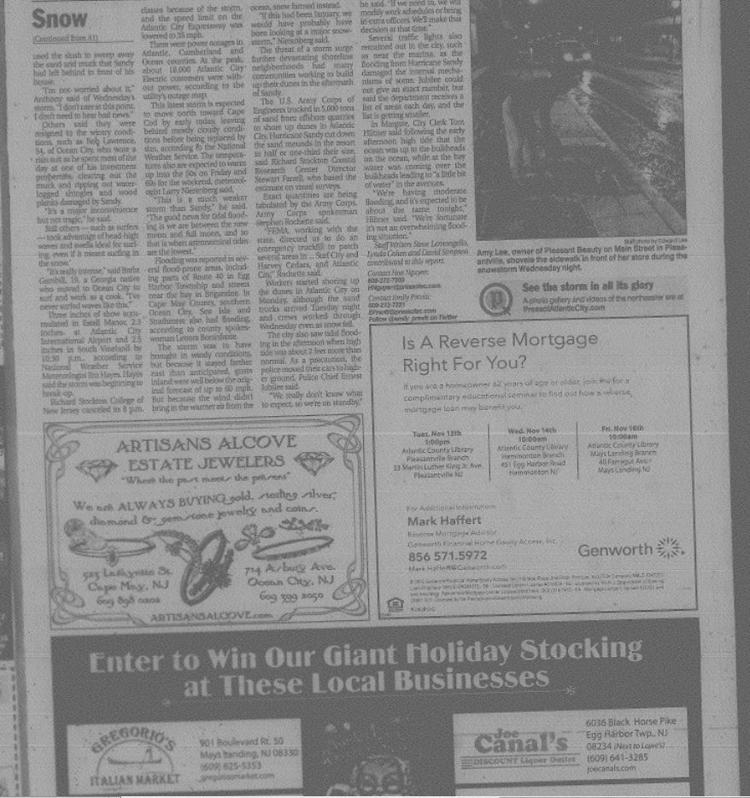 2) Nov. 6, 1953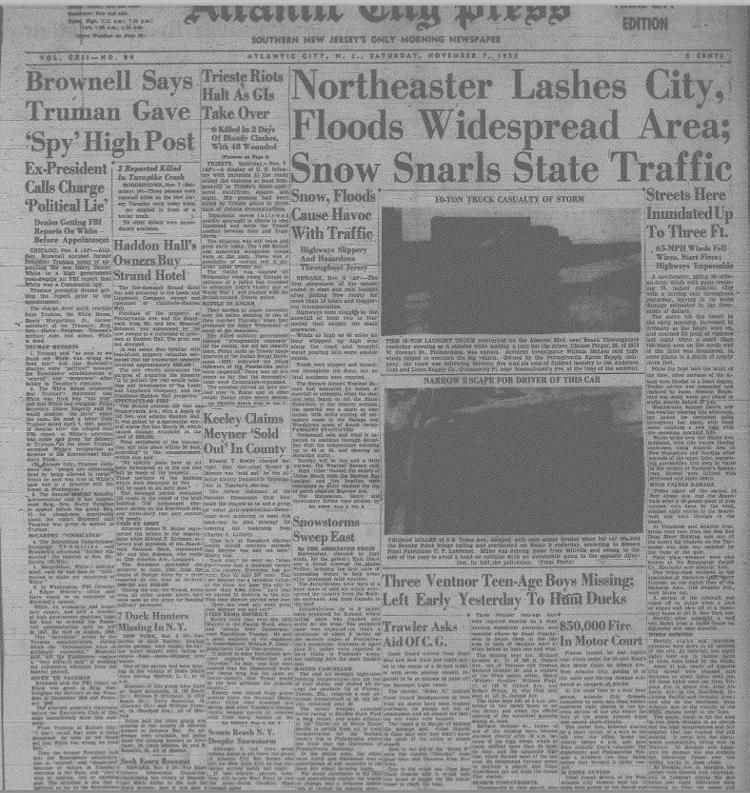 3.2 inches of snow, third for most one day snowfall on record, fell in the early part of the month at A.C. Airport. The Press archives reported on 65 mph winds and significant coastal flooding. 
1) Nov. 5, 1973
This A.C. Airport 0.1 inch amount of snow takes home the gold for the earliest measurable snow on record. Again, the temperature didn't fall below freezing for this time, either. 
However, South Jersey's seen flurries in October before
Oct. 29, 2011
One year before Superstorm Sandy struck, another unusual weather event happened in South Jersey. Unmeasurable wet snow and sleet mixed in with rain at times on this Saturday afternoon at A.C. Airport. 
Oct. 10, 1979
According to retired National Weather Service Meteorologist Jim Eberwine, light rain and snow mixed around 2 and 3 p.m. at A.C. Marina then. 
Oct. 06, 1935
Flakes have flown in South Jersey before Columbus Day. A.C. Marina reported a trace of snow or sleet on this day.
While a low temperature of 39 degrees on this day leaves some skepticism as to there was actually any frozen precipitation, there has been sleet even as warm as the low 40s before. Average lows are still in the mid-50s.
Be sure to watch Joe's daily forecast videos online. This forecast is updated Monday through Friday when Joe is in the office. For articles an…