7 a.m. Update: The first paragraphs are updated to reflect the current situation. Snow is falling in much of South Jersey. The newest snow map is posted, also. 
The snow will wrap up early Tuesday morning, but one to two rounds of minor coastal flooding are expected throughout the day.
Snow fell for much of Monday night. However, given the light intensity and temperatures just around freezing, not much of the snow stuck. Early Tuesday morning, the storm strengthened, as anticipated. Heavier snow started to back build into the region, with bands of moderate heavy snow over Atlantic and Ocean counties. 
Along the Delaware Bay and southern Cape May county, the snow is pretty much over, as of 7 a.m. For the rest of the area, snow will continue during the Tuesday morning commute. Between 8 a.m. to 10 a.m., the snow will end, with a few flakes hanging on in Ocean County.
Accumulations range from coatings to 2 inches for our area. North of Route 37 in Toms River, 2 to 4 inches of snow are expected. Note that most will just be on grassy and colder surfaces.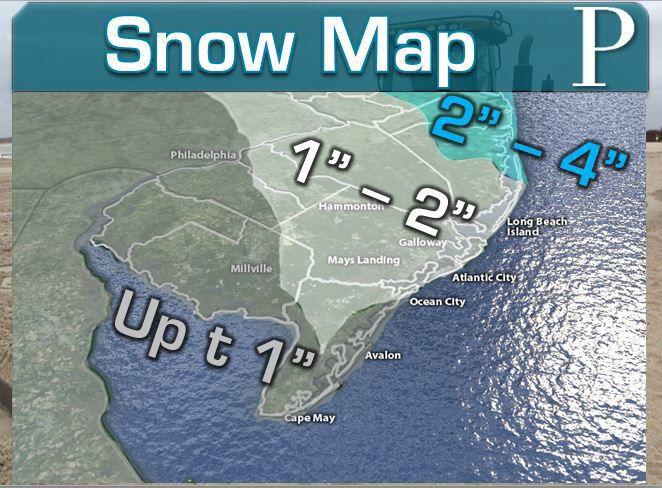 There will still be a few effects from the storm throughout the day. Thankfully, though, they are localized and limited. We will start at the shore. With the storm nearby, tides will run high during the morning high tide, between 5:30 and 7:30 a.m. Only minor flooding is forecast. If you flooded with Wednesday's nor'easter, you will flood again Tuesday morning. Salt water on shoreline roadways and some front lawns is expected. Move your cars if you need to.
By the time we get to the evening high-tide cycle, we are anticipating just isolated problems. Long Beach Island, the Delaware Bay in Cape May county and spotty back bays will still see minor flooding.
In addition to the coastal flooding, we will have strong winds. Gusts will top out in the 30s Tuesday, shifting from the northeast to the northwest Tuesday morning. The sky will brighten during the afternoon, with a high in the upper 40s.
The seven-day forecast shows no nor'easters in sight. Wednesday will have a mostly cloudy sky. High temperatures will rise into the low 50s. A very strong piece of upper-level energy will swing through Virginia. Coupled with a northwest wind off the Great Lakes, snow showers will try to make their way into South Jersey. This will mainly be north of the Atlantic City Expressway and is less than a 50/50 chance. Most will be dry for most of the time.
Following that, Thursday, Friday and Saturday will all be partly sunny, at worst. Canadian high pressure will keep us dry, with temperatures at or just below average. Keep the winter jacket during the week, but milder weather arrives Sunday.