3:30PM: That's it! Our system is over. While the low pressure system is strengthening, it is well out to sea. The last flakes of snow exited just around 2PM in LBI. 
In terms of totals, 1.5" - 2.5" fell over most of Atlantic and Ocean Counties. Even Ocean City had a 2.5" reading. Meanwhile, much of Cumberland and Cape May Counties saw between a coating to 1".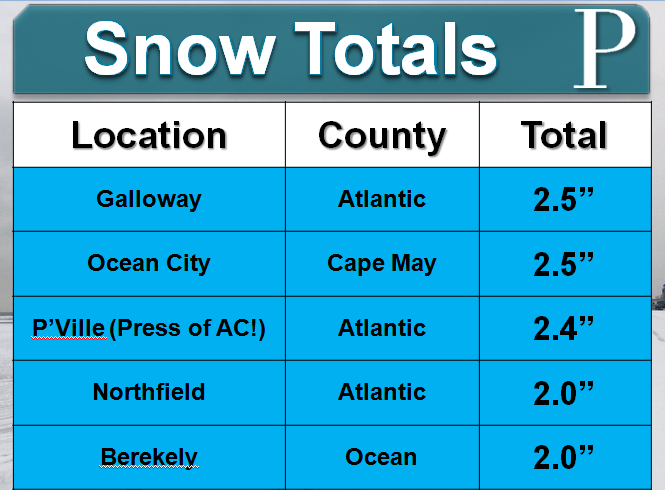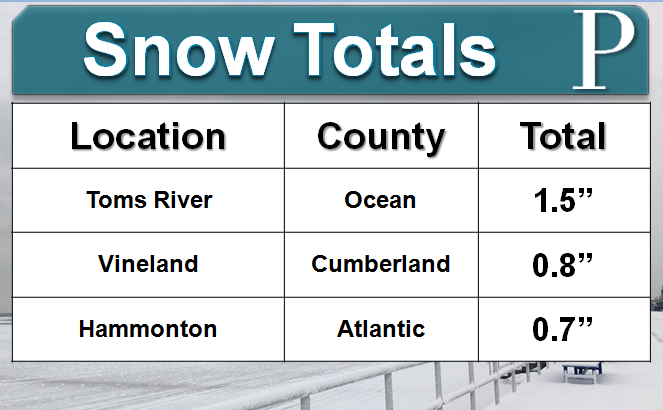 Temperatures were 20-25 degrees while it snowed. This is perfect for a fluffy, powdery kind of snow across South Jersey. It is something we that might see a couple times a season, but have already once before this December.
As we go into the evening, we will watch to see if a snow squall moves in. I put it at 30% chance and only on the Mainland. However, if you do go under one, a coating to even an additional 0.5" is expected.
This snow will not go away quickly! Lows tonight will be in the teens most everywhere. Then, we are talking only the low 20s for highs tomorrow! We will have sun, so that will eat a little of it. However, we should be in for a white New Year's as we end 2017. 
1 p.m.: Snow is over for most of the area. Only eastern Atlantic and Ocean counties are still snowing at this time.
Low pressure is currently off the Cape May coast, but moving to the east-northeast, carrying the snow away with it.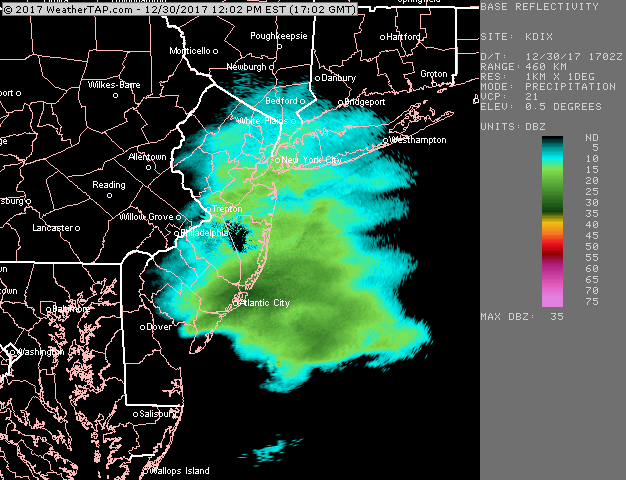 As expected, as the storm strengthened, the snow became steadier. While snow did not have any problem sticking to the roads initially, the majority of our accumulation occurred after 11 a.m.
A coating to an inch has fallen in Cape May and Cumberland counties. In Atlantic County, there was a 2.0" fall in Northfield.
In Ocean County, 1.5" has fallen in Toms River. I would imagine more reports from these two counties will match that. 
The snow should end everywhere by 2 p.m. Then, northwest winds will blow in.
Snow squalls, brief, but intense periods of snow (think of them like thunderstorms) are in Pennsylvania and Upstate New York.
While most places are dry, isolated snow squalls should pass through between 5 p.m. to 10 p.m. tonight. A quick half-inch would be in the cards for these places.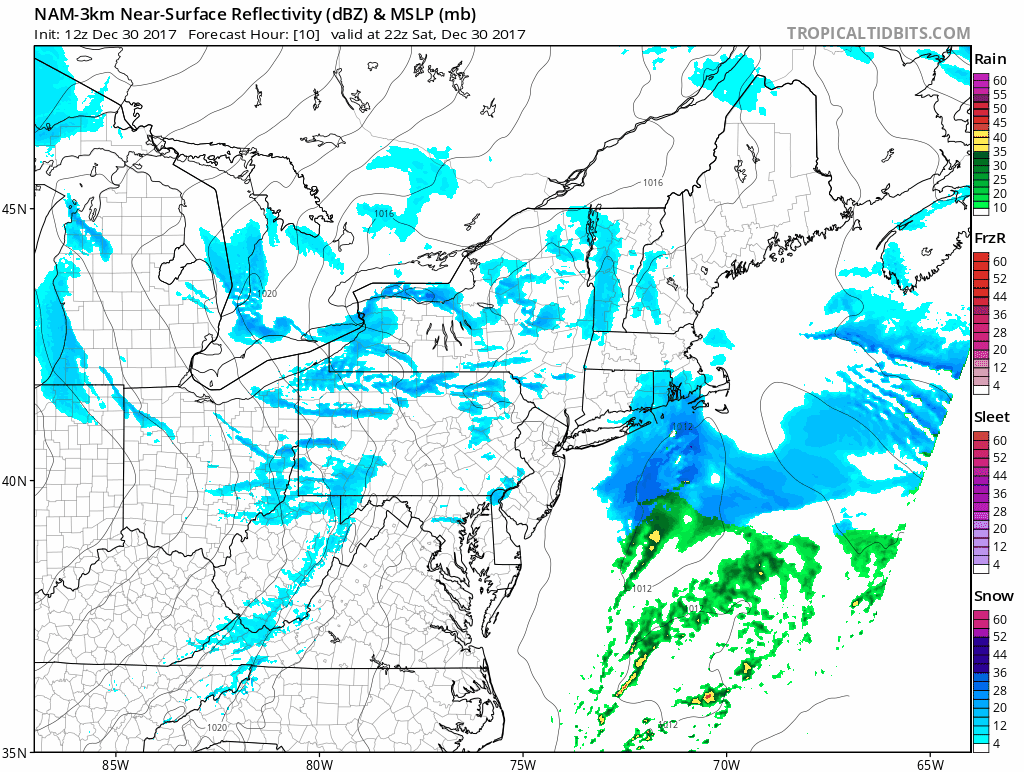 8:30 a.m.: Snow will continue through the morning and into parts of the afternoon. A low pressure system is exiting the Mid-Atlantic coast. It will then pass its energy to a developing low pressure system off the coast and turn northeastward. 
Snow began around 6 a.m. in Cumberland County and has spread through all of our area. The snow will generally be light, but moderate intensity snow, with rates of 0.5" - 1.0" per hour, can occur. As it has this morning, snow will have no problems sticking to the roads, given the arctic chill we are in.
The snow then tapers off between 1 p.m. and 4 p.m.
Could there be a snow squall afterwards? Sure. However, it will be isolated and most of us should stay dry for the evening. In terms of totals, 1.0" to 2.0" of snow is expected for Atlantic, Ocean, as well as northern Cape May and Cumberland counties.
Elsewhere, a coating to 1.0" is anticipated.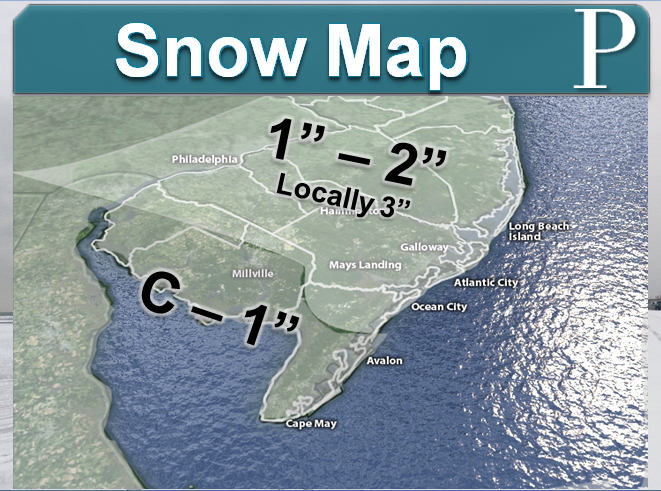 With temperatures well below freezing, this is a powdery snow that will fall. Start back up the leaf blower or get out the brooms, this one will be a clean sweep.