"It's not the heat, it's the humidity" may be one of the most cliched weather phrases in history.
However, this time, it was no cliche.
An analysis of dew point data at Atlantic City International Airport shows that people in the area likely sweltered through the longest lasting high dew point stretch in recorded history from Aug. 1 to the time of this writing, Oct. 21.
In addition, the same period likely was the area's most humid period of all time.
There were 444 hours with a dew point at or above 75 degrees, solidly in the oppressive category, between Aug. 1 and Oct. 21. Put another way, 22 percent of the time between these two days felt like a sauna, 18.5 days' worth.
Looking at numbers from Iowa State University, August, September and October all broke the record for most hours with oppressive dew points, with data going back to 1948. August doubled the next highest total, while September tripled it.
October? A 75-degree dew point has never been seen before, according to the data.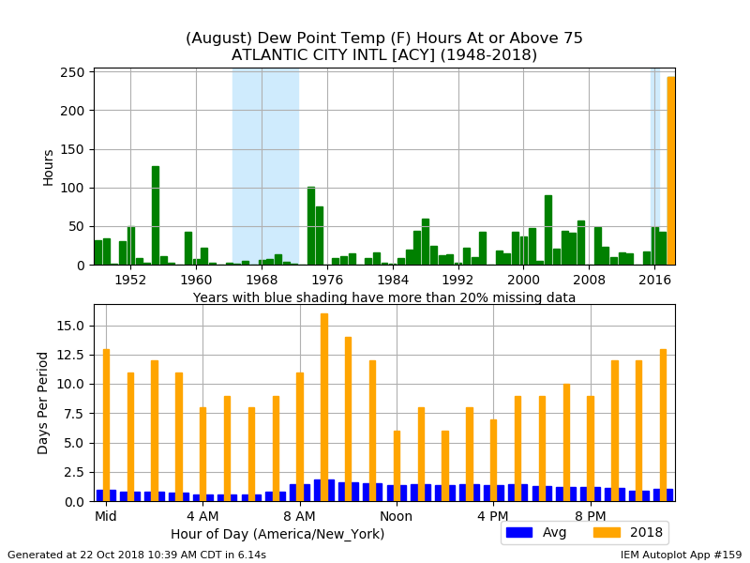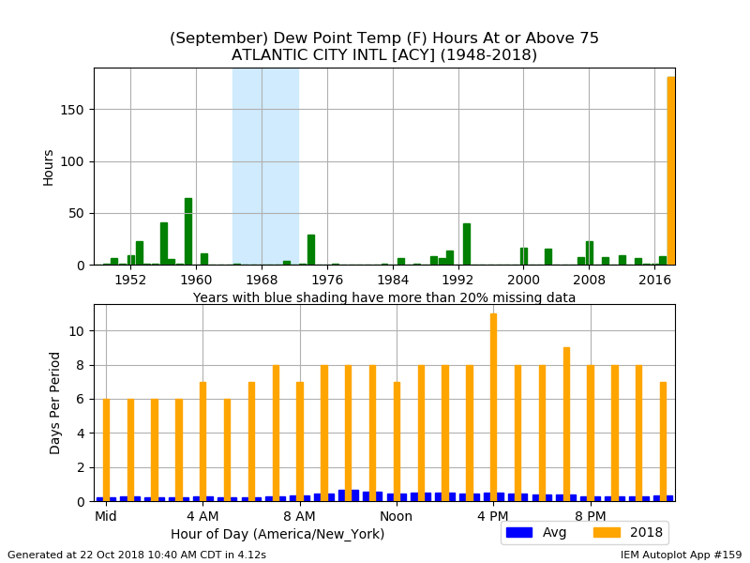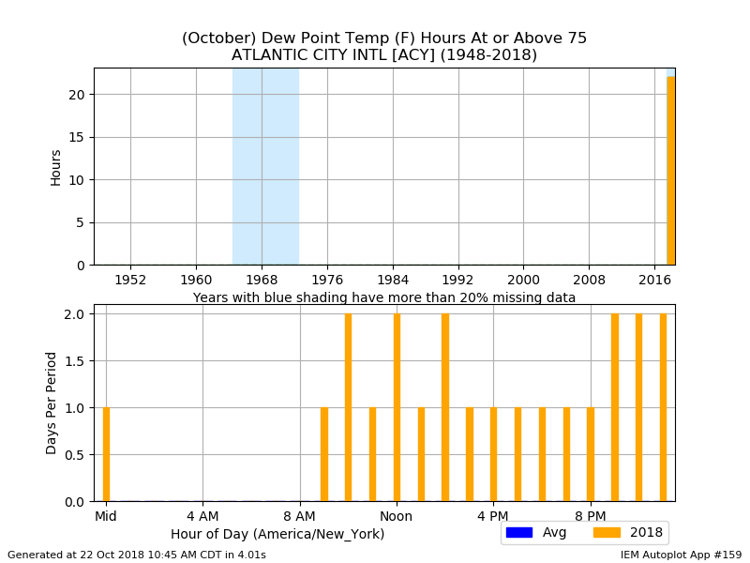 Per research, the average dew point at Atlantic City International Airport for the months of August, September and October is 57.6 degrees. That averages out to a "dry" feel, as the humidity of August gives way to the cool, crisp days of fall. However, those days did not come until a pattern-busting cold front Oct. 12, and the numbers show. In 2018, the average dew point since Aug. 1 has averaged out to 66.5 as of Oct. 21. That is nearly 9 degrees higher and considered "getting humid" to most.
Dew points are a better measure for discomfort than humidity because humidity does not take into account temperature. That matters. Take a January day, the humidity may be 100 percent, with a temperature of 40 degrees. That doesn't feel humid at all. Compare that to a humidity of 60 percent with an air temperature of 91, though. That's a 75-degree dew point, which is oppressive to many.
A Bermuda high pressure, bringing sultry southwest winds into New Jersey, was the culprit.
"It served as a heat pump and a moisture pump. It was a very persistent pattern. ... It held any drier, cooler air up," said Dave Robinson, the New Jersey state climatologist.
With the high dew points also came the extremely warm overnight low temperatures.
"Statewide, the nighttime lows broke the previous record by 2 degrees. That's a testament to how warm the nighttime temperatures were," Robinson said.
Atlantic City International Airport, from June 1 to Oct. 11, before that pattern-busting cold front came through, had the mildest nighttime low temperatures for any similar period in history.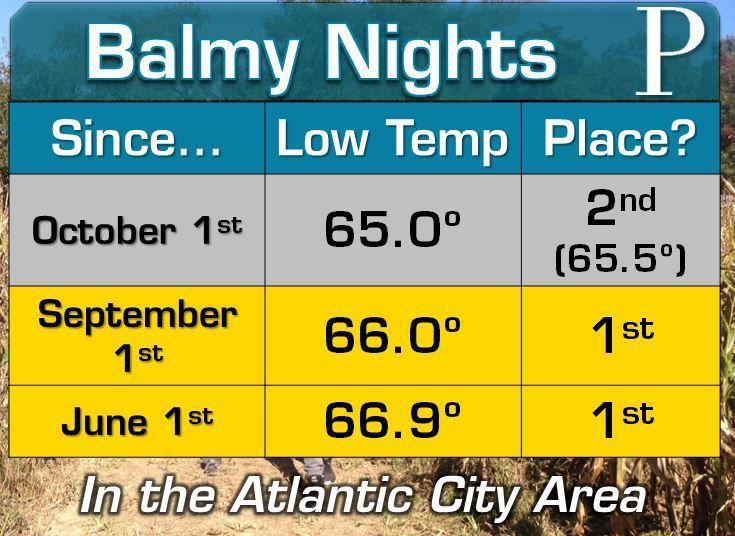 Robinson said the humid weather was all a part of a positive feedback loop. Warmer than average water temperatures off the Jersey Shore added a little extra boost to the dew points. As water temperatures increase, so do evaporation rates. That not only made it feel sticky, but delivered the fifth wettest September on record. It didn't stop there either. The vegetation, aided by the ample rainfall, contributed to the effect as well.
"One by-product of photosynthesis is water vapor," Robinson said.
While the lack of drought conditions is beneficial for crops, the sauna-like conditions did present its challenges to farmers.
"In my experience, it felt like an oppressive stretch to me. ... It (the high dew points) never let up, which created an environment for pathogens to get into the fruit and possibly infect them," said Marc Carpenter, 49, of Joseph J. White farm in Browns Mills.
Carpenter tends to the cranberry bogs in the Pine Barrens. He said that the cool, chilly nights really help bring the colors out for the fruit. This year, though, they were not the same.
"(Rot) was a little higher than what we have had in the past because everything was so wet that we couldn't dry out," Carpenter said.
Still, Carpenter explained that drought is always worse for a plant than high dew points and rainfall.
Those who were tired of the stifling conditions have taken solace in the fact that we have not had one sticky day since Oct. 12. In fact, many days have had dew points below 50, more chapstick weather than anything else.