Aside from a few late showers and storms Tuesday and Friday, dry weather will dominate our region for most of the week. 
We are waking up Tuesday morning to a very comfortable morning, in between two low pressure systems. The first went offshore Monday morning. The second is moving through Quebec.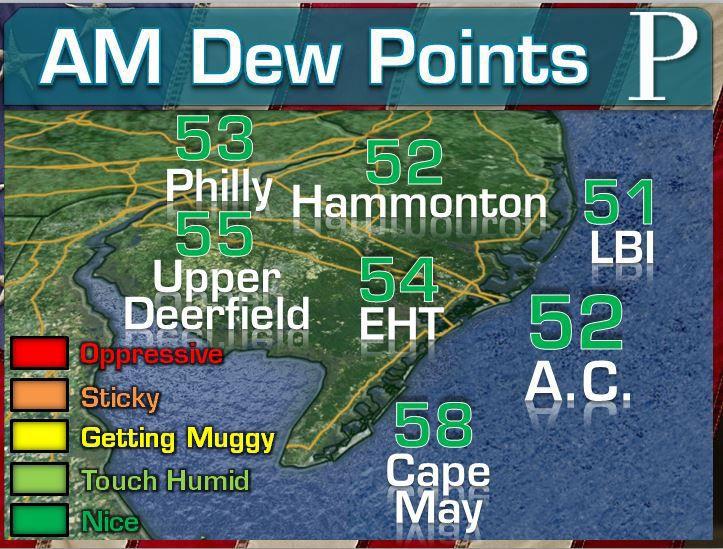 The sunshine will continue for much of the day, mixing with clouds for a partly sunny afternoon. The low-pressure system in Canada is dragging a cold front that will ride into South Jersey. Showers/storms could begin as early as 3 p.m. in western Atlantic and Cumberland counties. However, if you see one, you sadly are on the short end of the stick. The weather should stay dry up until the p.m. rush.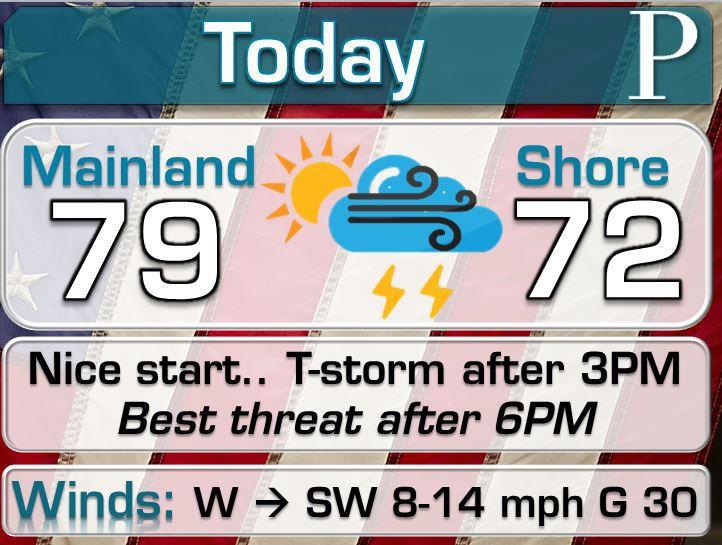 The main time for showers/storms will be between 6 and 10 p.m. They will be scattered as best, though. Highs will be in the upper 70s on the mainland and about 70 at the shore.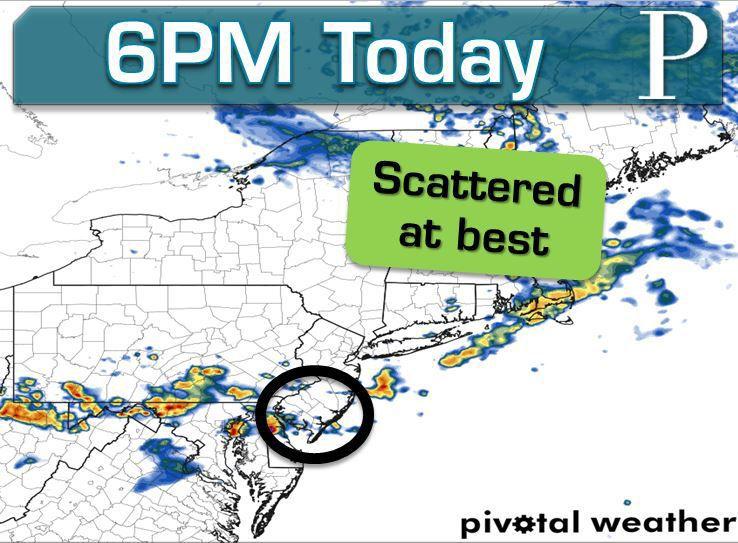 Showers will taper off after 10 p.m. By midnight we should be dry and some of the moon should be showing. By the time the morning rush gets going, we'll be greeted by a sun-filled sky and an autumnal crispness to the air. The cold front will have wiped out the showers, bringing a shot of cooler air with it. Highs will be 65 to 70 degrees, still nice but about 10 degrees below average.
A coast-to-coast ridge of high pressure will build in Thursday and especially Friday. This will increase temperatures about 5 degrees each day. Highs will peak in the mid-70s on Thursday and low 80s on Friday (Shore will be about 5 degrees cooler). Both days will feature plentiful morning sunshine. Then, we will reach our convective temperatures, the temperatures at which the surface needs to reach to create clouds, during the early afternoon. This will mean sun mixes with some puffy, white cumulus clouds. 
Thursday will be dry and Friday is trending drier, too. The moisture that does eventually move in for the weekend should hold off until Friday night.
Then, surprise! It's our third weekend in a row with some storms Saturday and cooler showers Sunday. Note that no day will be a washout. Saturday will play similarly to Friday, a dry morning with spotty afternoon thunderstorms. Winds then flip to the northeast Sunday, cooling us down. Scattered showers look to be the case.