ATLANTIC CITY — A succession of loud slaps from hockey pucks hitting the boards of the rink at the Flyers Skate Zone made Jennifer Pesce pause in her presentation about brain injuries.
"I hope that's not someone's head," she joked with laughing parents, who sat in metal chairs in a small room alongside the rink normally used to go over hockey plays.
But the reality of a player's head hitting the boards hard enough to cause a concussion wasn't far off the mark.
Pesce, physical therapist and director of rehabilitation at Shore Medical Center, and other experts held an education and demonstration event at the rink Thursday to make it clear to parents if their children play a contact sport, they may be at risk for concussions, which if not treated correctly, can lead to long-term, sometimes permanent and even deadly outcomes — those parents and coaches need to be trained to notice the signs and symptoms before irreversible damage takes place.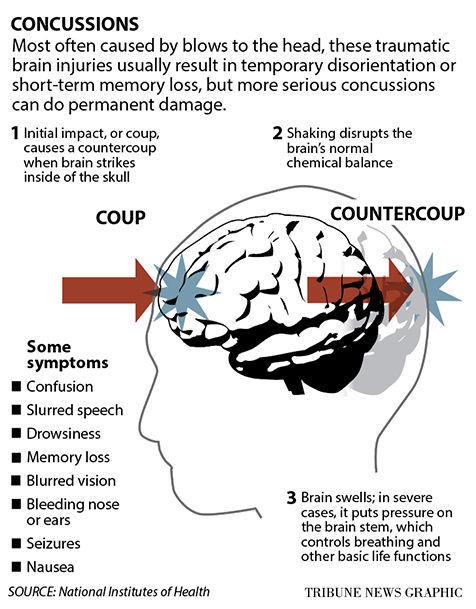 "Some of these professional players have committed suicide, had acts of violence and developed things like dementia, and a lot of it can go all the way back to concussions," said Denise Hemby, nurse practitioner with Shore Physicians Group.
The connection between repeated concussions like athletes sometimes sustain in sport and degenerative brain diseases such as chronic traumatic encephalopathy, or CTE, has made researchers, scientists, health experts and sports leaders focus on spreading prevention awareness.
The issue of concussions has remained in the spotlight as high-profile athletes such as Brett Favre, Abby Wambach, Kurt Warner and David Ross talk about the dangers of head injuries in their respective sports, and researchers find more evidence of severe damage in brains of deceased athletes.
In 2012, an estimated 329,290 patients age 19 and younger were treated in U.S. emergency departments for sports and recreation-related injuries that included a diagnosis of concussion or traumatic brain injury, according to the federal Centers for Disease Control and Prevention.
"More needs to be done on the education part and parents need to be able to realize if something is going on," Pesce said.
Symptoms and signs of a concussion after a blow or rough shake to the head can include subtle things such as lack of interest in conversation or playing video games, abnormal fatigue and trouble with concentration.
They also can be more serious, like different sized pupils, glassy eyes, headache, vomiting, memory loss, dizziness and unconsciousness.
"One of the greatest things I've seen in the last five years at high school games is that when that player goes down, an athletic trainer goes right out there, takes their helmet off and gets them out," Pesce said.
CAPE MAY COURT HOUSE — Amid growing evidence that repeated concussions and blows to the head…
Many questions still remain about concussions and CTE, Hemby and Pesce said, but while some parents go out and outfit their children with $2,000 football helmets rated the safest, others remain in denial.
National Hockey League Commissioner Gary Bettman found himself in hot water this week after denying any links between hockey and CTE while he was a guest on WFAN radio. Research and local hockey coaches say otherwise.
"It's definitely a more prevalent thing coming to light and we're especially starting to see concussion (diagnoses) in hockey more, even in the youth leagues," said Jared Siganuk, hockey director at the Flyers Skate Zone.
Dana Brock, of Egg Harbor Township, knew general information about brain injuries as a nurse herself, but with two sons playing hockey and a husband who coached, she said, getting more specifics is important not only for her own children, but others on the team.
She participated in a demonstration that showed parents how athletic directors and health experts document a baseline test, which serves as a comparison for after an athlete becomes injured.
"I really don't think parents know what to look for, necessarily," she said. "They may not know what normal is. And sometimes, you know, in those big state games or championships, you always want your star players out there, but nothing is more important than your health."