Happy Thanksgiving everyone! Looking at the numbers, the frozen turkey will live on, but the potential for the coldest Thanksgiving on record will not. 
I have not changed the daytime forecast, it will still be 31 degrees at most during the afternoon, but the overnight numbers stuffed the record before Thanksgiving barely began.
Even though the turkey hasn't been put on the table yet, snow season, and the winter of 2018…
At midnight Wednesday night, the temperature was 36 degrees at Atlantic City International Airport, where our climate records are kept. Even though most of us will be awake with wind chills in the 20s and temperatures struggling to 32, that will not matter in the eyes of history. That 36 degree reading will be factored into Thursday's almanac, meaning that the "high" temperature for the date will forever be known as 36 degrees.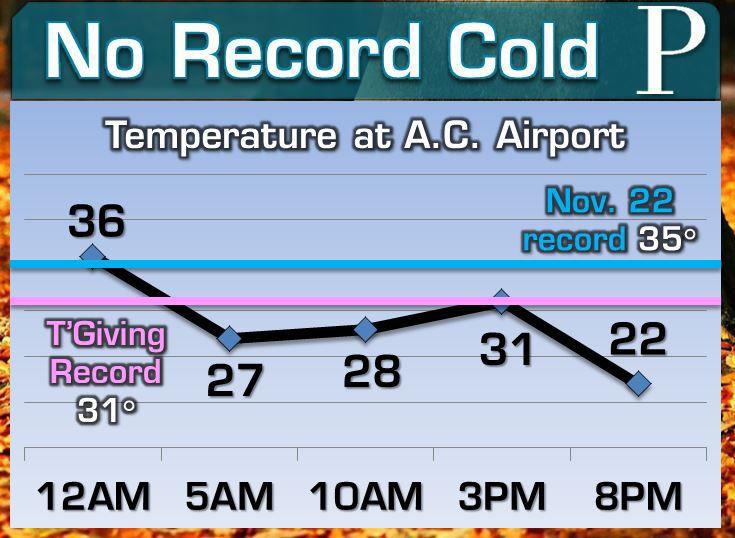 Trent Davis, a National Weather Service forecaster at the Mount Holly office, explained that Thanksgiving 1989 (Nov. 23) and 1996 (Nov. 28) both failed to reach freezing at A.C. Airport, staying at a frigid-for-anytime-of-year 31 degrees. 
The daily record for November 22, 35 degrees, will also not be broken, barring an adjustment in the final numbers. However, since we will not hit 36 degrees again Thursday, it will be a tie for the second coldest Nov. 22 on record.
Still, the odds will be in our favor for a colder Thanksgiving than New Years' Eye, in the heart of winter! Only seventeen times in recorded history has the high temperature stayed at or below 31. Actually, this most recently happened this past year, a record for the date, when a bitter 21 degree was all that was felt. 
South Jersey residents and visitors felt the calm before the storm Tuesday as they reached their destinations before what is expected to be a …
Records at Atlantic City International history go back to 1943.