A reinforcing shot of arctic air will likely make this the coldest start to the New Year in history.
The timing is good, because I was running out of ways to explain just how bitterly cold it has been across the area. Now I can use "record-breaking," at least for one day.
Yesterday's snowfall is making a nice layer of white on the ground today. The sun will try its best to melt it, but with a high temperature in the low 20s, most of it will stick around. The ChapStick will be needed yet again; very low dew points and a wind around 15 mph will make it feel like single digits, even during the day!
Many of us will be out celebrating the New Year tonight, but extreme cold will set in. With snowpack on the ground and the mainly clear night expected, temperatures will have no problem falling to about 10 degrees by midnight, and will keep dropping after that. I am forecasting a low of only 3 degrees overnight. This would break the previous record low of 4 degrees set in 1968.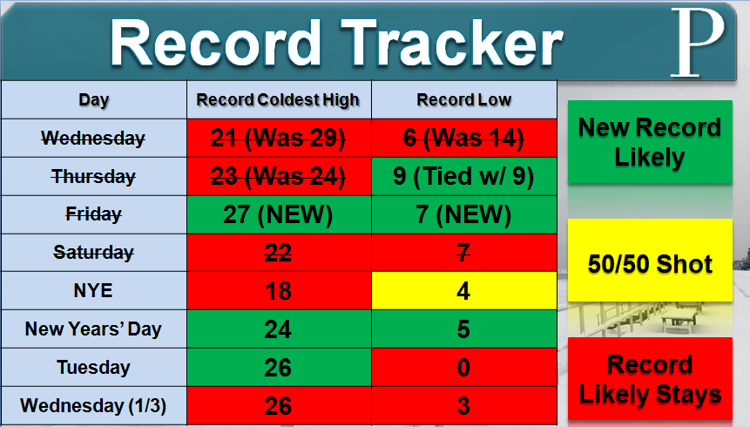 There is no doubt about it: Layers, layers and extra layers will be needed. You will need even more layers than for the past couple of days. This will carry over into New Year's Day as well. Gusty winds and a high of 20 degrees will make being outside for long periods dangerous. A daytime record is likely to be broken on the first day of 2018.
The polar plunge shows no signs of stopping in the seven-day outlook. We lose the winds Tuesday, but keep temperatures 20 degrees below average. Wednesday might feel like T-shirt weather in comparison, but a high of 35 degrees is still "very cold" for South Jersey.
I am still monitoring Thursday. Models have done a great job with showing a coastal storm, but we will need until tomorrow to figure out whether this will stay out to sea or hit land. Regardless of what happens Thursday, northerly winds scream in behind it. Canada hangs around the States into the weekend, with highs in the low 20s and nighttime lows not much better than 10.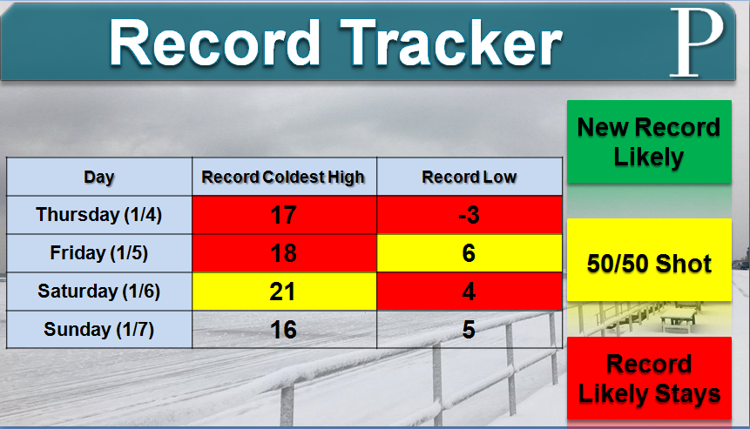 Please have a fun and safe — and warm— New Year's tonight!