Cape May missed out on the "South Jersey Snow Special" on Dec. 5. They were also a little over 3 miles away from additional snow a few days later, as a low pressure system skirted by without a flake falling.
Since then, snow has not been present anywhere in South Jersey. That leaves the Exit 0 city without any measureable snow through Jan. 5, according to its Cooperative Observer Program station.
If you are a snow lover in Cape May, what is one to do?
After three and a half months of South Jersey Snow Specials, the South Jersey Snow Sweepstak…
Tucson, Arizona, Las Cruces, New Mexico and Abilene, Texas are just some of the cities where changes in latitude yielded changes in attitude.
If you like sledding, that is.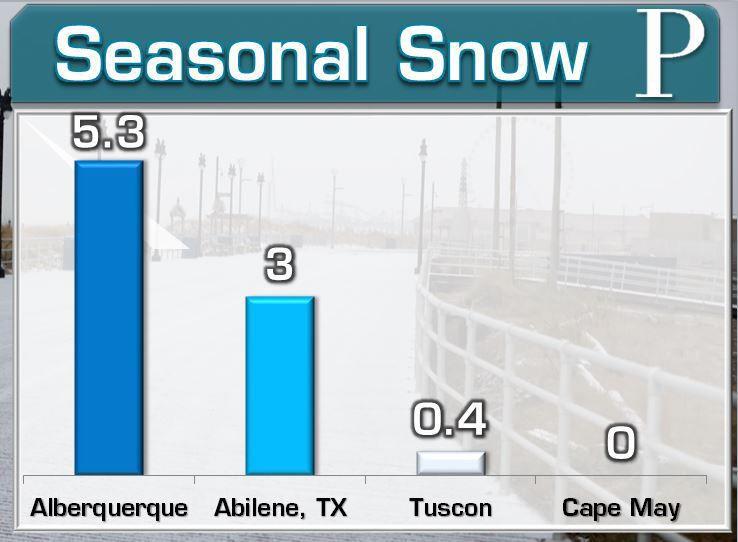 Tucson, the desert city where the average June temperature rises climbs over 100 degrees, reported 0.4 inches of the powder as of Jan. 4 this winter at Tuscon International Airport. The last time the airport even measured snow was back in 2013, and 2002 before that.
Further east, Las Cruces has reported 1.0 inch of snow so far. The southern New Mexico town, near El Paso, does average snow — about 2.6 inches worth through Friday. Though this is roughly six times less than Cape May's 14.9 inch annual average.
Lastly the High Plains city of Abilene, Texas has reported 3 inches of snowfall so far this winter. They average 5.2 inches of snow, per year.
With no snow expected in Cape May for the next seven days, expect this oddity to hang around for a little while longer.