The advisories, watches and warnings are up, the rain is closing in on South Jersey and we will await our first coastal storm of the "cold" season Friday night into Saturday. 
3:15 p.m. Saturday update: The high wind warning and coastal flood warnings are no longer in effect. The only hazards out now are a Small Craf…
To help you plan your weekend out, here are nine things that you need to know. 
The Press of Atlantic City has you covered on every angle on the impending coastal storm. Here is the latest on timing, impacts and what local…
How will Friday during the day be?
The growing season may come to an end, if it didn't already, with morning mainland lows around 32. Clouds are high and thin on Friday morning, but will become thicker as the day goes on. Highs will be in the 50s. Then, the coastal storm arrives. 
Friday night football will have some showers, but an umbrella or poncho will do the trick, as it will be light. 
Rain has been rare this high school football season, but it will make a return as kickoff ge…
Is this storm from Hurricane Willa?
Partially. Willa made landfall as a Category 3 hurricane along the west coast of Mexico, near Isla del Bosque, on Tuesday night. This storm already extended its reach out into the U.S., with a soaking rain falling over much of the Deep South on Tuesday.
Willa is no longer a tropical system, as of 11 a.m. on Wednesday. That rain is now falling in the Gulf of Mexico, but also up into the Great Plains. This will then ride a ride through the Gulf of Mexico before making it's turn up the coast.
So it's not tropical, but it'll still carry loads of moisture with it.
For a more in-depth look at the mechanics behind the storm, you'll want to check out Wednesday's article. 
When will the storm start?
Rain will begin between 6 p.m. to 9 p.m., starting first in Cape May and then working northward with time. 
When will the worst rain and wind be?
Consider this a good prep for winter. 
The worst wind-swept rain will be from 10 p.m. to 7 a.m. Friday night into Saturday. Winds really start to kick up just after midnight, continuing into the late morning. 
I'll give you two answers.
The wind-swept rainfall will be out of here between 4 a.m. to 7 a.m. Saturday. Then, low clouds will linger on for the rest of the day. Hit or miss showers, gusty winds and coastal flooding will still be present. However, there will be dry chunks of time. 
Which of these will be the worst: Rain, wind or coastal flooding?
I'll break it down, in order of most concerning, to least. 
Winds (1a) - I don't expect the winds to bring direct damage. However, I'd be concerned about some power outages Friday night into Saturday morning. Sustained winds of 15-30 mph will be anticipated. A high wind warning will be in effect for Ocean County, with a wind advisory for Atlantic and Cape May counties. 
Most wind gusts will be 30-50 mph, highest at the shore. However, I'm watching an area from about Brigantine on north into Ocean County on the barrier island for a 60 mph gust. 
That is because an area of very strong winds about 5,000 feet above our heads (850 millibar level) will pass between 3 a.m. to 7 a.m. Saturday.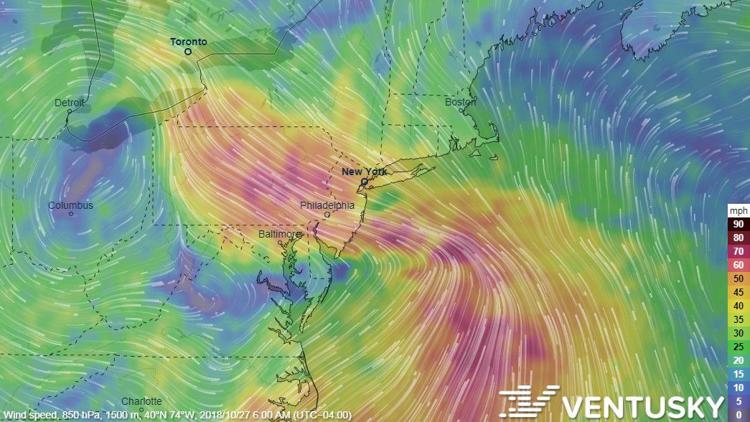 Coastal flooding (1b) - A coastal flood warning will be in effect from 7 a.m. to 3 p.m. in Ocean County. Meanwhile, Atlantic and Cape May counties are in a coastal flood watch for the same time. The reasoning for the difference is because the strongest onshore winds, and therefore coastal flooding, are expected in Ocean County.
The Saturday morning (9:30 a.m. to 11:30 a.m.) and Saturday afternoon (10 p.m. to 12 a.m.) high tides will be the main tidal cycles of impact. Expect moderate flood stage on Saturday morning. Saturday evening will then see minor to widespread moderate flood stage. It will be likely that minor flood stage continues into the back bays during the Sunday morning high tide and possibly on Sunday night as well. 
Minor flood stage will be the typical, nuisance flooding that we see many times a year, and have seen more of in recent decades (Eight times more compared to the 1950s and 60s). Move your cars if you need to and be prepared for water on roadways. 
- Houses or business that lack stilts and are near bayside roadways start to see water come in.
- Water usually over-tops the natural dune and begins flooding coastal areas.
- Shoreline roadways and beaches will often be completely flooded out.
- Some piers or docks may sustain damage.
Rain - A widespread 1 to 2 inch storm (locally 3 east of the Parkway) will be expected, highest along the coast. Spotty ponding of roadways will mean tricky traveling. However, the large bulk of this will come late Friday night into early Saturday. So, most of the daylight hours likely will be ok. A few streams and creeks will be high, too.
How about the open waters?
Gale warnings will be in effect all coastal waters, out to the canyons, between 6 p.m. Friday to 10 a.m. on Saturday. If you're planning on taking the skiff out, I'd either do it Friday during the day or Sunday. Even on Saturday afternoon, operating small craft will be hazardous.  
What will Sunday be like?
Pretty comfortable! We will be perfectly caught in between two systems Sunday. While I will not rule out a shower anywhere, most, if not all of the day will be dry. Expect a mix of clouds and sun, with a high around 60. So if you're heading out, to say Lawnfest in Ventnor, you should be alright. 
I hear there's another coastal on the way?
This will be true. I will eye Monday as a low-pressure system dives out of Canada, whirls around a closed, upper level low-pressure (part of this system) and then spin off the shore. It will not be as significant as this one, though.