The 17 biggest stories of 2017
Whether it was good news like the Hard Rock Hotel and Casino Atlantic City announcing its arrival in the resort, or worse news like the Miss America email scandal, plenty of stories stood out this year in South Jersey.
An Atlantic County drug ring was exposed, a beach concert drew 50,000 people to A.C. and the area saw plenty of changes on Election night.
Here are 17 of the biggest stories to hit South Jersey in 2017.
1. Atlantic Cape appoints first black woman president
At the end of 2016, Barbara Gaba was approved as the ninth president of Atlantic Cape Community College, where her contract began Jan. 30 and runs into 2020. Gaba is the first woman and first black person to serve in the role for the college.
2. Commission approves pipeline, lawsuits follow
The Pinelands Commission gave its final approval Feb. 24 to South Jersey Gas to build a 22-mile natural gas pipeline from Maurice River Township to Beesleys Point in Upper Township, 10 miles of which would go through protected Pinelands Forest Area. Environmental groups have filed suit to block the approval, and the fate of the pipeline remains uncertain. 
3. Hard Rock coming to A.C.
In March, a group of investors led by Hard Rock International bought the closed Trump Taj Mahal Casino Resort for $50 million from Carl Icahn. Since July, workers have been removing the ruby-red minarets and onion domes that dominate the facade on what will become the Hard Rock Hotel & Casino Atlantic City. The rebranded property is expected to open over the summer.
4. Stockton Gateway project breaks ground
For decades, Stockton University talked about returning to Atlantic City. In April, that dream became a reality as ground was broken on the new Stockton Gateway Project. The $220 million project will include new headquarters for South Jersey Gas, plus a new residential campus for Stockton that includes an academic building, housing for more than 500 students and a parking garage scheduled to open in fall 2018. 
5. The Margate dunes debacle
What started as a project to protect oceanfront property quickly became a nightmare that some people say ruined the summer. Work began during the summer on a long-fought beach-and-dune building project, and after one quick storm, a pond developed between the newly built dunes and the bulkhead at the street ends. A drainage system is being installed to mitigate future ponding.  
6. Kauffman arrested in standoff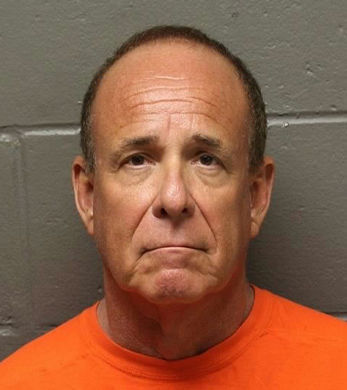 In June, a Superior Court judge ordered Dr. James Kauffman to be held in jail following a standoff at Kauffman's Egg Harbor Township office after he showed a gun when investigators arrived with a search warrant. The search was not related to authorities' investigation of the unsolved death of Kaufmann's wife, April. After the arrest, it was reported that five search warrants were issued at Kauffman's office related to a homicide and health care fraud investigation. Kauffman's medical license was suspended in New Jersey and Pennsylvania, and he was indicted on gun charges.
7. Pink pumps up beach concerts
Three-time Grammy-award winner Pink got the party started in mid-July on a packed Atlantic City beach as part of the city's annual summer concert series. The artist brought a total of 50,000 people to the beach and Boardwalk, according to Mayor Don Guardian. Country music singer Brantley Gilbert and hip-hop act Ruff Ryders were also part of the series.
8. Atlantic County drug ring exposed 
Twelve people — including an Atlantic City firefighter and a Margate doctor — accepted plea deals earlier this year in an ongoing federal investigation into abuse of the State Health Benefits Plan. Federal court documents detail a massive prescription-fraud scheme from January 2015 to April 2016 that involved recruiting public employees — teachers, firefighters, municipal police officers and State Police troopers — to obtain medically unnecessary prescriptions for patients doctors never treated.
Seven months after announcing his retirement, state Sen. and former Atlantic City Mayor Jim Whelan died Aug. 22, having suffered a heart attack at home in the Chelsea section of the city. Whelan was remembered as a person who had an incredible passion for Atlantic City and worked to make it better as a teacher, lifeguard and lawmaker.
10. The fight against opioids 
International Overdose Awareness Day was Aug. 31, so The Press took a look at the thousands of lives lost from drug use. Record numbers of opioid-related deaths have been recorded in many states, including New Jersey. Addiction took the lives of 1,587 state residents in 2015, including 85 in Atlantic, 32 in Cape May, 38 in Cumberland and 157 in Ocean.
11. Dangerous summer swimming
South Jersey beaches experienced an active season of rip currents that created dangerous swimming conditions, leading to five drownings and hundreds of rescues. In June and July, six people died from drowning around the state. In Atlantic City, three people died this summer, while in Sea Isle City, two people died.
12. LoBiondo announces retirement 
Longtime Republican South Jersey congressman Frank LoBiondo announced on Election Day that he would not seek re-election in 2018. State Sen. Jeff Van Drew, D-Cape May, Cumberland, Atlantic, has already announced plans to run for LoBiondo's seat, along with two other Democrats.
13.Democrats win big on election night 
Election night turned out to be a big victory for Democrats. Frank Gilliam was elected Atlantic City's new mayor, defeating incumbent Republican Don Guardian. Democrats Vince Mazzeo and John Armato won their 2nd District Assembly seats. And voters in the 1st District returned the Democratic team of Sen. Jeff Van Drew and Assemblymen Bruce Land and Bob Andrzejczak to their seats in the state Legislature. Also in the state, Democrat Phil Murphy defeated Republican Lt. Gov. Kim Guadagno for governor.  
14. Escape from Harborfields
In the early morning of Nov. 15, four inmates from the Harborfields Youth Detention Center overwhelmed a security guard, escaped the facility and stole a car. Three of the inmates, all minors, were captured in Bridgeton several hours later. The fourth inmate, 18-year-old Michael Huggins, who is charged with murder in a 2016 Bridgeton killing, was captured in Atlantic City two days later. The escape led to calls from Atlantic County officials for tighter security at the jail and from Egg Harbor City officials to move the jail out of the town.
 15. Truex wins NASCAR Cup Series 
Martin Truex Jr., a 1998 graduate of Southern Regional High School, won the Monster Energy NASCAR Cup Series championship at Homestead-Miami Speedway in November. "I've been dreaming about this since I was a little kid," Truex said following the victory. "We just didn't give up. I told my guys we were going to dig deep and give it all we got. I didn't have the best car, but I just found a way."
16. Eagles have successful season, lose Wentz
The Philadelphia Eagles, who went into the 2017 season with some uncertainty following a 7-9 record the previous year, surprised many NFL critics with their performance in the past few months. The birds have already secured the NFC East division title as well as a first-round bye and home-field advantage for the entire playoffs. Despite their success, the biggest story of the year was when quarterback Carson Wentz went down in Week 14 with a torn ACL.
17. Miss America email scandal 
In emails that were published earlier this month by the Huffington Post, Miss America Organization officials ridiculed the appearance, intellect and sex lives of former Miss Americas. The emails included one that used a vulgar term for female genitalia to refer to past winners, one that wished a particular former Miss America had died and others that speculated about how many sex partners former Miss America Mallory Hagan has had. The ensuing uproar led to the group's executive director, Sam Haskell; its president, Josh Randle; board Chairwoman Lynn Weidner; and one other board member to resign.
Contact: 609-272-7258
Twitter @acpressmaxreil