6:15 p.m. Update: The storm is wrapping up. The winter storm warning and winter weather advisories have been cancelled. The snow will push out of Atlantic County by 7 p.m. I have a complete recap of the totals, history and hows of the storm. 
Wednesday's storm was only 60 miles measured from north to south — small compared to your typical nor'easter or clipper system. But it was 60 …
Here were the highest totals, as of 6:15 p.m.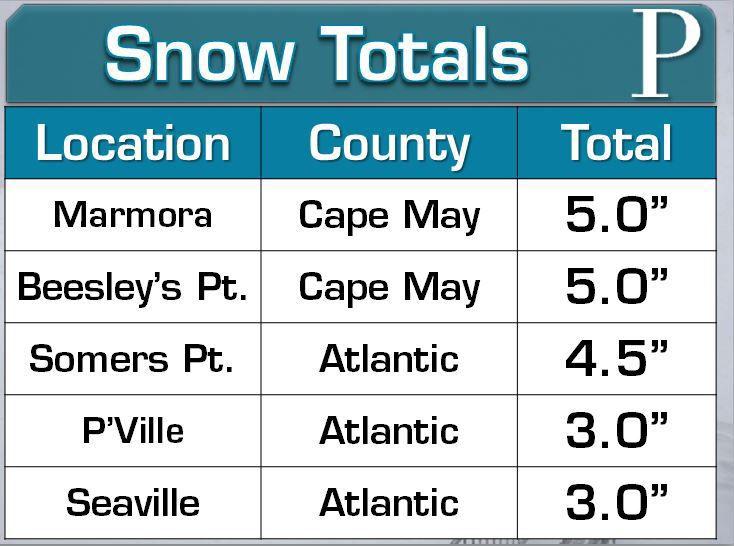 Update: Snow is on its way out of the region. Of course, it was only South Jersey and some of Philly that saw the snow. 
The snow has already ended in western Cumberland and Atlantic Counties. Cape May, West Cape May, Cape May Point, Wildwood Crest, Lower Township didn't see much snow at all Wednesday.
For the remainder of The Press' coverage region, snow will end between 5 p.m. to 7 p.m., exiting off of Atlantic County last. 
Update: It looks awefully different between Cape May and Brigantine at 4:15 p.m. 
Cape May has seen not a flake of snow on Wednesday and you can almost see the sun setting!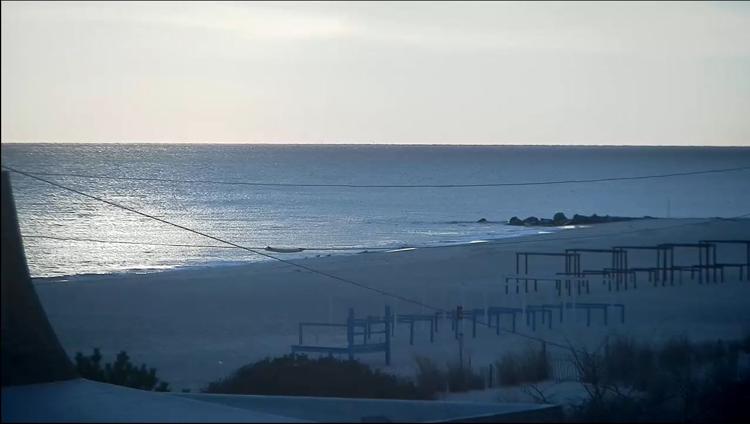 Meanwhile, Brigantine hasn't stopped snowing since Wednesday morning. They have seen nearly 6 inches of snow.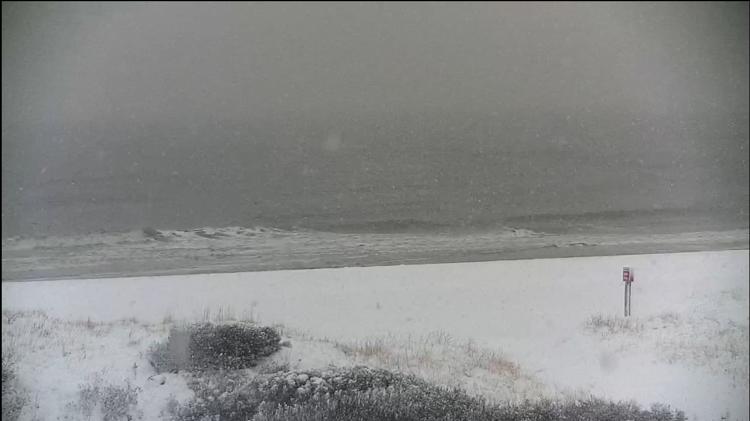 Update: Brigantine Mayor Phil Guenther confirmed that police are stationed on the Brigantine bridge to monitor driver's speed and encourage people to slow down because the conditions are "slick." He said that no accidents have happened today.
Update: As of 1 p.m. Wednesday, 1.5 inches of snow has fallen at our headquarters in Pleasantville; 2 inches of snow has fallen in Mays Landing. The combination of the previous snow, in addition to future forecasts has put Atlantic County into a Winter Storm Warning through 6 p.m.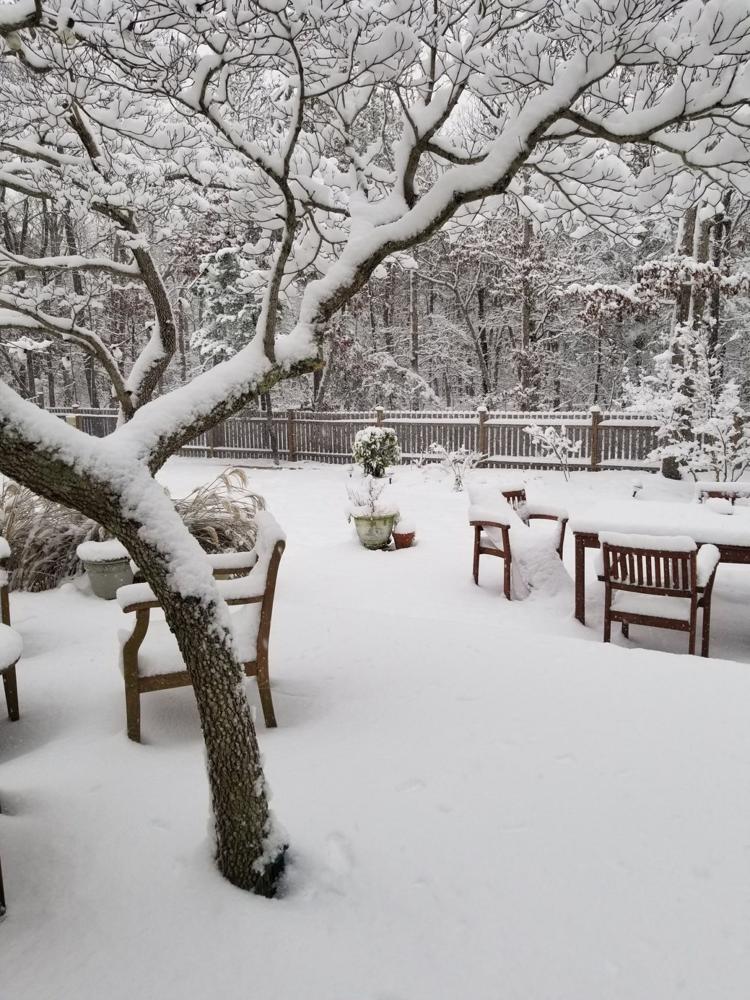 The Winter Weather Advisory was also expanded into Cape May and Cumberland Counties, which will be in effect until 6 p.m. Ocean County remains in a Winter Weather Advisory.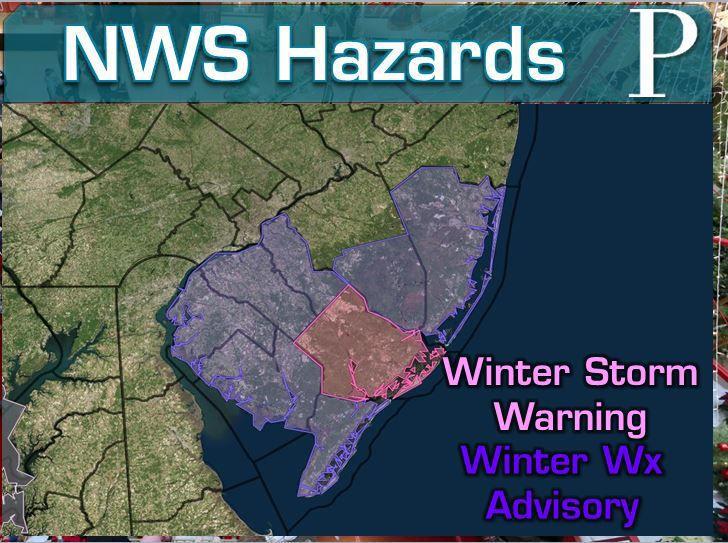 The snow, which was light for much of the morning, has become heavier as the afternoon occurred. Moderate snow, with a visibility between a quarter and three-quarters of a mile, have become common in parts of Atlantic and Cumberland Counties.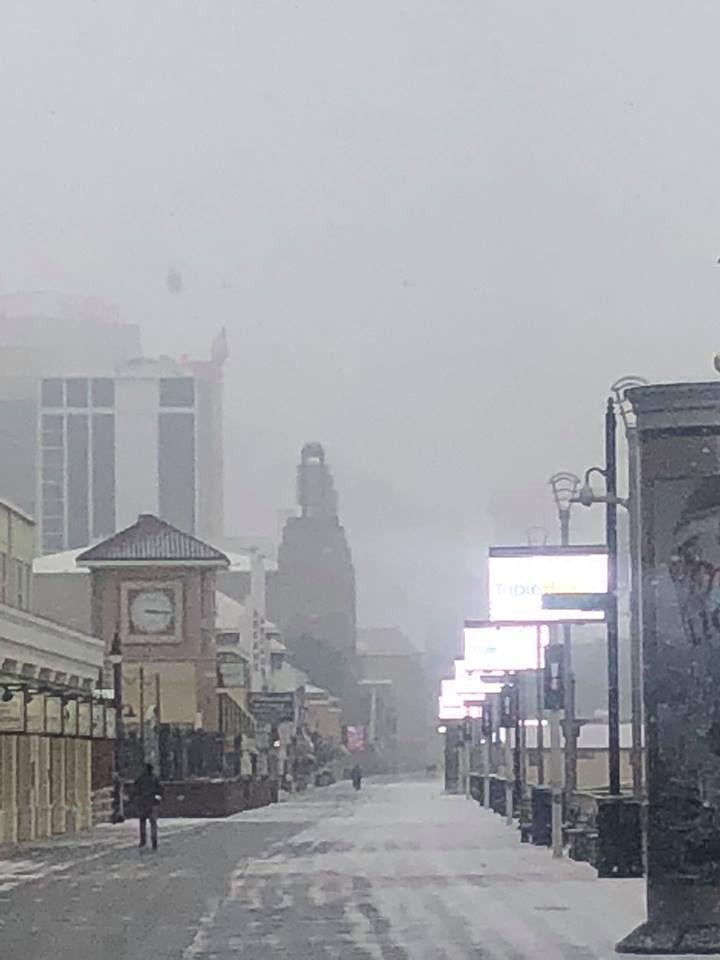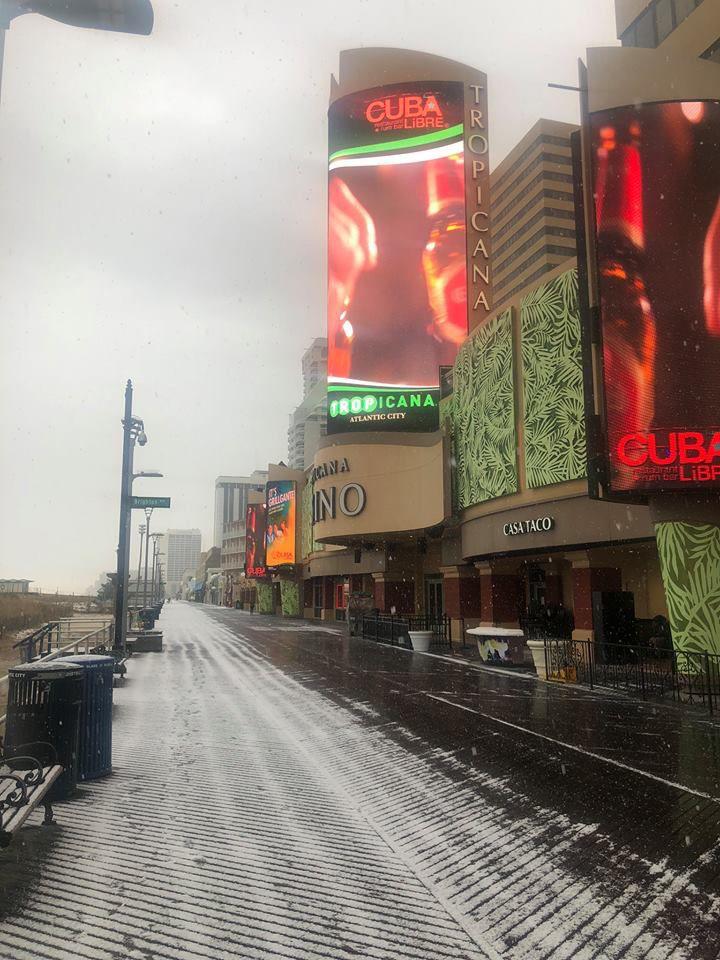 The story for this starts a few thousand feet about our heads. At the 850 millibar level, about 5,000 feet high, South Jersey is in a region of frontogenesis, or an area where a localized front forms. In this case, the inverted trough that we've talked about for a few days is helping with this.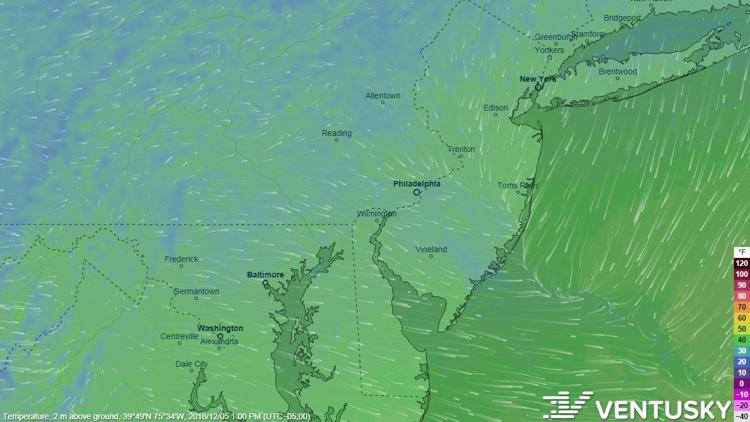 Note where the winds are meeting, in Atlantic County and extending offshore. Now, look at where the snow is falling. 
Where the convegence sets up, the heaviest snow has set up as well. These bands are dropping quick, 10-15 minute bursts of heavy snow. In between, and elsewhere, a light to moderate snow is falling.
Temperatures are below freezing everywhere where it is snowing. This is helping to keep the snow sticking to the pavements, which have been below freezing. Where it is not, it is in the mid to upper 30s.
Snow will continue for the afternoon. After school activities have already been cancelled in some locations. Buses will need a little extra time getting back. A crowded commute on the roads will be likely.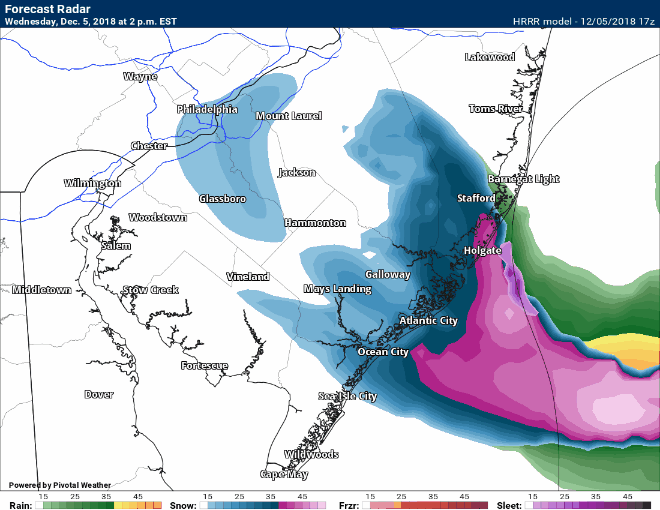 Snowfall totals have been bumped up slightly, but kept the same zones. 2 to 4 inches will now be expected in the highest spots in Atlantic County, southern Ocean and northern Cape May county. Meanwhile, a coating to 2 inches will be likely in other locations.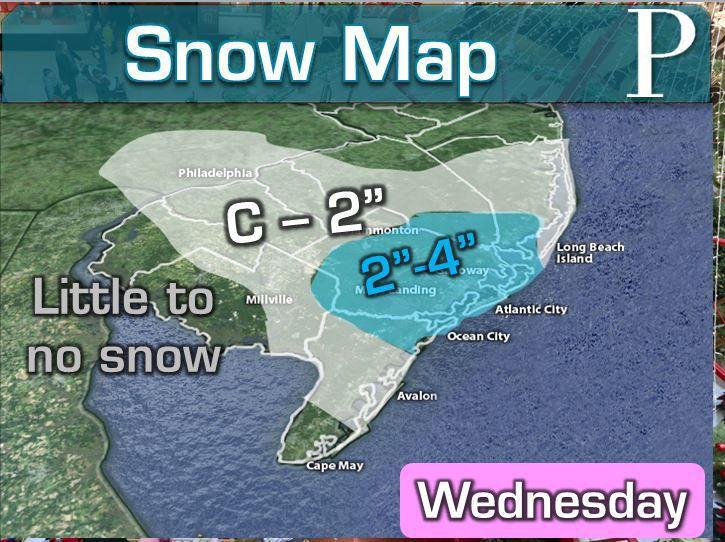 We will need to watch for re-freeze Wednesady night! Temperatures will drop below freezing around midnight, causing black ice. Be careful and throw salt down if you can. 
The only blip in an otherwise dry week is on Wednesday. Something called an "inverted trough" will poke into New Jersey, bringing accumulating snow, plowable in some parts, to South Jersey. A winter weather advisory will be in effect for Ocean and Atlantic counties through 6 p.m. 
Snow, mixing with rain, has already started to break out on Absecon Island at 6:30 a.m. This will continue until it reaches its fullest extent of coverage around 10 a.m. Here is what you need to know.
The snow has already broken out for Atlantic County. That is about it, though. This will spread in coverage throughout the morning, reaching southern Ocean County as well as parts of Cumberland and Cape May Counties.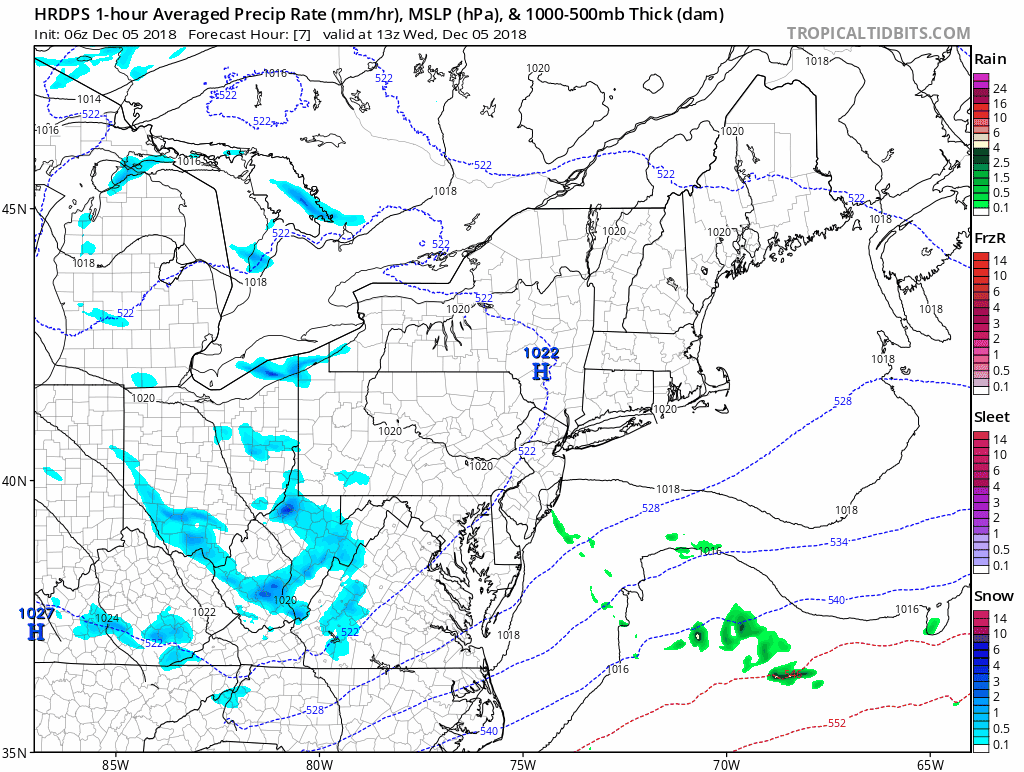 This then continue throughout the day, though it will not be steady everywhere. Snow will then end between 5-8 p.m., with Ocean County finishing last.
This is due to the nature of the system. We have an inverted trough, which brings narrow bands of snow or rain to a region. In fact, snow coverage may only be about 50 miles wide.
The places that will see snow are:
- Eastern Burlington County
- Cape May County north of Lower Township and North Wildwood
Places that may see snow include:
- The remainder of Cape May County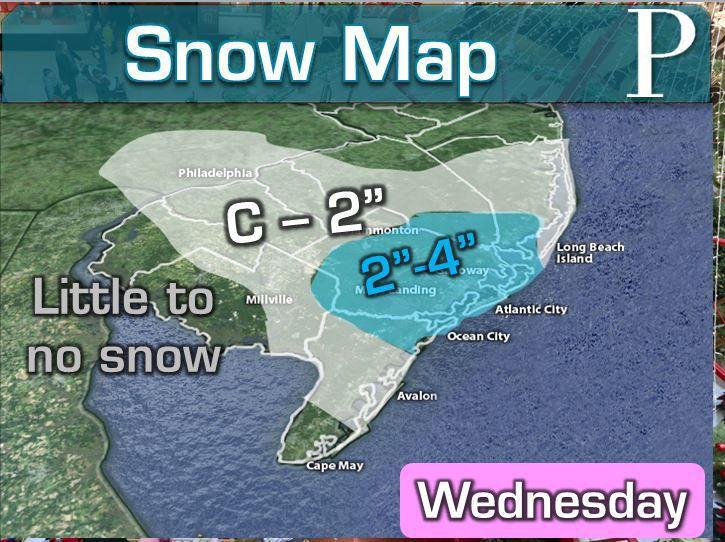 The system will bring one of the more unusual snow maps you'll see in South Jersey. A stripe of 1.5 to 3 inches will be expected for a good part of Ocean, Eastern Burlington and Atlantic counties.
Localized 6 inch amounts will not be ruled out, but will be unlikely. I will give it a 20 percent chance in an area from Galloway to Brigantine to Eagleswood.
How is Atlantic City Electric Preparing?
The energy company has completed its work to prepare for colder temperatures and wintry weather, all a part of the 312 million dollars the company spends each year to modernize the grid. Frank Tedesco, Senior Communications Specialist for Atlantic City Electric, asks customers to
• Assemble an emergency storm kit. Include battery-powered radio or TV, flashlight, a first-aid kit, battery-powered or windup clock, extra batteries, special needs items, medications, multi-purpose tool, cell phones with chargers, and list of important and emergency phone numbers.
• Have a supply of bottled water and easy-to-prepare, non-perishable foods available.
• Keep a flashlight with fresh batteries on each floor of your home.
Minor flood stage will be around in localized spots between 6-9 a.m. The main locations that will see flooding will be in the back bays and the Delaware Bay in Cape May County.
The clouds will clear out Wednesday night. Temperatures will fall below freezing around midnight, allowing any spots that saw rain or snow to refreeze. We will bottom out at 25-30 degrees by Thursday morning.
Sunshine will be present Thursday morning, allowing temperatures to get back above 40. It will only settle in the low 40s, as an Arctic front approaches. This will bring clouds late in the day, but we will stay dry.
The front then will pass Thursday night. The result will be a bright and windy end to the week Friday. A strong northwest wind around 15 mph will make it feel like freezing, though the air temperature will be in the low 40s.