The number of people living in Atlantic and Cape May counties continues to decline, a trend experts say can be attributed to aging populations, growing second-home ownership and the condition of Atlantic City's economy.
Atlantic County shed 9,120 residents between 2010 and 2018, according to U.S. Census estimates released last week. It's population now sits at 265,429, the seventh smallest out of New Jersey's 21 counties.
From 2017 to 2018, more than 1,300 people moved to Atlantic County from abroad, but 2,129 residents left, said Luke Rogers, chief of the U.S. Census Bureau's Population Estimates Branch.
"The county gained from international migration, but that wasn't enough to offset losses," Rogers said.
Darren Spielman, executive director of Rutgers' Sen. Walter Rand Institute for Public Affairs, said the county's population decrease is closely tied to the 10-year decline in Atlantic City's economic health, which began with the 2008 recession. Then came Hurricane Sandy in 2012, followed by the closure of four casinos in 2014.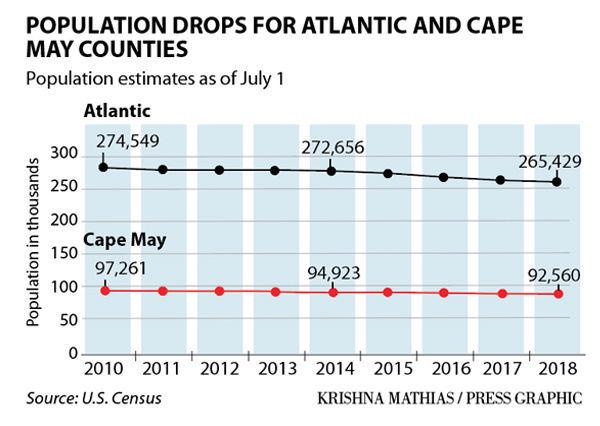 Hamilton and Egg Harbor townships have begun adding residents, Spielman said, but those gains cannot cancel out the number of people leaving Atlantic City.
"Atlantic County's population ebbs and flows with what's happening in Atlantic City," Spielman said.
To the south, Cape May is seeing a similar trend, but one that's mostly fueled by a growing second-home ownership market and an aging population, experts said.
Cape May County lost 4,661 residents from 2010 to 2018, according to the Census data, putting the total at 92,560 people. Between 2017 and 2018, its population shrunk by 624 people, and nearly 300 of those were deaths.
It's population has been getting older. According to 2017 estimates, more than 40 percent of people living there were over 55.
"The older population can attribute to the natural decrease," Rogers said.
Cape May County is stuck in a cycle too, Spielman said: As its seasonal population grows, there are fewer year-round jobs available in its tourist economy.
The area then becomes less attractive for young adults with families, and towns continue to draw second-home owners above full-time residents, Spielman said.
The U.S. Census only counts as residents those who live in a municipality most of the year.
While Cape May County's population is unlikely to reverse, Spielman says, Atlantic County could rebound if recent developments in Atlantic City are successful, including the two new casinos and Stockton University's island campus.
Mayor Frank Gilliam has said that updating the city's aging housing stock will help boost the resort's population. The Beach at South Inlet, the first Atlantic City market-rate development built in the last 25 years, opened last year.
"The question for Atlantic County is, 'What will the trend be in the next few years?'" Spielman said. "We could see a turnaround."
New Jersey counties that saw population increases between 2017 and 2018 were those in close proximity to New York City and Philadelphia, where there are more diverse job opportunities and mass transportation for commuters. Those include Camden, Hudson and Essex counties.