A roller coaster ride of temperatures over the next seven days will have it feeling like winter to fall then back to winter again.
I like to call this "late-fall" weather. The seasonable days will require a light jacket, even in the sunshine, and the car might need to heat up in the morning. Shots of winter will continue to necessitate a heavier jacket.
Temperatures were already at or below 32 on the mainland by 7 p.m. Friday.
That head start will allow for Saturday morning lows well into the 20s in places like Vineland and Egg Harbor City. Even the shore will hover around the freezing mark, the first widespread morning it's that cold.
Atlantic City ranks near the top for New Jersey places most impacted by climate change.
High pressure will continue to belly itself into the region from the west.
The weaker pressure gradient will mean weaker winds for the day. On one hand, that means there will be a slight bump in temperatures. On the other hand, the heart of the cold air will settle in.
They will cancel each other out. Under plenty of sunshine, high temperatures will again top out in the mid-40s and sit about a dozen degrees below average.
Winds will turn to the south overnight. While light, it'll make overnight low temperatures about 10 degrees milder than Friday night. Temperatures will fall through the 40s quickly and then slowly slide through the 30s. Expect coat weather again.
The continuing south wind will pump temperatures up to seasonable Sunday.
It'll be a very nice day, and the more comfortable weekend day, for outdoor projects like raking the leaves, or perhaps spending the day at the shops in Smithville. Highs will be in the mid-50s.
We'll complete our turnaround back to seasonable Sunday night. Lows will sit around 40 on the mainland and the mid-40s by Monday.
Any outdoor Veterans Day services will be pleasurable for November's standards. Afternoon highs will be around 60, slightly cooler by the sea, where water temperatures are generally in the 50s.
The second in the series of cold air outbreaks we've been eyeing will start Monday night. Clouds will thicken ahead of a cold front that won't bring much moisture but plenty of arctic air behind it with a high pressure system.
Rain will likely begin after midnight, ending Tuesday morning. Winds will pick up as the rain ends, and again the cold air will try to change that rain to snow. I don't believe that will happen, but expect a windy Tuesday afternoon. Temperatures will likely fall, as the icy northerly wind blows. Temperatures should even fall throughout the day. The 50 degree "high" should come early in the morning, with 40s and 30s for much of the day in reality.
Wednesday and Thursday will be another two-day polar plunge. In fact, Wednesday could feature record cold.
7) Nov. 22, 1989
Two days before, South Jersey Nov. 20 with afternoon temperatures in the 60s. However, as The Press archives show, strong winds swept through on Tuesday. Which, presumably, was an icy wind, enough for 1.5 inches of snow to fall Nov. 22.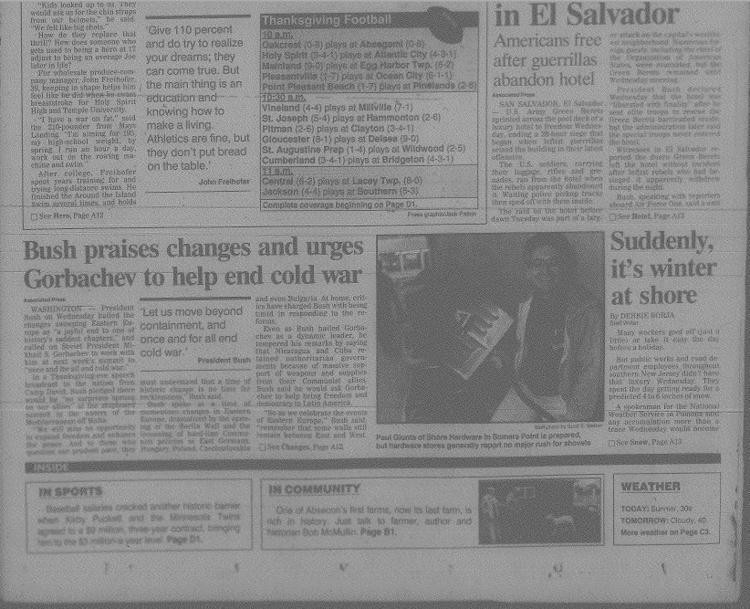 Talk about cold turkey, that snow pack and cold air lingered into Thanksgiving the following day. Both the high and low temperatures are record cold to this day, with a high of 31 and a frigid low of 10 degrees. 
6) Nov. 19, 1955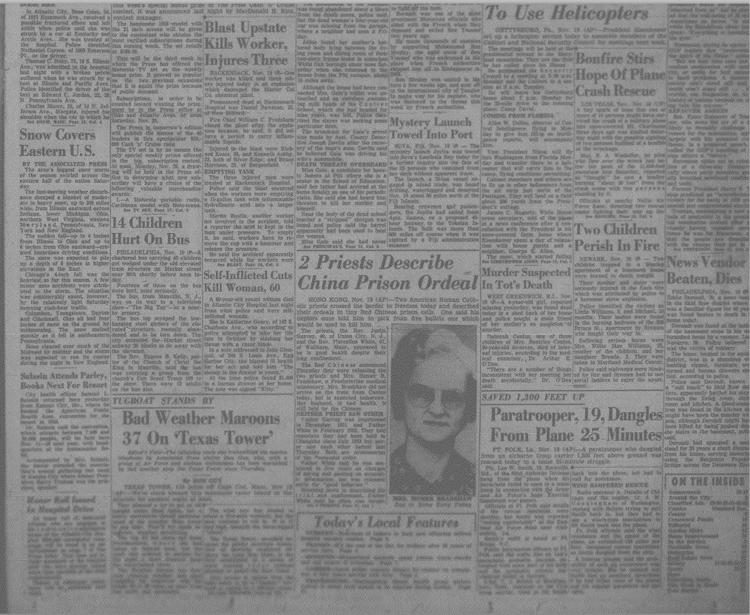 Eight people were injured, two seriously, as a mix of snow and rain fell across the region. 0.4 inches of snow fell on that cold Saturday. 
5) Nov. 16, 1936
It was only 0.1 inches, but it's enough to be measurable. 
4) Nov. 13, 1904
The earliest, by year, on the list, the 0.2 inch amount came with temperatures not even falling to freezing. 
3) Nov. 7, 2012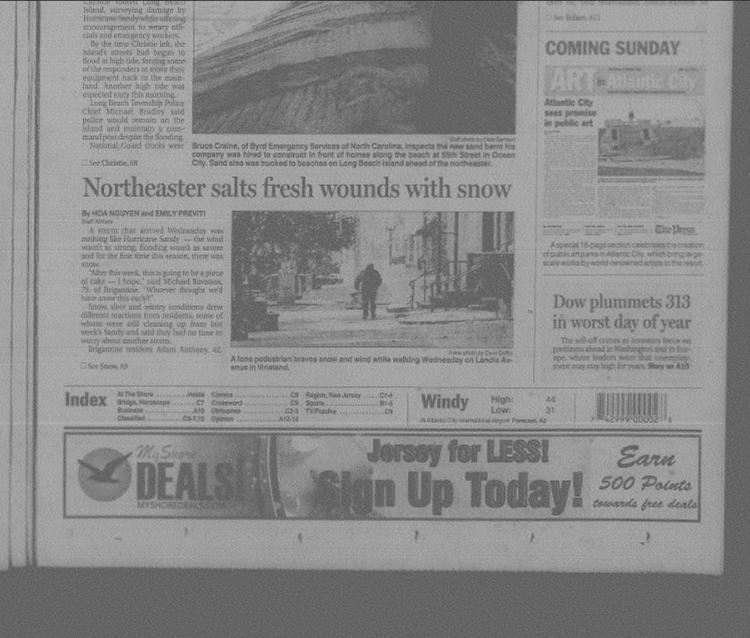 This will forever be known as the post-Superstorm Sandy snow storm. Not even two weeks removed from the destruction and devastation of the storm, 2.5 inches of snow fell on that date as rain turned to snow. 
The heavy, wet snow, accumulated on debris yet to be carried away, the National Weather Service in Mount Holly noted. 18,000 Atlantic City Electric customers were without power.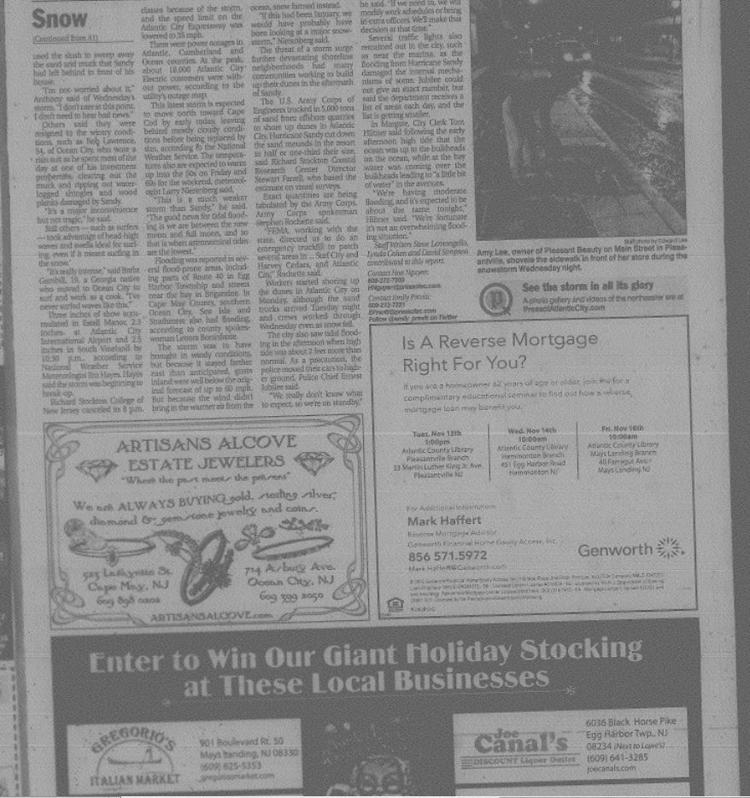 2) Nov. 6, 1953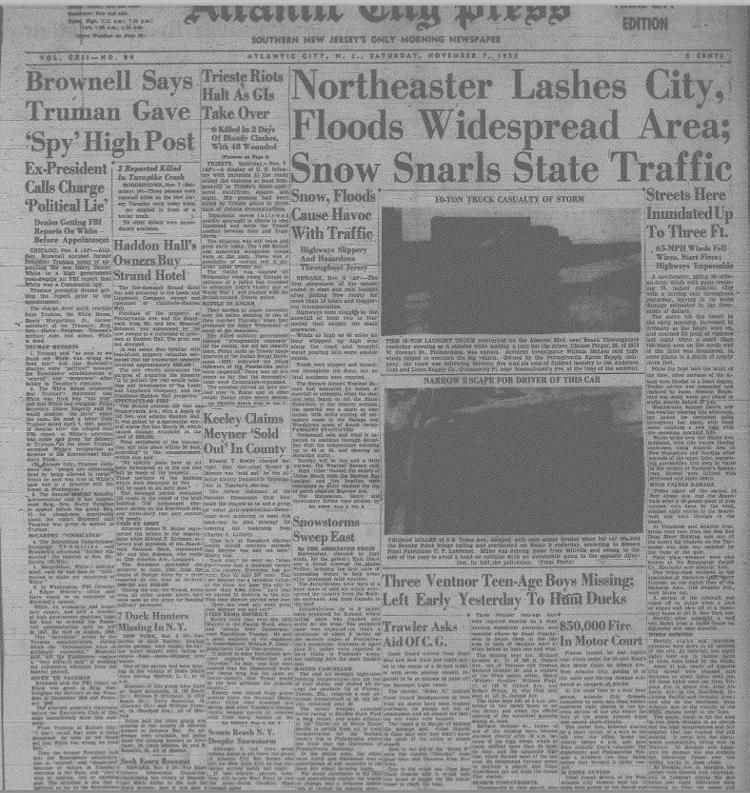 3.2 inches of snow, third for most one day snowfall on record, fell in the early part of the month at A.C. Airport. The Press archives reported on 65 mph winds and significant coastal flooding. 
1) Nov. 5, 1973
This A.C. Airport 0.1 inch amount of snow takes home the gold for the earliest measurable snow on record. Again, the temperature didn't fall below freezing for this time, either. 
However, South Jersey's seen flurries in October before
Oct. 29, 2011
One year before Superstorm Sandy struck, another unusual weather event happened in South Jersey. Unmeasurable wet snow and sleet mixed in with rain at times on this Saturday afternoon at A.C. Airport. 
Oct. 10, 1979
According to retired National Weather Service Meteorologist Jim Eberwine, light rain and snow mixed around 2 and 3 p.m. at A.C. Marina then. 
Oct. 06, 1935
Flakes have flown in South Jersey before Columbus Day. A.C. Marina reported a trace of snow or sleet on this day.
While a low temperature of 39 degrees on this day leaves some skepticism as to there was actually any frozen precipitation, there has been sleet even as warm as the low 40s before. Average lows are still in the mid-50s.
Be sure to watch Joe's daily forecast videos online. This forecast is updated Monday through Friday. For articles and more, you can also follo…