We'll have another round of heavy rain and rising temperatures Wednesday night into Thursday as the polar plunge exits.
Temperatures Wednesday morning will be much milder than they were the past two mornings.
They have been rising through the 20s overnight and will be around 32 come sunrise.
Southwest winds will be the direction of the day, thanks to high pressure exiting offshore. It will become breezy, with sustained winds around 15 mph. Highs will be able to top out just around 50 as a result. Expect filtered sunshine through high clouds.
Temperatures then bottom out in the upper 40s early in the evening. However, a mid-level surge of warm air will push us through the 50s overnight as the rain gets underway.
The timing of the system does look slower. A start time of 10 p.m. to 1 a.m. looks to be the scenario now.
Still, a heavy rain will be the case overnight. Areas of roadway flooding will be likely, not to mention possible high water on the rivers.
In addition, winds will scream 55-75 mph about 5,000 feet above our heads, where we look to find our top wind gusts at the surface.
It'll need a torrential downpour to drag it down, but broken tree limbs and isolated power outages will be possible.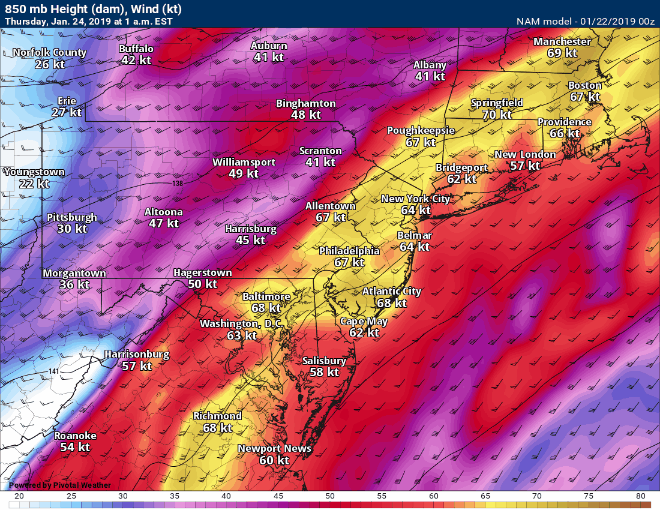 It will then be a slick Thursday morning commute, as the heavy rain moves overhead.
It will be a washout of a day, with rain falling through midday and into the afternoon. By the time it ends between 3 p.m. to 6 p.m., expect 0.75 to 1.50 inches of rain. There will be an outside possibility of snow ending the event.
Temperatures will drop during the day. However, a flash freeze will not be likely. Temps will not fall below freezing until around midnight.
Friday will then be a gusty day. Some morning clouds should give way to full afternoon sunshine. High temperatures will be in the mid-30s, though you'll need extra layers as a 15 mph northwest wind will make it feel like the 20s. Saturday will then be colder but calmer.
After three and a half months of South Jersey Snow Specials, the South Jersey Snow Sweepstak…
The next time period worth watching will be Sunday into Monday. In Thursday's edition of The Press, we will know whether to expect dry weather or wet/wintry weather.
Speaking of Thursday's edition, please give a warm welcome to Alexa Trischler, as she returns to the weather column. She'll be filling in for me for the next couple of days. She'll give you the full weekend weather, plus what to expect (or not to expect) in that Sunday-Monday timeframe.
PLEASANTVILLE — Standing outside her Lakes Bay home, Ailyn Deguzman points to a 4-foot-long …