Valentine's Day came and went without any love from Mother Nature in the South Jersey Snow Sweepstakes. That is, of course, you were the leader. 
UPPER DEERFIELD TOWNSHIP — Lynn Maun heads outside her home each and every morning to a gree…
No snow fell since the last ranking was complied on Feb. 13. However, there were a few observing sites that were still updating their snow and sleet totals from the Feb. 11 event across South Jersey. So, there are some new numbers.
Here are the accumulated snow and sleet totals as of Feb. 18: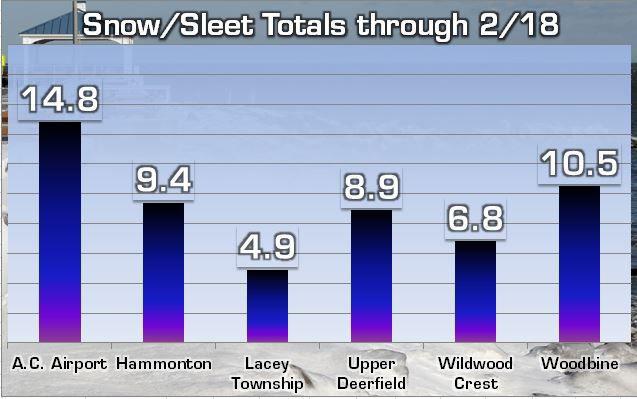 A few new numbers, but we have the same leader. Dave Leopold is in first place for the second week in a row. Dave correctly guessed A.C. Airport to have the most snow and sleet. He also believed 15 inches of accumulation would fall, which is correct to this point.
Looking ahead through Feb. 25, there will surely be one new wintry event. Snow and sleet will fall on Wednesday, which will bump up all of the six observing site's totals. Whether A.C. Airport loses the top spot remains to be unknown (unlikely as of the time of writing on Monday). However, there will likely be a new leader. 
Well before winter, when the beaches bustle with activity and the boats buzz around the bays…
The next rankings will be put out on Monday, Feb. 25. The South Jersey Snow Sweepstakes is brand new for 2018-2019. Entrants who pick the correct location will make the first cut of determining the winner. Out of those who picked that location, the one with the closest total, higher or lower, will be the sweepstakes victor. Missed out this year? Don't worry! We'll be back in Fall 2019.