Wednesday's storm was only 60 miles measured from north to south — small compared to your typical nor'easter or clipper system. But it was 60 miles of a day's worth of snow, creating a winter wonderland and canceling school activities.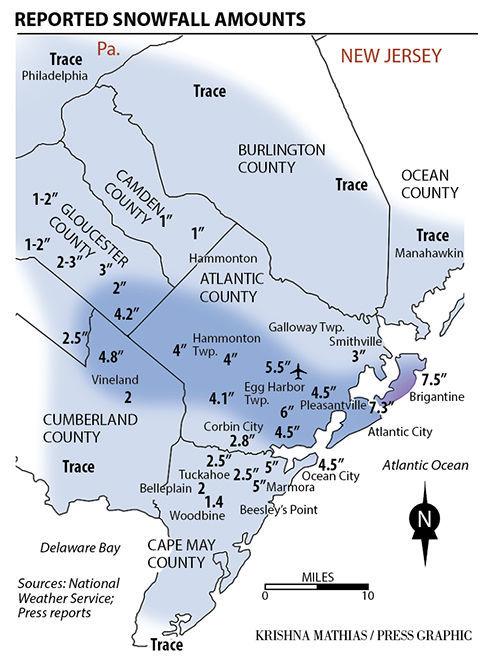 The snow started as early as 6:30 a.m. along Absecon Island. By midday it had snaked into mainland Atlantic County and eventually Cumberland, Ocean and Cape May counties. The snow then pivoted and eventually pulled away during the afternoon, with the last flakes falling shortly after the p.m. commute, again on Absecon Island.
As of Wednesday evening, the highest snowfall total was in Brigantine, where 7.5 inches of snow fell on the northern end of the city. However, there looks to be a gradient, as a 6.4 inch total was also reported in the city.
(Scientific explanation to Brigantine's total, the snow to liquid ratio for that 7.5 inch report in Brigantine to happen is 14:1, using radar estimated liquid equivalent precipitation reports. That is not impossible. However, typically, we see an 11:1 ratio, which would make that 7.5 inch total more along the lines of 6 inches)
Here are the top five highest totals in The Press' coverage area.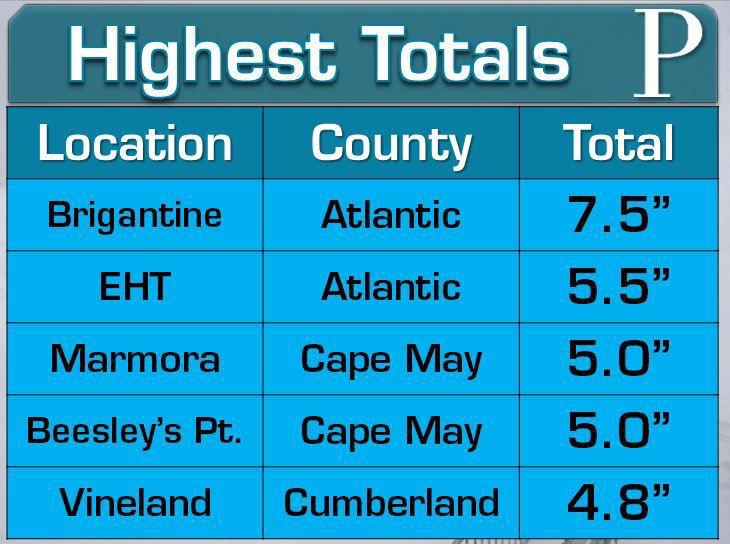 Brigantine took a clean sweep at the medal podium, with 7.5, 7.3, and a 6.4 inch amount seen. Egg Harbor Township than rounded out the top 5, with a 6.4 and 6.0 inch reading.
Snaking down across the Parkway corridor in mainland Atlantic County, The Press' offices in Pleasantville recorded 4.4 inches and Somers Point had 4.5 inches. Two places in Upper Township, in Cape May County, reported 5.0 inches of snow. 
The snow did not fall everywhere, though. South of Middle Township and the Wildwoods, barely a flake fell. A trace was reported in Wildwood Crest. The same goes for Cumberland County towns like Bridgeton and Stow Creek Township. In Ocean County, snow reached Stafford Township and Barnegat Light, but not much farther than that.
The reason for the unique setup was an "inverted trough," a weather pattern notorious for creating localized bands of heavy snow.
No snow is in the forecast for the remainder of the week. However, the wintry temperatures will remain. Highs on Thursday will be around 40 degrees. We then watch for a strong southern storm Sunday night into Monday. At this time, the storm is believed to stay to the south of the region.