In what could be considered the last gasp of summer, South Jersey tied two temperature records Wednesday.
Watch as Meteorologist Joe Martucci discusses how Tropical Storm Michael and a pattern busti…
Atlantic City International Airport reported a high temperature of 84 degrees, carrying a repeat performance of Oct. 10, 2017, when the thermometer also reached 84 degrees.
11:40 a.m.: Route 40 in West Atlantic City has been closed due to flooding, according to the…
It wasn't just the warm, sticky day that had it feeling like summer either. The low temperature was only 66 degrees. That is nearly 20 degrees above average, also tying the record set last in 1990.
About a month after returning from the Carolinas for Hurricane Florence relief, New Jersey T…
Oct. 10 is a sign of the times.
The average last 80-degree day is Oct. 10. As a result of the cooling seasons, the 84-degree reading Wednesday is the lowest record high temperature since April 13.

In 2017, the last 80-degree day was Oct. 10. This year has an outside shot of a repeat performance.
Looking at the low temperatures, the Atlantic City area has never experienced a low temperature at or above 70 degrees on or after Oct. 10. Thursday will try to push the boundaries. The morning low was only 73 degrees, and it will be likely that temperatures do not fall below 70 until a pattern-busting cold front passes early Friday morning.
The air conditioning and fan have been essentials, even this deep into the season. Since Oct. 1, low temperatures have averaged 64.5 degrees. South Jersey has never seen a time period as warm in recorded history. Even more impressive is that 2018 takes the top spot for balmiest lows since Sept. 1 as well as June 1.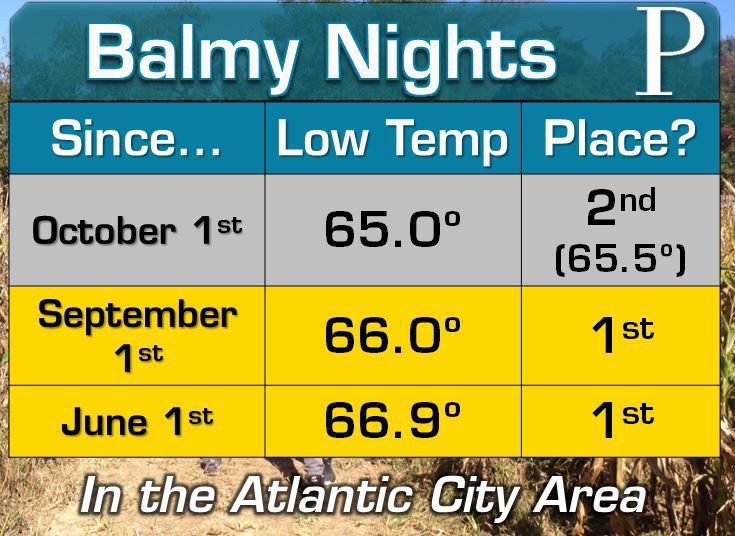 Not only have lows since Sept. 1 been the balmiest during any similar period of time, but it is more than four degrees warmer than any other stretch. The number of warmer nights will continue to increase in a changing climate. According to Climate Central, there have been 17 more nights above 65 degrees, on average between 1970 and 2017.