Multiple rounds of coastal flooding and the potential for power outages will be likely over the weekend. 
The National Weather Service has issued a coastal flood watch from 8 a.m. Sunday to 5 p.m. Monday to cover the three high tide cycles that will likely be in flood stage. A wind advisory will also be in effect for coastal Cape May and Atlantic counties from through 6 p.m. Saturday.
Multiple Rounds of Coastal Flooding Likely
Minor flood stage will be likely in Cape May County during the Saturday morning (high tide 9 to 11 a.m.) high tide. However, the main concern will be during the Sunday midday (10 a.m. to noon) , Sunday night (10:30 p.m. to 12:30 a.m.) and Monday midday (11 a.m. to 1 p.m.) high tides. 
Flood stage levels will range between minor to moderate during this time. Trends have pointed toward widespread moderate flood stage during the daytime high tides.
In minor flood stage, water may be present on the first block or two of bayside roadways. Move your cars to higher ground if you need to and do not drive through the flooded water. Brief road closures will not be ruled out.
During moderate flood stage, water inundation begins in unraised dwellings. Flooding may go blocks inland, especially in Atlantic City, Ventnor and North Wildwood. Local bridges may be impassable due to water at the entrance ways in addition to other street closures. 
A stiff northeast wind will develop Saturday and continue through Monday. An arctic high pressure will be located to the north with a coastal storm moving up from the south. 
While the high pressure will keep us dry for most of the week, the high, in conjunction with the low, will squeeze the onshore wind onto land. Flooding could be worse. Tides are naturally lower being in between the new and full moons. If it was near a new or full moon, widespread moderate stage flooding will be likely.
Coastal flooding will always be a concern, and that concern has steadily increased in recent…
Strong winds will batter the shore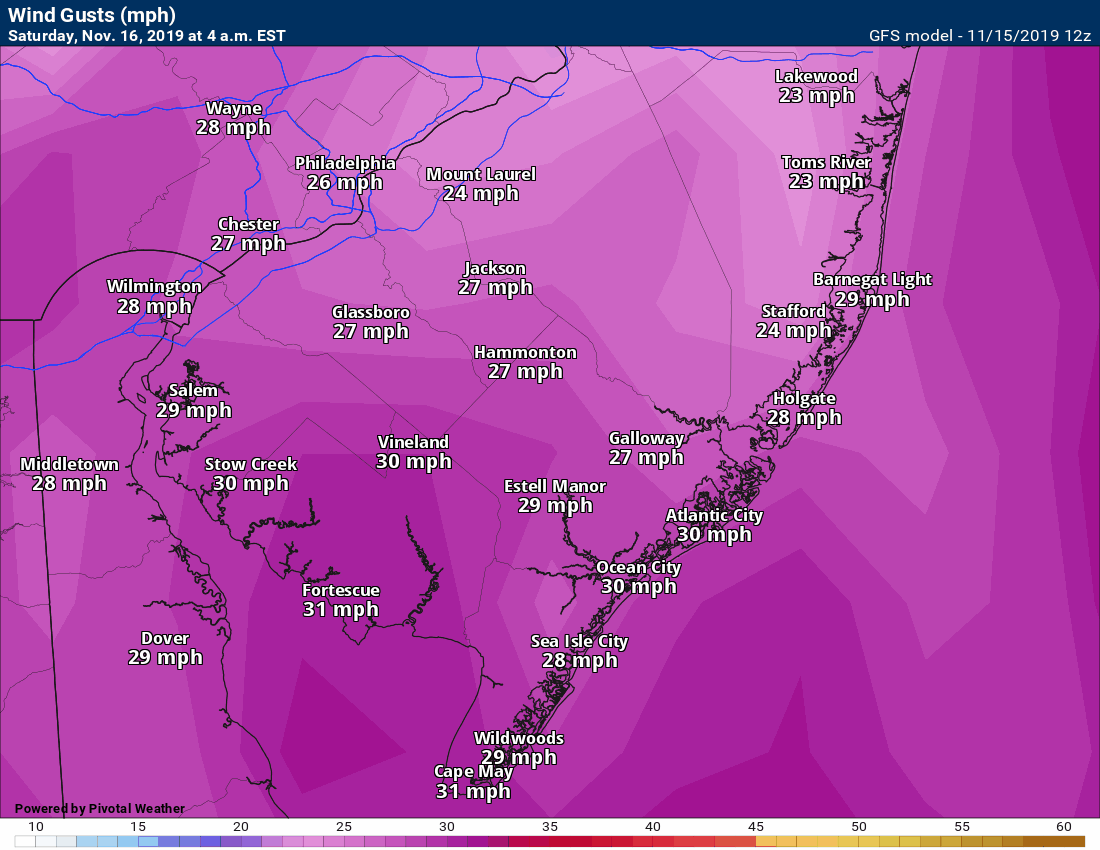 It is the strong northeast to east winds that will cause the coastal flooding but the strength of the winds, too, may cause issued. 
Wind gusts will generally be 35-40 mph. However, the National Weather Service is concerned that a few gusts will be in the 40s. 
When gusts go into the 40s, downed tree branches and local power outage will not be ruled out. Furthermore, unsecured loose objects will blow away and high profile vehicles will likely be pushed around. 
Winds should only be stronger Sunday, which may lead to another wind advisory. 
Plenty of sunshine. Cold.
A plethora of sun. Spotty minor coastal flood likely at the shore.
More sun than clouds.
Morning sun with afternoon clouds. Mild.
A coastal storm will be near. Rain is likely, along with wind. Coastal flooding will be possible.
Mostly cloudy. A snow shower will be possible during the morning.
A mix of sun and clouds.