4 p.m.: Two things happened with the winter weather advisory.
1 - The advisory was cancelled for Atlantic and Cumberland counties. It has been all rain for the past 1 to 2 hours as temperatures rose. 
2 - The advisory was extended until 6 p.m. for Ocean County. However, for those in The Press' coverage area (Stafford and Long Beach Island on South), you are snow free now. It will be all rain from here on out. So, while the advisory is extended, The Press' area will now be all rain. 
To recap, this is where South Jersey stands with hazards.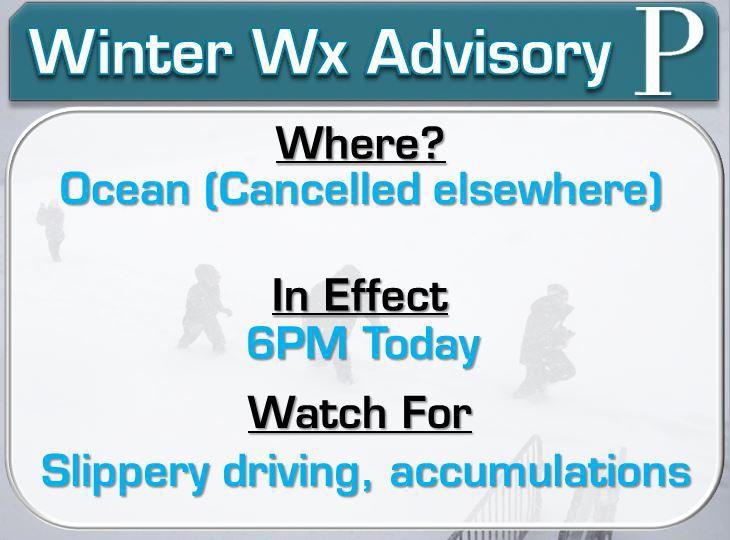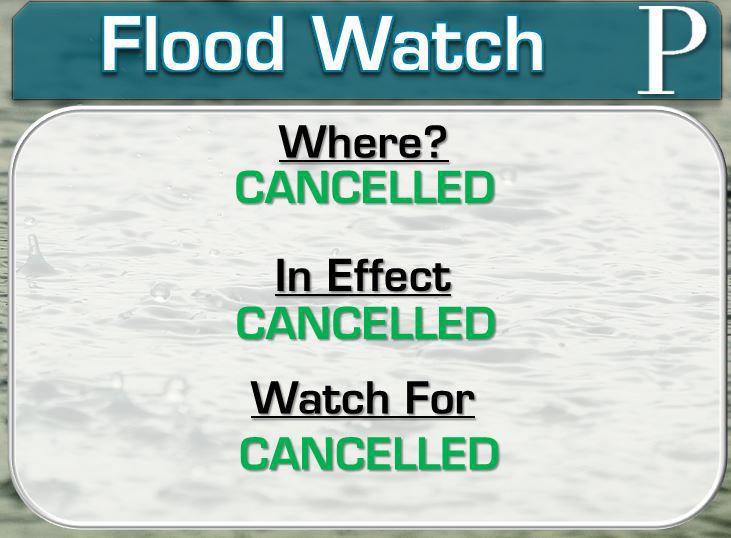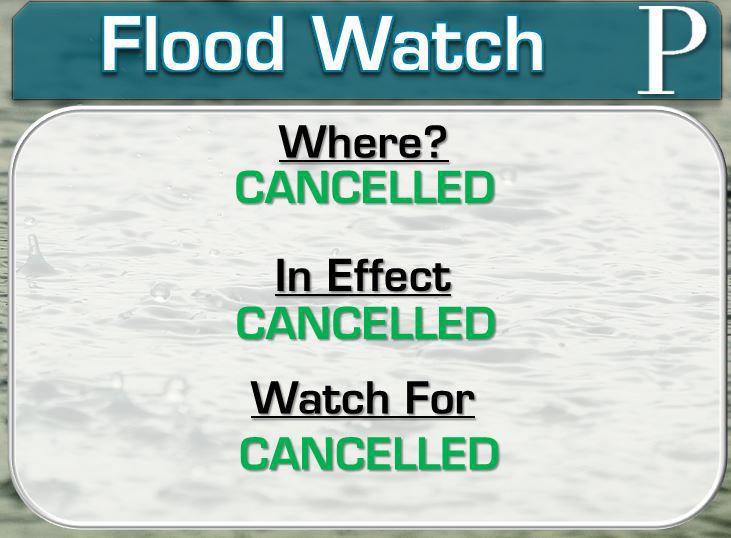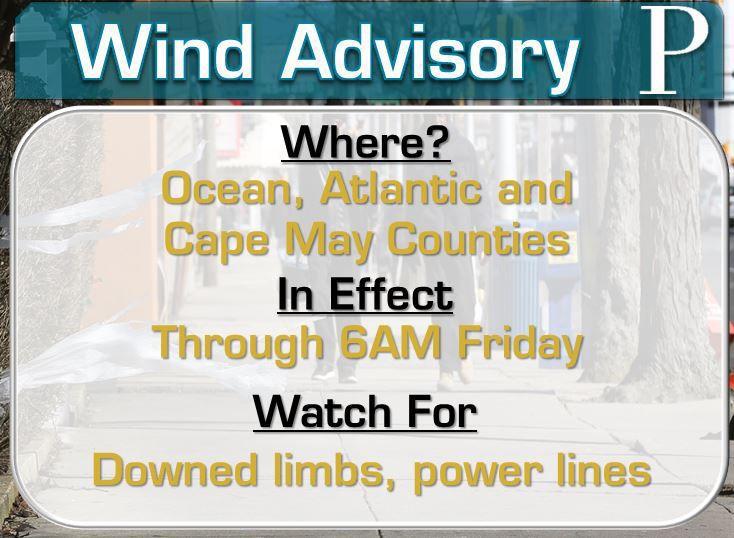 3:40 p.m. update: The National Weather Service made a slew of updates to their hazards. 
The winter weather advisory continues for Ocean, Atlantic and Cumberland counties until 4 p.m. So we have a few more minutes to go! It makes sense. West of Deerfield to Fairfield township in Cumberland and north of Stafford Township, there is still a little wintry weather left. I believe when all is said and done, less than an inch of snow/sleet will have been the case.
However, dew points have climbed behind that magical 32 degree mark. Once that goes above freezing, rain can't "dynamically" cool into wintry weather very easily. By 4 p.m., it should be rain everywhere.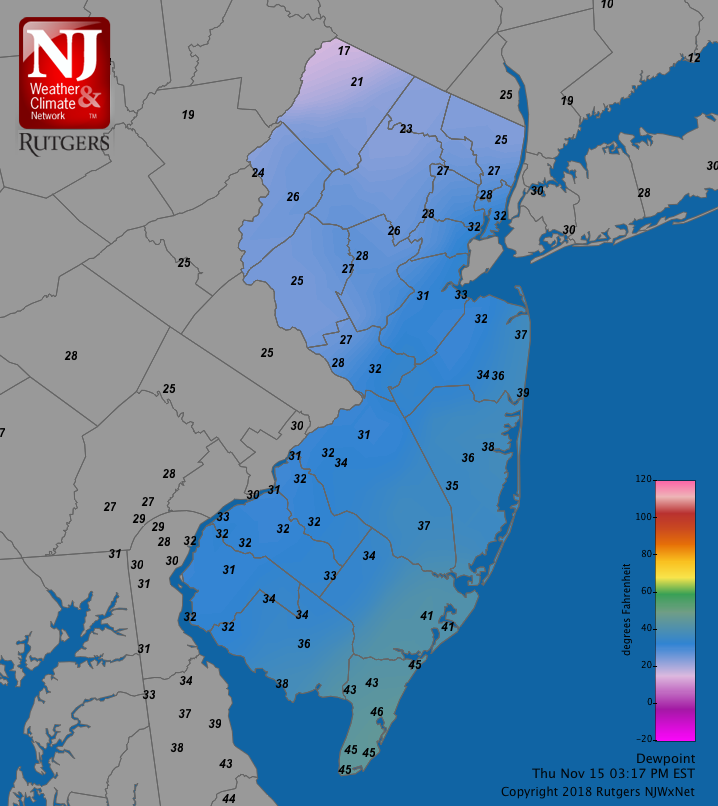 The wind advisory will be extended until 6 a.m. on Sunday. We have already begun to see the winds pick up. However, it will be the worst during the night. This will be as the strong high pressure system that set the stage for wintry weather in parts of the region will combine with the approaching coastal storm. That will funnel easterly winds into the area. The extended wind advisory, though, will account for the stiff northwest winds that will blow into the morning. 
Wind gusts in the 40s will be likely along the shore. Sustained winds of 20-30 mph will be common everywhere. Be prepared for 
- Blown over lawn furniture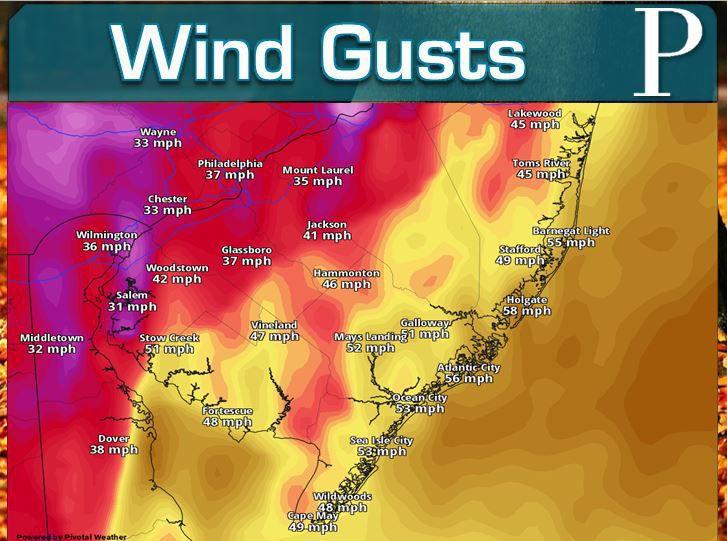 Finally, the flood watch has been cancelled. Rain has already started to break up in the Delmarva. Between 0.50 to 1 inch of rain (including melted snow and sleet) has fallen. We likely just tack on another 0.25 to 0.50 inches. In the sandy soils of South Jersey, that's not enough for major flooding issues. Still, expect ponding of roadways to continue. 
3:00 p.m. update: If you missed our Facebook live at 2 p.m., you can still see the latest of what's going on across southeast New Jersey. Most of the material will still be good for look at, even into the afternoon. 
2 p.m.: I'll be live on Facebook in to update you on the nor'easter.
1:20 p.m. We reached the trifecta of our storm when it comes to National Weather Service hazards. A winter weather advisory, flood watch and wind advisory are all now in effect for Ocean and Atlantic counties.
Cape May county is not under the winter weather advisory, though and Cumberland county does not have a wind advisory. 
12:45 p.m.: We're slowly seeing that transition over to rain in western Atlantic and Cumberland counties.
Temperatures have risen a degree or two in the past hour. In a situation like this, that's enough to turn snow to rain. So, Millville, Vineland, Maurice River, Commercial and Downe should switch to rain in the next hour or so. However, snow has fallen in the region. Here's a picture from Vineland, where a few tenths of an inch has fallen.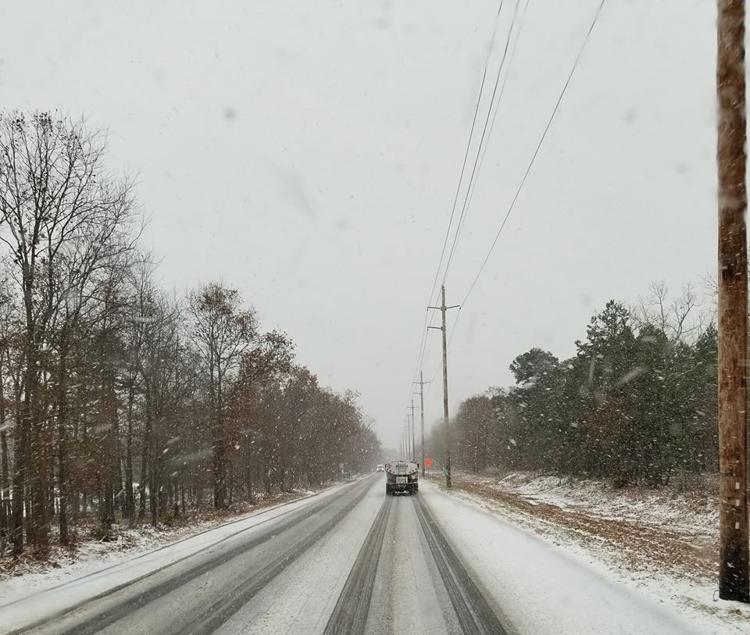 Dew points might be more of a summer thing but we're allllll about the dew points during this November storm ✔️. It's the main reason why you're seeing what you are! #NJwx pic.twitter.com/Re3FpRWWE6

— Joe Martucci (@ACPressMartucci) November 15, 2018
11:00 a.m.: A winter weather advisory is now in effect for Ocean, Atlantic and Cumberland counties until 2 p.m.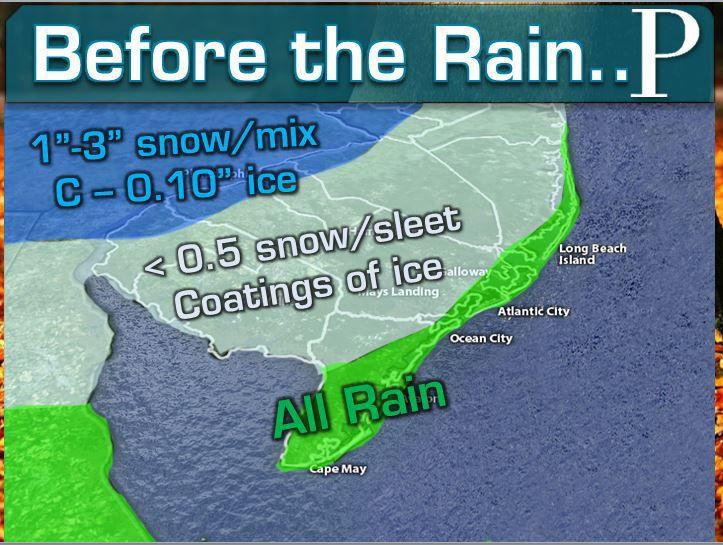 This is more of a cautionary advisory than anything else. Yes, there is snow and sleet. However, accumulations have not, and will not be high.
I believe my map still holds true. The eastern half of Atlantic county, in addition to most of Cape May and southern Ocean Counties are done with any wintry weather. Dew points rose above 32, a classic sign of the rain ending.  Those to the west aren't under influence of the ocean yet, so winter carries on.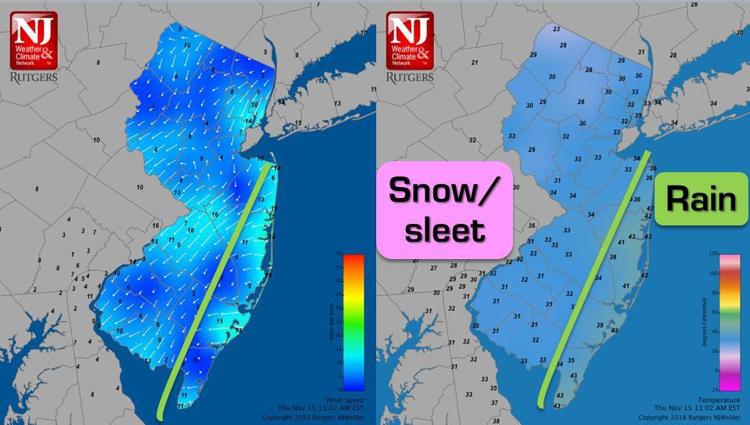 Be careful driving out on the roads. After 2 p.m. we should really be able to warm up and change to a heavy, plain rain. We are already seeing signs of that. Winds are flipping to the east. With water temps in the 50s, we'll ease the chill just a little bit. 
10:15 a.m. The wintry weather is sticking in spots! Here's one from Estell Manor 
Millville has been reporting snow! This was possible. Check out a little bit of the white stuff at the Department of Motor Vehicles.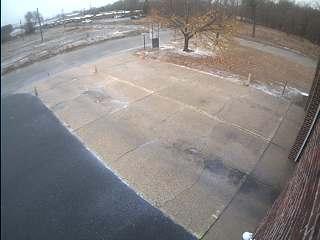 As we go into winter, an important reminder - Sleet has a much easier time sticking than snow. So even if we get a storm with 2 inches of sleet, be prepared for problems. 
9:10 a.m. update: I touched upon this in our Facebook Live but did will elaborate in print. 
A wind advisory and flood watch will be in effect for today. Here is what you can expect, by hazard.
Wind Advisory (1 p.m. to 11 p.m. Friday)
Damaging winds and power outages are possible Thursday afternoon and evening. The combination of our approaching double barreled low pressure system and a strong high pressure to our north will bring the advisory.
Sustained winds of 20 to 30 mph will be expected. Gusts will whip, topping out around 50 mph at the shore. The mainland will generally be in the 40s, though toward the I-95 corridor, only 30s will be expected.
Watch for downed tree branches. Isolated power outages will be possible, and I will be watching the shore for that. Atlantic City Electric will be on top of the situation.
"We are prepared for this weather event and advise customers to also be prepared.
*       Have a flashlight with fresh batteries on each floor of your home
*       Have a supply of bottled water and easy-to-prepare, non-perishable foods available.
*       Charge cell phones and other mobile devices
*       Create (or update) an emergency supply kit to save valuable time later
*       Keep a portable radio or TV, or NOAA weather radio on hand to monitor weather forecasts and official information
Frank Tedesco, from Atlantic City Electric, said. 
1.25 to 2 inches of rain will be expected throughout the day. Luckily, no flash flood will be anticipated, due to it coming over a 12-18 hour period. However, over time, clogged drains and small streams that rise above their banks threaten to be an issue. Therefore, a flood watch will be in effect from 10 a.m. to 11 p.m. Thursday. 
9:00 a.m. update: I've made an update to the map that explains what'll happen before the rain. I moved the wintry mix line all the way through the mainland for Ocean and Atlantic counties. I also introduced a coating of ice, given the frozen ground.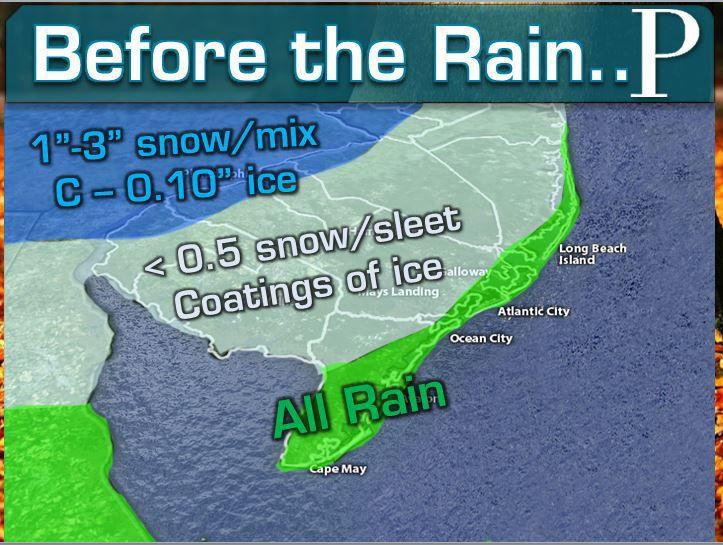 Be careful on the roadways Thursday morning. 
8:40 a.m. update: Precipitation started a little early. Around 8 a.m., the first reports were coming into South Jersey. By 10 a.m., this should fill in everywhere.
The bigger story for some, winter has started. Sleet has been falling for those along and west of the Parkway in Ocean, Atlantic and Cape May counties. 
This is thanks to the temperatures still hovering around freeze. The thick cloud cover and early arrival time hasn't given the region enough time to warm up. More concerning going forward will be the freezing rain potential. I just measure the pavement temperature at our office and it's only in the 20s. That is definitely enough to make for icy roadways.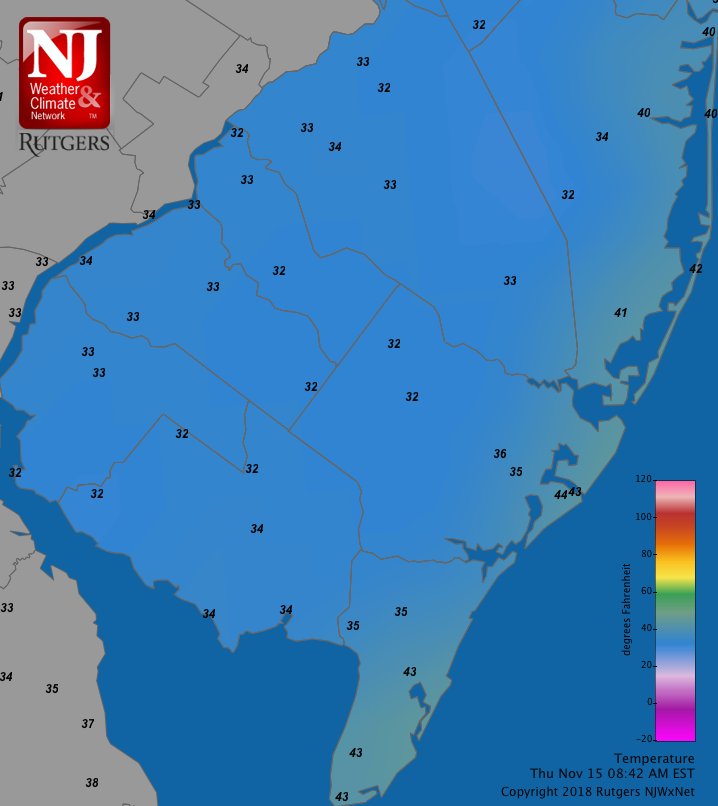 6:20 a.m update: Good morning! The day is here and we have two National Weather Service hazards to let you know about.
A flood watch will be in effect from 10 a.m. Thursday morning into the evening. Rainfall totals of 1.25 to 2 inches across South Jersey will promote a higher than usual amount of flooded roadways. This is especially true due to the leaf-clogged drains in some areas. Flooding shouldn't occur until late in the afternoon and evening, though, as the heaviest lifts through.
As we mentioned earlier, Cape May, Atlantic and Ocean counties will be in a wind advisory from 1 p.m. to 11 p.m. Isolated power outages are a threat. 
Timing, Impacts and Original Story
Our second coastal storm of this week will bring rain, damaging winds, a round of coastal flooding and the first taste of wintry weather to South Jersey Thursday. A quiet weekend will then be in store.
It will look like the calm before the storm on Thursday morning. We will have a cloudy sky with a cold, damp feel to the air.
Temperatures on Thursday morning will start out in the upper 20s west of the Parkway, with mid-30s at the shore.
Even though the turkey hasn't been put on the table yet, snow season, and the winter of 2018…
These temperatures will be important. Even though we will have an onshore, northeast wind blowing, temperatures will not rise all that much throughout the day.
For those along and east of the Parkway, plus all of Cape May County, all rain will be expected, beginning between 9 a.m. and 11 a.m. To the west of there, the first sights of winter will come as the cold air will not fully escape just yet. Expect sleet to fall at the onset, before mixing with and changing to rain by 1-2 p.m. Little (less than a half inch) to no accumulation will be expected. Regardless, take it slow driving.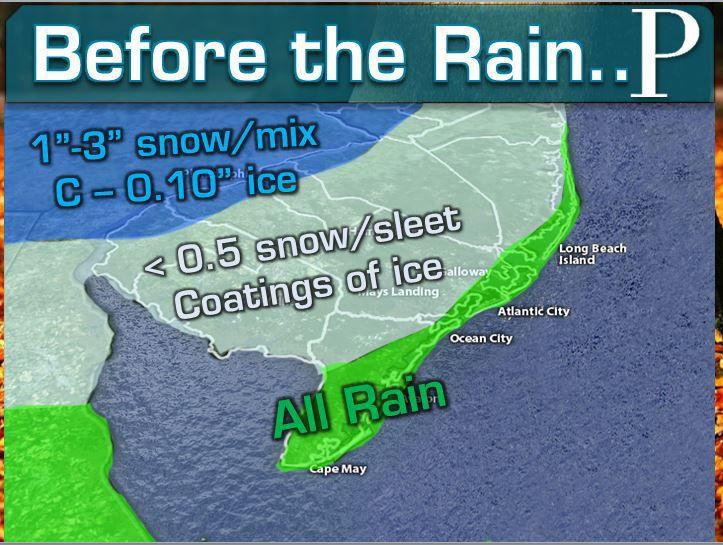 It will be remembered as a storm with heavy rain and strong winds. However, for some in Sout…
Then, the afternoon will see a wind-driven rain. Sustained winds of 20-30 mph will be likely. At the shore, the winds may be the biggest issue. Gusts in the 40s can knock off tree branches and down power lines. Isolated power outages will threaten.
A wind advisory will be in effect from 1 to 11 p.m. to account for the winds.
Otherwise, it will be a raw, raw day. High temperatures will stay in the 40s, highest at the shore. Wind chills will make it feel like the 30s. Dress warmly if you will be outside.
The rain will continue through a messy evening commute as the heaviest rain comes during this time.
Rain will continue into the evening. The center of the low will pass very close to us overnight Thursday. This will bring a dry and warm slot of air. Temperatures will rise overnight as the rain slows down after midnight. However, we will watch for another phase of the coastal storm to impact us, coastal flooding.
Coastal flooding will always be a concern, and that concern has steadily increased in recent…
Minor coastal flood stage will be possible during the early morning Friday. Move your cars if you need to and prepare for additional water on bayshore roadways.
There are many different types of flooding products put out by the National Weather Service.…
For those in Cape May and Cumberland counties, this may be it for the rain. The winds will diminish everywhere. For the rest, a shot of rain showers (possibly mixing with snow) will finish it off during the Friday morning commute.
Rainfall totals of 1.25 to 2 inches will be likely when all ends. Pockets of roadway flooding will be likely through the storm. A strong northwest wind will blow Friday morning, drying us out and clearing us out. The afternoon will see sunshine as highs rise into the mid-50s, a quieter end to the week, with a calm weekend to go with it.