The South Jersey snow special is over. For the rest of the week, the wintry temperatures stay, while the wintry flakes go away.
Wednesday's storm was only 60 miles measured from north to south — small compared to your ty…
Thursday will see sunshine dominate for much of the day, with just a few clouds. Watch for black ice through the morning rush, as it will be slick. High temperatures will rise to around 40 degrees.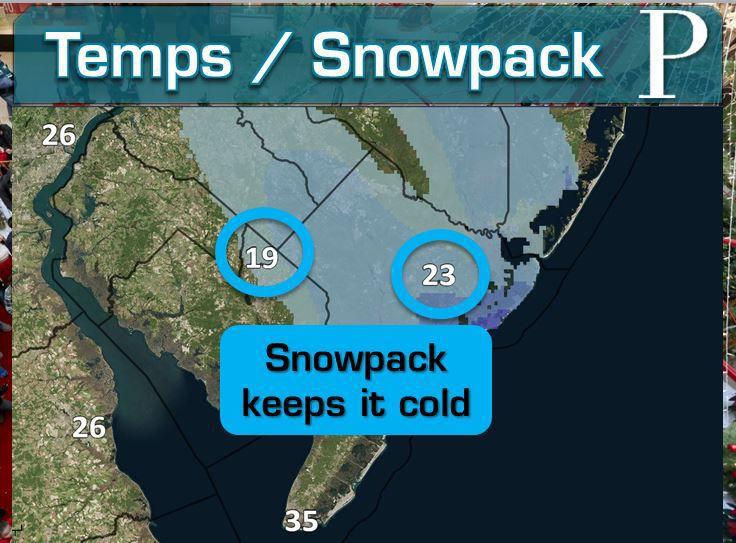 Thursday night will be cloudy again. An arctic front will rush through. The temperatures will actually be warmer than Wednesday night, bottoming out in the upper 20s to around freezing. However, it will lead to a nippy northerly wind on Friday as highs stay around 40. The wind chill will be around freezing.
Even though the turkey hasn't been put on the table yet, snow season, and the winter of 2018…
Now, a housekeeping note from the weather department. We are very happy to be teaming up with Atlantic City Elecric in a sponsorship opportunity.
In print, you will begin to see their weather preparedness expertise more often in articles. Online, they are sponsoring everything weather, from The Weather Center to the "On The Road" series, and more. If you followed along on Wednesday's Facebook Live updates, you saw their recommendations on how to stay safe during snow.
Secondly, we have now acquired a custom weather graphics package from a company called PivotalWeather. I have been using their products for years to forecast. When the opportunity came to design a custom package, I jumped on it. They're very clean images that allow me to pick out what I believe most represents what kind of day you will have in South Jersey. You can see exactly what your town is forecasted to experience with the maps, too. You will see these in print every once in a while, but look for them on a daily basis in web stories or in the daily forecast videos.
Which takes me to my last point. In the past, we've done two forecast videos a day. However, I tested out doing three a day, and your reaction was positive enough that we're officially switching to three daily videos (most days)! The number of you who watched the shorter videos was higher and the total numbers of views went up as well. We hope that has allowed you to make better decisions on planning your day.
It's an exciting time to explore all that The Press of Atlantic City has to offer with weather. I'm excited as we go into winter.
On The Road will be going to a pair of Cumberland County communities on Thursday, visiting H…