Ten of the 12 Inspira Medical Center Vineland labor and delivery nurses gather Saturday for a picture in a fourth-floor lobby area.
Inspira Medical Center / provided
A dozen labor and delivery nurses at Inspira Medical Center in Vineland have each given birth in the past year. One of the nurses says the joke is to not drink the water because 'everyone's pregnant here.'
Why isn't it snowing in South Jersey? Don't blame global warming. At least not yet.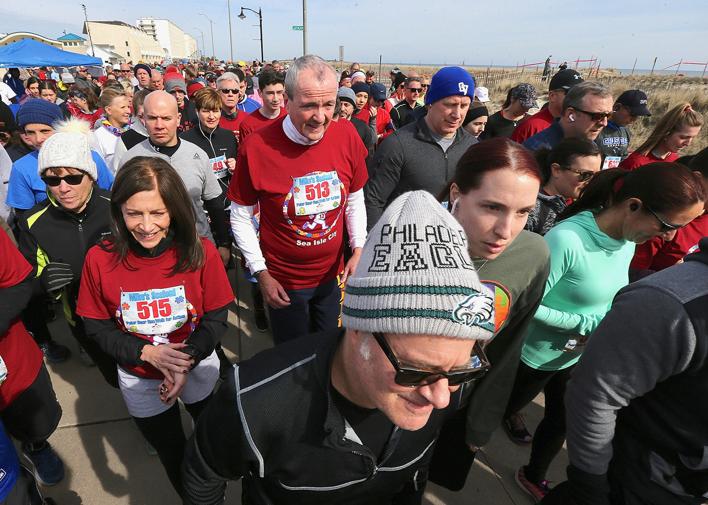 New Jersey Phil Murphy (center 513) joins the runners on the Sea Isle City promenade for the annual Polar Bear 5K Run for Autism. New Jersey Governor Phil Murphy and First Lady Tammy Murphy, participated in the 12th annual MIke's Seafood Polar Bear 5K Run-Walk for Autism in Sea Isle City, Sunday Feb. 16, 2020. Dale Gerhard | For The Press
Dale Gerhard
Among the many participants Sunday in the 12th annual Mike's Seafood Polar Bear 5K Run-Walk for Autism in Sea Isle City was Gov. Phil Murphy. Check out our photo gallery here.
A referendum that could lead to a change in the form of government in Atlantic City is scheduled for March 31. And it may not even happen. And its results may be overruled even if it does. Here is everything to you know about the issue.
The sixth-ranked Wildwood Catholic High School boys basketball team took No. 1 Camden to overtime, but the Panthers prevailed 63-54.
The Southern Regional High School wrestling team won its second straight state championship Sunday. The Rams beat Manalapan 38-24 to win the state Group V title at the RWJBarnabas Health Arena in Toms River. And here are the photos from the Rams' semifinal win earlier in the day.