Mike McGarry​ ​ ​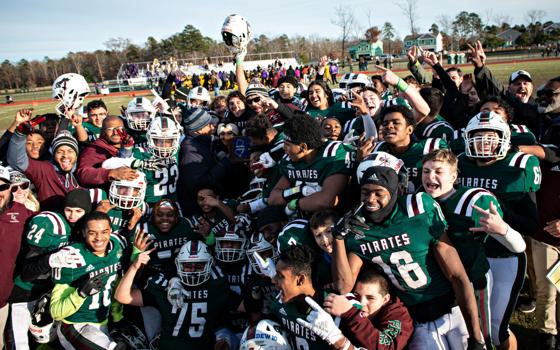 On November 30th, 2019, at the Cedar Creek High School in Egg Harbor City, the Pirates square off with Camden in the Central Jersey Group II title game.
Matthew Strabuk / For The Press
It's the final week of the high school football season.
Hammonton, Cedar Creek, St. Joseph and Holy Spirit head to Rutgers to chase championship glory.
Hammonton faces Shawnee in the South/Central Group IV final on Saturday. Cedar Creek faces Hillside in the South/Central Group II final at 1 p.m. Sunday.
St. Joe and Holy Spirit will battle for the state Non-Public II title, in a rematch of last year's title game that St. Joe won 41-22, at 4 p.m. Sunday.
Hey maybe new Rutgers head football coach Greg Schiano will be on hand to take in some of the state's best high school football talent.
We will be back Friday with complete coverage of the three games and the players that we expect to make an impact.
The race for Press Player of the Year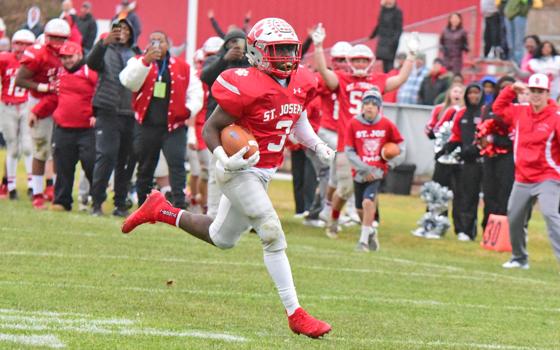 St. Joseph's Jada Byers runs for his tenth touchdown of the game and career record number 102 during Saturday's playoff game against Morris Catholic on November 23, 2019. Photo/Charles J. Olson
Charles J. Olson
With the season, winding down its time to talk about The Press Player of the Year race. Some years it's easy to identify, but this season is not one of them.
This year has seen some great performances — from the record-setting performances of St. Joseph's Jada Byers to the game-breaking ability of Cedar Creek's Max Melton to the precision passing of Cedar Creek quarterback Louie Barrios to the tough running of Hammonton's Jayden Abrams, who helped lead the Blue Devils to their first sectional crown in 10 years.
This has to be one of the closest POY races that we have seen in a while. Let us know who you think should win.
Thanksgiving leftovers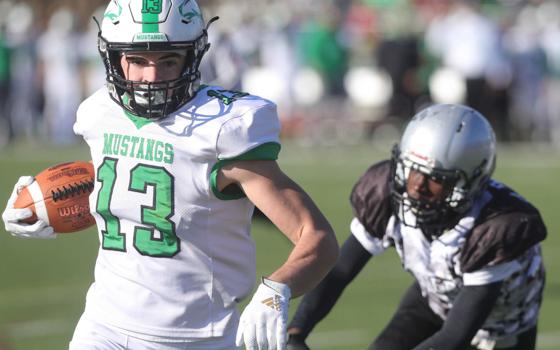 Mainland vs Egg Harbor Township annual thanksgiving day football game at Egg Harbor Township Thursday Nov 28, 2019. Edward Lea Staff Photographer / Press of Atlantic City
Edward Lea
Next year there will be one less high school football game on Thanksgiving day. Last week, Mainland and Egg Harbor Township played for the final time on the holiday.
Mainland won 26-12. The teams hope to play next year during the regular season but not on the holiday, officials said.
With the state's new playoff format, Thanksgiving games are getting harder to fit into the schedule. Teams that don't make the playoffs or lose in the first round have to bide their time until Thanksgiving. Teams that advance in the playoffs don't want to interrupt the postseason to play a regular-season game.
Mainland head coach Chuck Smith had an interesting comment about playing on Thanksgiving.
"I got to coach in the last one," he said. "With the way the new playoff format is, I'm not really sad to see it go. To me, the playoffs are the end-all. You play to get in the playoffs. There's either the finality (of a playoff loss), or you get to go on tomorrow. I love that. That's what you do in sports."
Don't forget to follow our team
It takes a lot of people to cover high school football. To get the latest on game day, follow our staffers on social media at:
• Nicholas Huba: @ACPressHuba
• Michael McGarry: @ACPressMcGarry
• David Weinberg: @PressACWeinberg
• Patrick Mulranen: @ACPressMulranen
• Ahmad Austin: @ACPressAustin
• Zac Spencer: @ACPressSpencer
Visit HSLive and like our Facebook page, facebook.com/hslive.