On The Road will be going to a pair of Cumberland County communities on Thursday, visiting Hopewell Township and the Delaware Bay community of Greenwich Township. 2018 will be coming full circle, as we began this little tour of our 63 towns in Shiloh and Stow Creek, another Delaware Bay community in western Cumberland County. On this short winter's day, we will wrap up the county's portion of the journey. 
On The Road, sponsored by Atlantic City Electric, will take us to all 63 towns that we cover at The Press of Atlantic City. We will bring the weather to your community's events, schools and best scenic spots. All the while, we will uncover why each place is a "South Jersey Special".
Thanks to Press graphics artist Krishna Mathias and developer Mike DellaVecchia, you can learn about the towns as we go on our interactive page. Watch where "On the Road" has ventured to, find upcoming stops and view our real estate resource center, Where to Live.
Without further ado, here are the details for stops 61 and 62: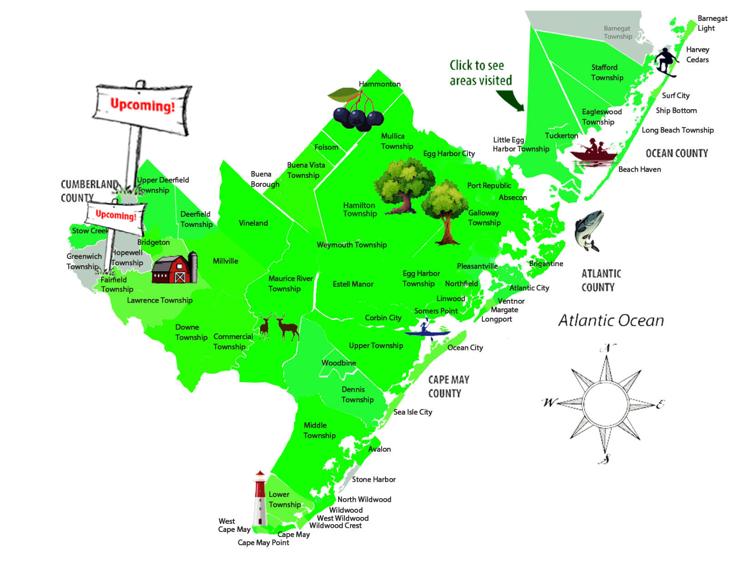 Where: Greenwich and Hopewell townships (Cumberland County)
Date: Thursday, December 27
Time: 11:30 a.m. at Greenwich Marina and Boatworks. Then, we will be at the Hopewell Township Municipal Building. 
Our guests: Assistant Planning Director for Cumberland County and lifelong Greenwich resident Matt Pisarski. In Hopewell, we are working on a guest. 
Did you know (Greenwich)? The Boston Tea Party is the most famous one in American history, but Greenwich had one of its own in 1774. Read more about it here
Did you know (Hopewell)? Hopewell was one of the original 104 townships in the state.
Future "On the Road" dates
Well, it's time. Our last On The Road, Stone Harbor, will be on January 2 (for those wondering, we were trying to work out a date before 2018 ended, but that day worked out the best).