On The Road with Joe comes to Margate on Thursday
Ah Memorial Day weekend. We made it South Jersey, summer is finally here. 
Well, kind of. Memorial Day weekend can bring us anything from summer pefection, to sand scolding days to sweatpants and hanging inside the house. What better way to explore all of the elements the holiday weekend brings than with the people who are synonymous with summer, lifeguards. We're taking you to the Margate Beach Patrol!   
On The Road, a New Jersey Press Association Award Winning segment in 2018, is back in 2019 with more interviews, more adventures and more digging out some of the coolest places nature can bring in the area. Tune in as we take you through South Jersey, and the year, with theme months.
Twice a month, I'll explore each theme by going to a place and interview the people that make it unique within South Jersey. All the while unearthing how our local leaders battle the elements, give you tips on our environment and more. 
Thanks to Press of Atlantic City graphics artist Krishna Mathias and developer Mike DellaVecchia, you can follow along on our journey with our interactive page. Watch where "On the Road" has ventured to, find upcoming stops and view last year's original 63 town adventure. 2018's On The Road was a New Jersey Press Association winning series.  
Here's where On The Road will be going next for Maritime May.  
Where: Margate Beach Patrol 
When: May 23 at 2 p.m.
What I'll be doing: We'll be with the Margate Beach Patrol seeing what it's like sitting outside all day when it's cloudy and 60 degrees. We'll also be talking about cold water safety tips and explore the intersection of weather and Memorial Day weekend. 
Open to the Public?: Yes
Future "On the Road" dates:
We'll be doing our "June Booms" edition of On The Road! We'll be talking all about summertime thunderstorms. Our first stop will explore how high schools prepared for the weather for their outdoor graduations. Then, we'll see how local water parks are protecting their customers by keeping an eye on the sky. 
FROZEN FEBRUARY: On The Road with the Art Dorrington Ice Hockey Foundation
FROZEN FEBRUARY: Staying warm in Smithville for On The Road
Public works crews just wrapped up one of their toughest months
March's tug of war between the fading winter and the rising spring may send some people spinning.
But for local public works departments, the change of seasons means using everything they know to tackle whatever conditions come their way.
The drastic swings in temperature mean road crews need to be prepared for whatever weather heads their way.
"One day it could be in the high 60s. We could be golfing. Then, the next three days, you have a buildup of snow that turns to ice," said Brian Dunn, general road supervisor and 40-plus-year employee of the Vineland DPW.
March's potential fury is echoed throughout the city.
"Don't let your guard down, just make sure the trucks are safe," Dunn told his crews during the month.
Vineland has 1,014 lane miles in the city, New Jersey's largest by area. Lane miles account not just for the road you drive on, but each lane and shoulder as well. In charge of the $2.5 million road budget, Dunn ensures motorists and pedestrians are safe, whether it's by filling potholes or plowing.
At Atlantic City International Airport, temperatures have spanned from 2 to 87 degrees during March throughout its recorded history (since 1943). Average low temperatures start in the upper 20s but wind up in the upper 30s. In winter 2018, 9.6 inches of snow fell at the airport, the fifth highest for any March in recorded history.
"I would say it's probably one of our more challenging months, sometimes with late-season snow events; frequent rain events which raise flooding/ponding concerns; high winds that may spread debris and litter along the roadways; and potholes that continue to develop with temperature fluctuations," said Greg Brookins, head of the Atlantic County Department of Public Works.
This past March was much tamer than last year's, when four nor'easters, multiple snow events that required salting and/or plowing, and numerous coastal flooding events wore down the state.
"Many times we face lingering snow events in March, but fortunately not so much this year," Brookins said.
Still, Vineland officials noted that pothole activity was high this past March. Vineland public works Superintendent Mark Gugliemi said the city experienced three "thaws," which caused them to use plenty of patches to keep vehicles from blowing out a tire or sustaining damage.
The wettest year on record and a soggier than average start to 2019 are still not enough to …
"A lot of people have water in their basements. We have places where the residents are pumping water down the gutters," Dunn said.
He noted that this water spills out onto the roads. When temperatures drop below freezing, as they inevitably do during March, road crews are out there salting those areas to keep people safe.
"The water in many cases simply has nowhere to go until we get a break between rain events and the ground has a chance to dry out a bit. In the meantime, we continue to make improvements where possible," Brookins said.
MARCH MANDESS: Combating coastal flooding at the Ocean City Fire Department
Farmers, experts predict a growing season in full bloom this spring
The combination of a record wet 2018, a wetter than average winter and a dry patch in March lead many to believe South Jersey will sprout strongly when growing season arrives.
This story was updated to include all of 2018's numbers. 
"The good news is that we've had multiple months with above average precipitation. For any soils that can hold the water for a while, we're in good shape, the groundwater is in good shape," said Dave Robinson, the New Jersey state climatologist and distinguished professor at Rutgers University.
The state averaged 64.79 inches of precipitation in 2018, the highest since records were first kept in 1895. Rain and snow slopped the soil after the growing season ended. November was the wettest on record at Atlantic City International Airport. The period from December through February was the ninth wettest meteorological winter at the airport.
While this could have set up too wet of a start, March saw slightly lower than average precipitation, the perfect balance needed to get a garden going.
Growing season begins with the last frost and freeze, typically late March to mid-April in South Jersey, and ends with the first frost or freeze, typically late October to early November.
"The rain last year was terrible for yields, and attempting to plant and harvest in wet conditions can be very detrimental to fields," said Alex Sheppard, production manager of Sheppard Farms in Lawrence Township, Cumberland County. "The conditions in December through February held us back a little, but the recent dry weather has more than made up for it. The conditions have made for good planting."
"We're all pretty optimistic for this year. The temperatures weren't crazy. We didn't have blueberry bushes growing early. All of the buds held tight," said Marc Carpenter of Joseph J. White Farm in Browns Mills, Burlington County.
Drought has not stricken South Jersey since April 2017, according to the University of Nebraska-Lincoln's Drought Monitor. No further drought is expected in the near future.
"The water's not been in excess where you can't get by on hand to start planting. Most of the spots you can still work a small area by hand, especially if they're using raised bed gardens," said Richard VanVranken, Atlantic County agent for the Rutgers Cooperative Extension.
Cool-season plants, such as lettuce, cabbage and broccoli, are good to plant now, according to the extension, which provides agricultural support.
Free resources are available from the extension to New Jersey residents, whether they are a first-time home gardener or a seasoned veteran of the hoe and shovel.
"There are 21 county offices across the state. Each has agricultural support," VanVranken said.
Master gardners are trained for 20 weeks in Atlantic County through the extension. Once the session is complete, they can be at the service of anyone.
VanVranken said anyone can create their own mini greenhouse by cutting open a plastic water jug or juice container and putting it over a plant in the soil. For nights where temperatures are expected to dip near freezing, leave the cap on the plant. This allows outgoing heat, or radiation, from the ground to stay inside the container, preventing the plant from being exposed to the cold air.
During the day, take the cap off, especially on sunny days, when the strong sun can heat the surface of the ground quickly. This will allow the air to mix and vent around the plant.
Other tips include keeping plants from dying during the transition month of April. The last 32-degree freeze, on average, ranges from late March to early April for much of Cape May County and lands east of the Garden State Parkway to late April for the rest of the region.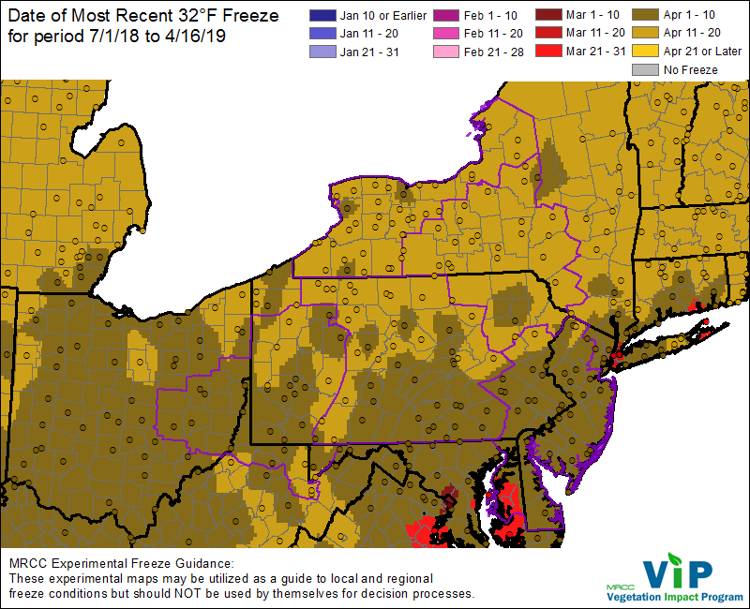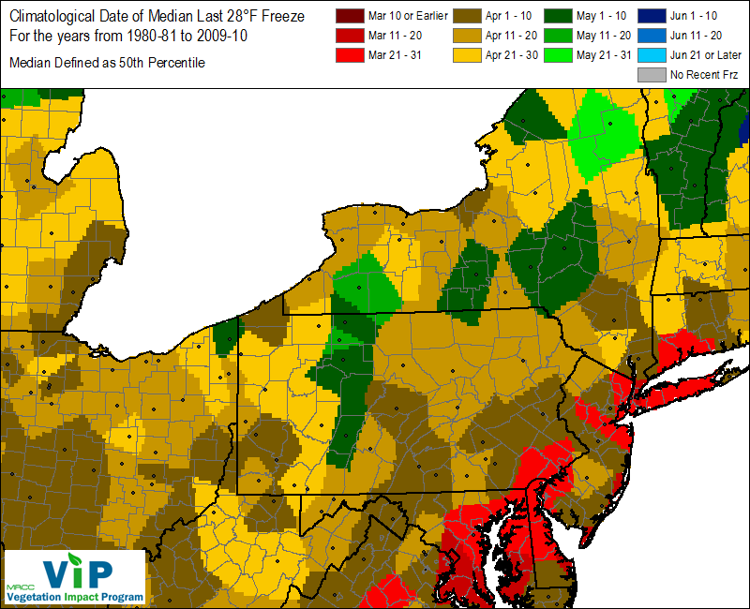 However, plants such as cabbage and broccoli can still be grown. At the cooperative extension, they're grown until the end of May or early June.
"They're run until the end of May or early June," said Belinda Chester, Rutgers Master Gardener Program coordinator of the Cooperative Extension.
"They work the helpline and events across the county. ... You can call our office (609-625-0056), and a Master Gardener will be there to answer," Chester said.
More advanced tips, such as for growing baby lettuce, are offered as well.
"We can take it (the potted lettuce) apart and plant multiple plants, as long as we don't rip the fruit off of each one. ... Or you can plant multiple ones together and then, in a few weeks, come back to eat as baby lettuces," VanVranken said.
Pollen season off to a strong and sneezy start in South Jersey
It's back.
Pollen.
"The itchy eyes and sneezing. My dark gray truck is completely green. I live in a wooded area, and you can see the pollen falling off the trees," Jake Jesky, 29, of Hopewell Township said.
While the weather prevented South Jersey from getting its usual start to the pollen season, that doesn't mean it's lost its runny-nose luster.
"It started late, but strong. Anecdotally, everyone has been sneezing. Even my dog!" said Ekaterina Sedia, associate professor of biology at Stockton University.
Pollen is part of the annual ritual of breaking into the warm days the change in seasons bring. When pollen gets its start depends on how the weather cooperates.
"It varies quite a bit from year to year, but, generally, it starts with the first warm week in March and goes well into May," Sedia said.
Temperatures during March were 1.2 degrees below average at Atlantic City International Airport. The first nine days of the month did not register a day above average, with a stretch of lows in the teens from March 5-9. This helped keep pollen from being produced and spread around.
A double dose of some snow, first on March 1 and another on March 9, made outdoor allergy season seem far away.
"This year, and in 2018, the season started pretty late (mid-March)," Sedia said.
Compared to other places in New Jersey, Sedia said, the amount of pollen in South Jersey is "probably higher" on a year-to-year basis. This is a result of the forested Pinelands that dominate much of the region's landscape, as well as having a large number of rural areas, which typically have more blooming trees and grass — the culprits for your required daily dose of allergy medication.
Another reason for the probable higher volume of pollen in the region is due to the type of trees.
The pitch pine trees that dominate the landscape are not the most efficient pollinators. Pollen is produced in male cones, which are smaller and yellower than the female, large brown cones many know.
The wind is the only way get from the males to the females in different parts of the trees. Compare this to bright flowers that attract bees and insects. In this case, the bees and insect handle much of the pollination.
Want the allergy season to come and go without a burst of pollen coatings your car?
A hard-freeze in late March or early April would reduce pollen production, but at the expense of damage to many of the developing flowers. Not to mention, other early-season crops and vegetables such as lettuce and cabbage.
Those days are becoming fewer and further between, though.
Sean Sublette, a meteorologist at Climate Central in Princeton, said global climate change is increasing the number of days that fail to drop below 32, expanding the pollen season.
"We are seeing the growing season getting longer, which also correlates to allergy season. One year may start earlier and one year may start later, but when you add them all up, it gets longer and longer over time," Sublette said.
Even without a warming planet, the increase in carbon dioxide would play a role. According to a report from the National Oceanic and Atmospheric Administration, annual mean global carbon dioxide concentrations have increased from 315.97 parts per million at the Mauna Loa Observatory in Hawaii in 1959 to 409.92 ppm on Jan. 1, 2019.
"For higher carbon dioxide concentration, the plants and certain species of trees do produce more pollen. That's more allergenic protein," Sublette said.
According to Climate Central, Atlantic City has warmed about 3.1 degrees since 1970, compared to 3 degrees in New Jersey as a whole and 2.5 degrees in the United States.
Sedia echos those statements on a local level.
"Global climate changes seems to increase overall pollen counts, especially in New Jersey, where 11 of the 15 warmest years happened in the last two decades. As winters get milder, expect earlier and more plentiful pollen," Sedia said.
Despite forecasted rain, late start, Mother's Day still perfect time to plant
A tradition for many South Jersey families this Mother's Day weekend is planting flowers such as irises and carnations.
While local gardening experts saw a late start to the season, and the threat of rain arrives Sunday, the holiday will always be synonymous with garden time.
"I generally plant my garden on or after Mother's Day. It ensures no more frosts. Plus, Mom likes it," said Jessica Webster, of Estell Manor. She added that while she'll be traveling to Ohio this weekend, she had her plants ready.
Potted plants are the gift of choice for many to their moms and other moms in their life. The last frost is typically late March to mid-April in South Jersey, early enough to have plants in bloom for Mother's Day. Still, freezes are common throughout April and into early May.
There has never been a low temperature at or below freezing on Mother's Day at Atlantic City International Airport, where records date to 1944. Millville and Cape May have stayed freeze-free during their periods of record as well. Though, it should be said there have been four times after May 12 since 1944 at A.C. Airport where the thermometer has dropped below a potential killing temperature of 32 degrees.
Regardless, the chance of it being too cold to sustain the new life of plants is low. Though this year, the planting season has been seen as late by some people.
"This year, everything seems to be late. ... The weather we have seen and are experiencing tells us that maybe this year it will be May showers that bring our June flowers! However, by Mother's Day, the feat of frost is now behind us," said Patrizia Violante, president of the Brigantine Garden Club.
The club is responsible for the 100-plus flower beds on the ends of islands on the city's streets. Violante has bed No. 25.
Violante says if you're a first-time or relatively new gardener, a few expert tips will get your garden colorful and growing quickly.
"Don't forget to loosen those roots when you replant those little purchases from the store. ... If you aren't perfectly familiar with the growth habits of the plant, read up on it, especially its sun and watering requirements — they are key," Violante said.
If you do not see color in your garden, don't worry, it's early.
That color that will bring joy to the faces of Mom for months will arrive.
"My mom likes to see the color. ... I recently bought hibiscus, black-eyed Susan and passion flower," Webster said.
And if it doesn't work out, chalk it up to life lessons.
"Don't get disheartened if one of your plantings doesn't work. ... Get out those gardening gloves, prepare your soil, breathe in the fresh air, enjoy and try, try again," Violante said.