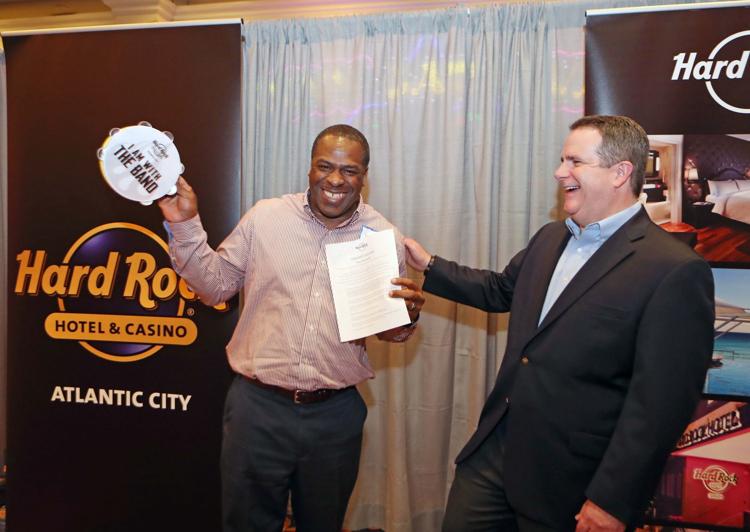 ATLANTIC CITY — Leonard Coleman was not expecting to be greeted by Hard Rock Hotel & Casino's property president when he was offered a job as a craps dealer on Wednesday afternoon. Nonetheless, the 54-year-old Atlantic City resident shook hands with Matt Harkness and posed for photos at the Showboat Hotel shortly after being told he was the casino-hotel's 3,000th person to be offered a position.
Coleman, who currently deals at Resorts Casino Hotel and Golden Nugget Atlantic City, said he broke into the industry nearly 10 years ago working at Harrah's Atlantic City before moving to the now-closed Revel Casino Hotel.
"It feels great," Coleman said. "With my experience, I know I can move up quickly."
Harkness said the goal is to hire at least 3,500 people before Hard Rock's June 28 opening, but noted the current number was a big milestone.
"It bodes well for the quality level of staff of the people who are applying for positions here," he said. "It's people with experience, it's people with excitement. We're looking for rock stars."
Todd Moyer, senior vice president of marketing for Hard Rock Hotel & Casino Atlantic City, said the executive team is most excited about the enthusiasm applicants have brought to the job fairs and interviews. To date, the resort has received nearly 20,000 applications.
"It's a good problem to have," Moyer said. "We have a couple more positions to fill. But, I can't say enough about the great people who have turned out for these events."