Atlantic City has had difficulty in shielding its visitors from unpleasant urban realities such as poverty, crime and drug use, which is often visible right outside the doors of the city's casino hotels.
In recent years, city and state officials have tried to address those issues by removing or relocating programs designed to serve the poor, substance addicted or those suffering from other mental health issues from the Tourism District.
The process has produced mixed — and sometimes conflicting — results.
Social service agencies in Atlantic City are sprinkled throughout the Tourism District, providing assistance for those dealing with financial, health or other complicated issues.
A clean syringe exchange program, a methadone clinic, a substance abuse treatment center and a soup kitchen, in addition to city and county office buildings that provide various social services, are all currently, or were until very recently, located in an area of the resort that officials would like to promote.
Some providers feel a centralized location is critical to ensuring those who need the most help are able to find it.
Volunteers of America, a faith-based nonprofit that provides a host of social services, received funding from the state Department of Community Affairs in 2015 to launch a prison re-entry program in Atlantic City on Pennsylvania Avenue. Officials with VOA said that having a location in the Tourism District of Atlantic City makes sense because that is where they can have the most impact.
"We chose our office location ... based on where we were starting to see a need in the community," said Amanda Leese, Regional Director for Atlantic City, Volunteers of America Delaware Valley, Inc. "So, I think it's really important to look at the fact that social service providers often place their offices where they have community residents most in need so that residents are able to access services. It's easier than having to travel throughout the city or the county. I think we all need to keep that in mind."
City Council President Marty Small Sr. has publicly referred to Atlantic and Pacific avenues — two of the city's main business thoroughfares — as resembling a scene from a zombie movie as a result of those who flock to Atlantic City for social services from out-of-town looking for "Greyhound therapy," a reference to the bus line bringing people in with a one-way ticket.
"We have to have that attitude that we don't want our streets to look like this anymore," Small said. "We need drastic change."
The portrait those realities present to tourists, residents and potential investors is one that officials are working to change.
"It's going to take a concerted effort between both the city and (the state)," said Small. "The city has some momentum, and we're looking at capitalizing it more. But as I said, how are we going to consider ourselves a world-class destination when we can't even take care of home?"
State and city officials, cognizant of the delicate balance needed to clean up the streets while providing social services, have made efforts toward compromise.
In 2015, the city and the Casino Reinvestment Development Authority — which has land-use and zoning authority in the Tourism District — took the first step as part of its Pacific Avenue Midtown Redevelopment Project when the state agency spent more than $8 million to purchase the John Brooks Recovery Center's location on Tennessee Avenue and helped outfit its new location in Pleasantville.
Last year, City Council acted on an ordinance to relocate the needle exchange program from Tennessee Avenue. Some council members even considered the idea of a mobile unit.
But Lt. Gov. Sheila Oliver, who also serves as commissioner of the state agency with direct oversight of Atlantic City, said a mobile program was not a solution she favored.
Oliver said the syringe exchange program will be relocated and that she intended to take a hard look at also expanding the services provided. She said financial assistance from state agencies, such as the CRDA or the health department, would help to expand the program.
"None of us wants to see this solely as a syringe exchange program," Oliver said. "What we want to do more aggressively is to encourage people to transition off of drug dependency. And so, we're having discussions about the availability of treatment beds (and) the availability of stronger counseling within the needle exchange program to move people off of a dependency on intravenous drugs."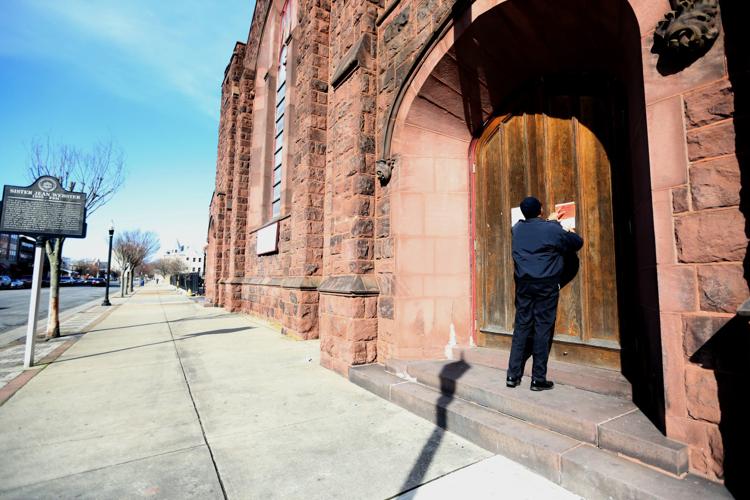 Besides addressing issues with drug use, officials have also focused on those who require more basic provisions, such as food assistance.
On Feb. 7, city officials effectively shut down Sister Jean's Kitchen, a 28-year-old soup kitchen on the corner of Pennsylvania and Pacific avenues. The city declared the 163-year-old church, which housed the charity, unsafe and closed the building.
A deal between Sister Jean's and the CRDA for $1 million in funding to outfit the former St. Monica's Catholic Church, outside the Tourism District, expired, and the soup kitchen is now without a home.
Those who relied on Sister Jean's were shuffled to the Atlantic City Rescue Mission, which sits just outside of the Tourism District behind the Atlantic City Convention Center.
CRDA Executive Director Matt Doherty has publicly stated that the state agency will play a supportive role to policy objectives put forth by Oliver and the state Department of Community Affairs.
The state agency will mainly provide financial resources to support those policies, as evident by recent actions taken by the board.
CRDA recently approved funding for 45 additional Class II police officers for the Tourism District. The authority also provided the funding to create the Atlantic City Initiative Project Office, a recommendation outlined in the state's transition report co-authored by Jim Johnson, who served as special counsel to Gov. Phil Murphy.
Johnson's report focused on quality of life issues in Atlantic City and provided an outline for stakeholders, from both the public and private sectors, to move the resort in the right direction. Johnson said social services are needed in Atlantic City but decision-makers must strike the delicate balance between offering them and doing so in a way that benefits the larger goals of the city.
"We want to make sure the services that are provided are provided in an effective way," said Johnson. "But, we want to do more than just address the need that is right in front of our faces. It's important to provide people with (meals or treatment), but it's better to provide people with a way out and up from their circumstances. Those are the sorts of discussions that we have launched with both the (Murphy) administration and stakeholders here in Atlantic City."