ASBURY PARK — Local musician Reg Satana was a child here in the 1960s, at the end of the resort's former life as a popular family vacation spot with beaches and a middle-class downtown.
"I saw the dip in the 1970s to the 1990s, then the resurgence and comeback," said the 51–year-old drummer. "It all happened within my lifetime."
And many in Atlantic City are hoping Asbury's success can be replicated there, with the help of some of the same developers.
Change first started on the downtown's main drag of Cookman Avenue, where developers Pat Fasano, Pat Schiavino and a handful of others started buying up property and renovating it about 20 years ago.
Their success brought in more investors and has been just about completed in the last 10 years. But it has priced out many former businesses. Tonier restaurants, boutiques and theaters have moved in.
Now Fasano is taking some of the profits he made here, and investing in Atlantic City properties.
He is a driving force behind the Orange Loop, a concerted effort to redevelop the beach blocks of Tennessee and New York avenues and St. James Place. His plans for a shipping container hotel, outdoor entertainment space and retail center next to his existing Cajun-style Bourre restaurant just got final approval from the Casino Reinvestment Development Authority.
"I've been bringing friends down to look at Atlantic City, too," said Fasano.
One of his tenants, the Asbury Park Ale House, plans to open in Atlantic City, said owner Matt Gullace, 30. He owns the restaurant with his brothers Frank and Christopher, he said. His father, Frank, still helps out, after being in the restaurant business for more than 30 years.
The Gullace family also owns the Toms River Ale House and Prime 13 in Brielle, Monmouth County. He would like to be on the ocean near the new Stockton University Campus.
"It's very exciting," said Gullace, who graduated from Rowan University. "We are looking to do AP meets AC."
About 200 to 300 people get off the train in Asbury Park from New York City and North Jersey each stop in the summer, and walk the few blocks to the downtown, said Anthony Russo, 54.
He was busy overseeing the renovation of a building on Mattison Avenue on a recent afternoon.
Russo and a partner are leasing the space from Fasano and turning it into a gelato café with specialty coffees and food, he said.
Russo said he has lived in Asbury Park about four years, moving here from Staten Island, New York, to be near a then-girlfriend, and liked it enough to stay.
"God's not making any more beachfront property," Russo said of why so many people have invested in Asbury Park.
It's also why he's interested in eventually investing in Atlantic City.
"I've been down there already with Pat (Fasano)," Russo said.
Asbury Park overcame some of the same problems facing Atlantic City today, residents said.
It was swamped by poverty, drug use, crime and blight after the race riots that destroyed much of the city's west side in 1970, said Wonder Bar owner Debbie DeLisa, who grew up here.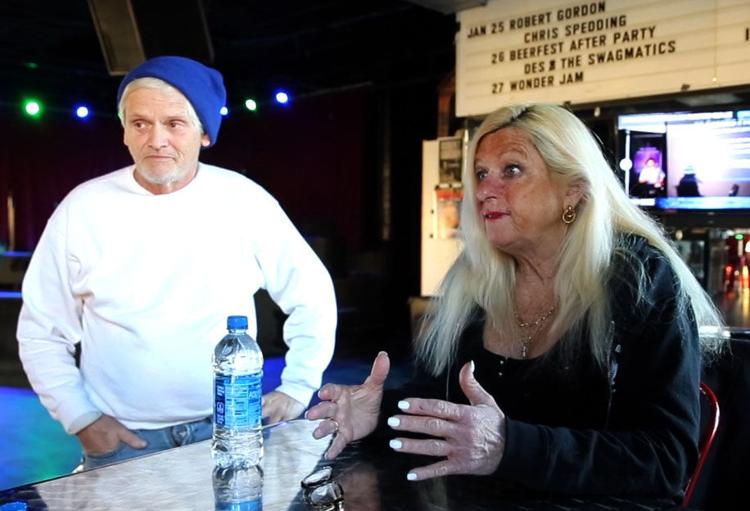 The music and dance club, which attracts hundreds of patrons at a time to its "Yappy Hour" — a happy hour on an outside patio where dogs are welcome — is no relation to Atlantic City's Wonder Bar.
Her partner, musician Lance Larson, said few people believed the town could come back.
"Bruce didn't think he'd ever see it," said Lance of Bruce Springsteen, who pops in from time to time and still occasionally plays the Stone Pony and other venues in town.
But Debbie had lived in Florida for many years, and saw how West Palm Beach was transformed from a wreck to a vibrant community through investment.
"It gave me courage to see if it could happen here," said Debbie.
She and Larson took over the Wonder Bar in 2002 and ran it without a liquor license for a while as a club for locals until Fasano became a partner and brought a liquor license with him.
DeLisa plans to bring a Yappy Hour to a restaurant or bar in Atlantic City sometime soon, she said.
Like Atlantic City, Asbury Park had a population of homeless people, many of them mentally ill and recently deinstitutionalized.
But there was also opportunity in Asbury Park for people willing to take a risk, said Bess McCarthy. She and husband John have owned Gallery Custom Framing on Cookman, about a block from the train station, for 22 years.
"When we first lived here, there was nothing here. You had to take a risk. But you could buy more reasonably," McCarthy said. "We said, 'It's oceanfront. How can it not come back?'"
Although she is happy the town has had a resurgence, greatly increasing the value of her investment there, she misses some things about the old days, she said.
"We had fun in old days. Now there are more people, and more regulations," said McCarthy.
Before the resurgence, if she and neighbors wanted to have a block party, they closed off the road, she said. That could never happen now, with so much business at stake.
"But it's nice to see it get cleaned up. It was pretty bad. It was hard to get a cup of coffee. You had to go to Ocean Grove for that," said McCarthy.
Now there's a place to get a good cup of coffee, cappuccino or latte on every block.