I've seen a few things in the last 25 years of covering the Eagles.
There were good teams (2017, 2004) and bad (1998, 2012). The same holds true for coaches. Andy Reid was good. Rich Kotite and Chip Kelly were bad. Ray Rhodes was a mixture of both, but also my favorite Eagles coach because of his honesty and colorful way of explaining situations, even if that color was blue.
Reid had the most sustained success, reaching five NFC championship games and a Super Bowl during his 14-year tenure. But Doug Pederson's the only one to win a championship, so he goes to the top of the list.
Here's my choices for the top players at each position over the last 25 years. I'm sure you'll disagree on a few, but there really aren't any wrong answers.
QUARTERBACK
Nick Foles
Nick Foles gets the nod for the same reason as Pederson. He not only won the Super Bowl, he was the Most Valuable Player. He also has that 27 (touchdowns) and 2 (interceptions) season of 2013 on his resume. Honorable mention: Donovan McNabb, Randall Cunningham. Carson Wentz is on his way.
RUNNING BACKS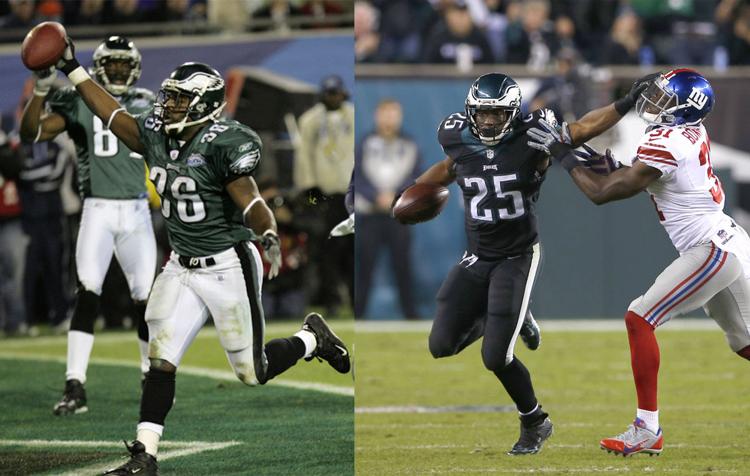 Brian Westbrook and LeSean McCoy
Westbrook could do it all and frequently did. A great runner and receiver and also a fantastic returner. McCoy is the franchise's alltime leading rusher. Honorable mention: Duce Staley, Ricky Watters, Charlie Garner, Correll Buckhalter.
WIDE RECEIVERS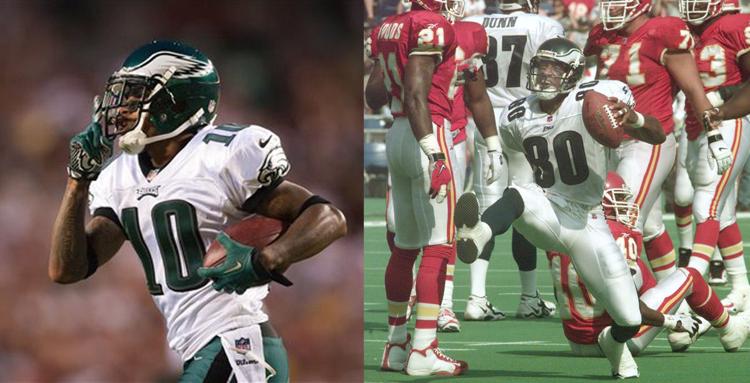 DeSean Jackson and Irving Fryar
Jackson never should have been released. That's another reason Kelly gets such a low rating. Fryar has 3,067 career receiving yards with the Eagles, including two 1,000-yard seasons in 1996-97. His stats would have been even better if he wasn't playing with quarterbacks Ty and Koy Detmer and Hoying. T.O. misses out because of his 2005 debacle. Honorable mention: Jeremy Maclin, Jason Avant, Fred Barnett, Calvin Williams.
TIGHT END
Brent Celek
Celek was both durable and productive in his 11 seasons. He missed one game due to a concussion in 2012. He had 398 career receptions and 32 touchdowns. Honorable mention: Zach Ertz, Chad Lewis.
CENTER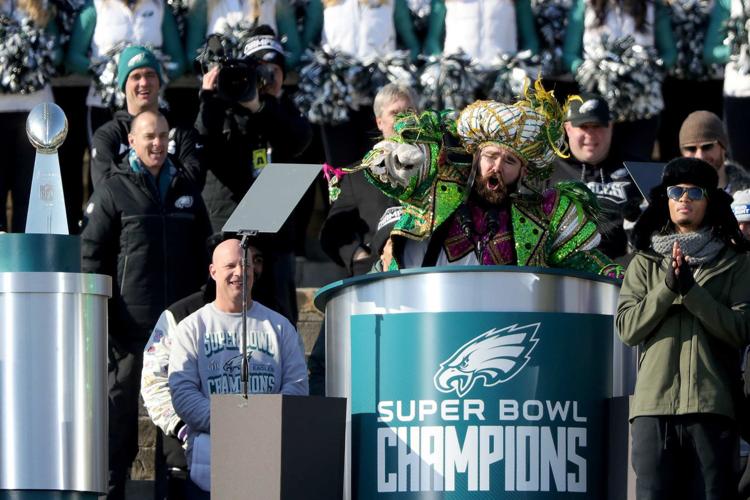 Jason Kelce
He gets the nod for his steady play, leadership and the best celebration speech of all time. Honorable mention: David Alexander, Hank Fraley, Jamaal Jackson, Raleigh McKenzie.
GUARDS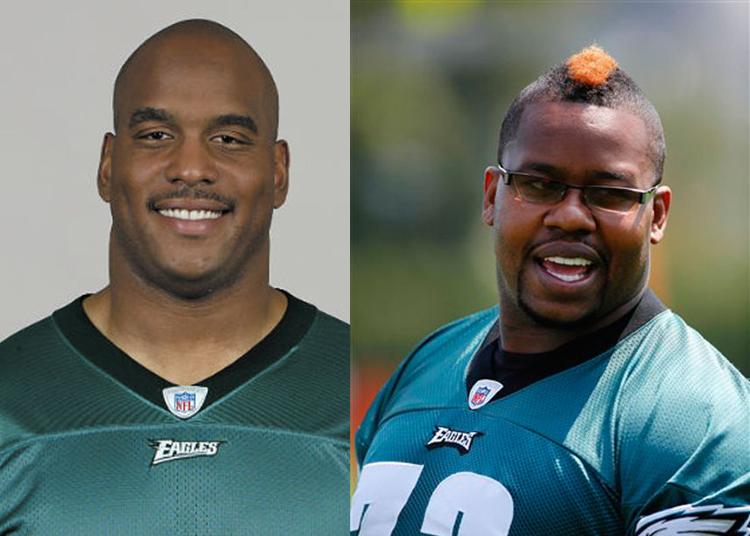 Jermane Mayberry and Shawn Andrews
Mayberry was underrated. Andrews was the best in the league before back problems ended his career prematurely. Honorable mention: Brandon Brooks, Guy McIntyre, Evan Mathis, Todd Herremans.
TACKLES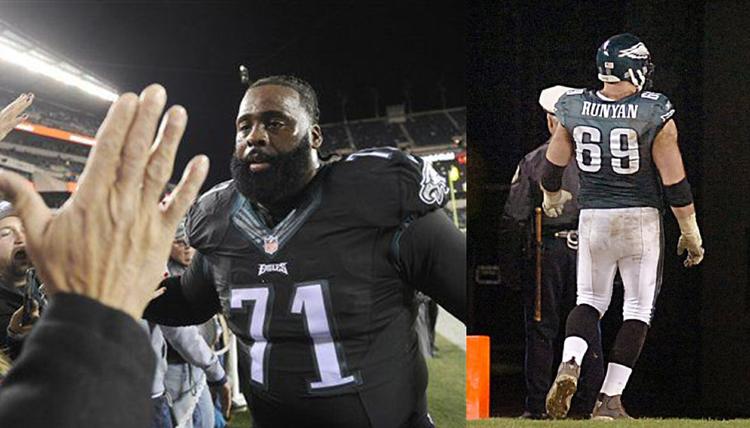 Jason Peters (left), Jon Runyan (right)
Peters is headed to Canton. Runyan was a mean, physical, beast. Honorable mention: Tra Thomas, Lane Johnson.
DEFENSIVE ENDS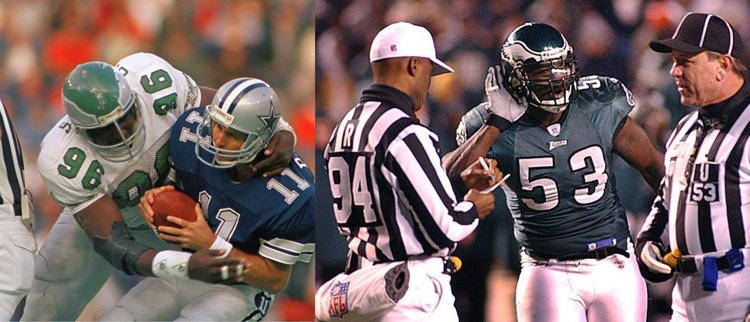 Clyde Simmons, Hugh Douglas
I only covered Simmons for one season (1993), but he's in the team's Hall of Fame. Douglas ranks fourth in Eagles history with 54.5 sacks. Honorable mention: Trent Cole, William Fuller, Brandon Graham.
DEFENSIVE TACKLE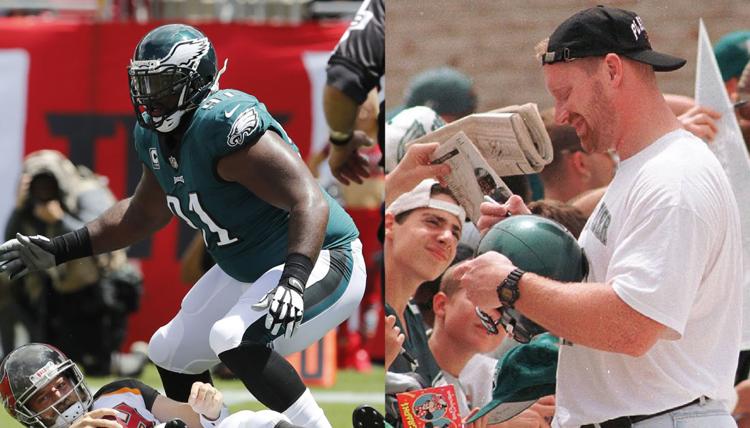 Andy Harmon, Fletcher Cox
Harmon holds the franchise record for sacks among defensive tackles with 39.5. Cox is close behind with 38. Honorable mention: Corey Simon.
MIDDLE LINEBACKER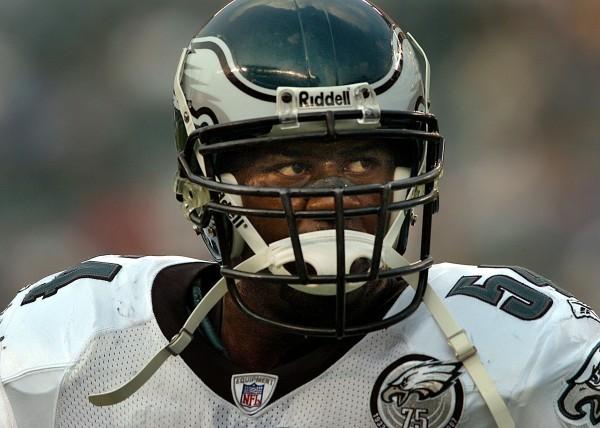 Jeremiah Trotter
Trotter was the rock behind Jim Johnson's defenses back in the day. Honorable mention: Byron Evans, Kurt Gouveia, James Willis.
OUTSIDE LINEBACKER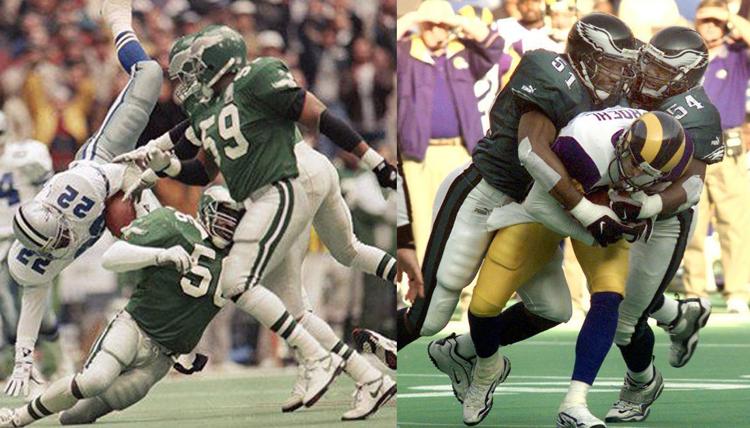 Seth Joyner, Williams Thomas
Joyner is in the Eagles' Hall of Fame and though I only covered him one year (1993), he was tremendous. Thomas was as consistent as they come. Honorable mention: Carlos Emmons, Bill Romanowski.
CORNERBACK - Eric Allen, Troy Vincent
Allen's final two seasons were my first two. He was fantastic. Vincent gets the nod over several strong contenders for the second spot. Honorable mention: Sheldon Brown, Bobby Taylor, Asante Samuel, Lito Sheppard.
SAFETIES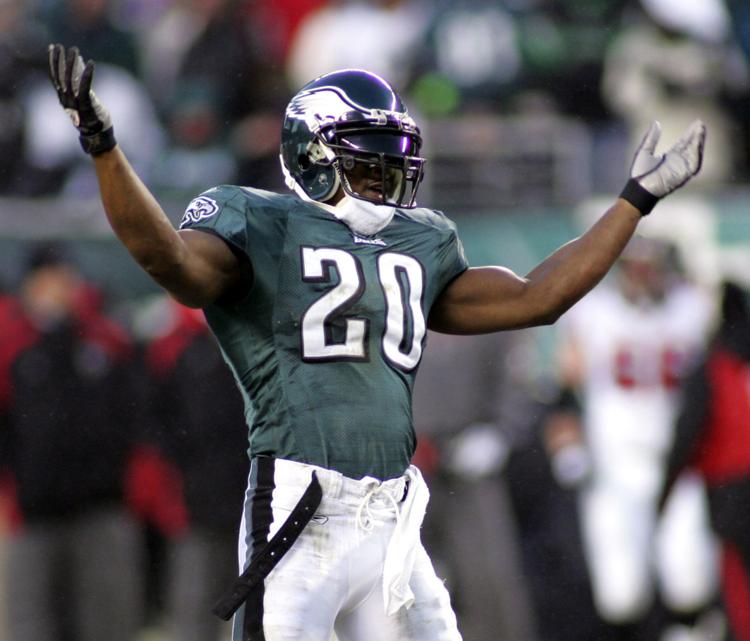 Brian Dawkins, Mike Zordich
Duh. Talk about a no-brainer. B-Dawk was the man. Zordich gets a slight edge over Quintin Mikell. Honorable mention: Quintin Mikell, Malcolm Jenkins.
SPECIALISTS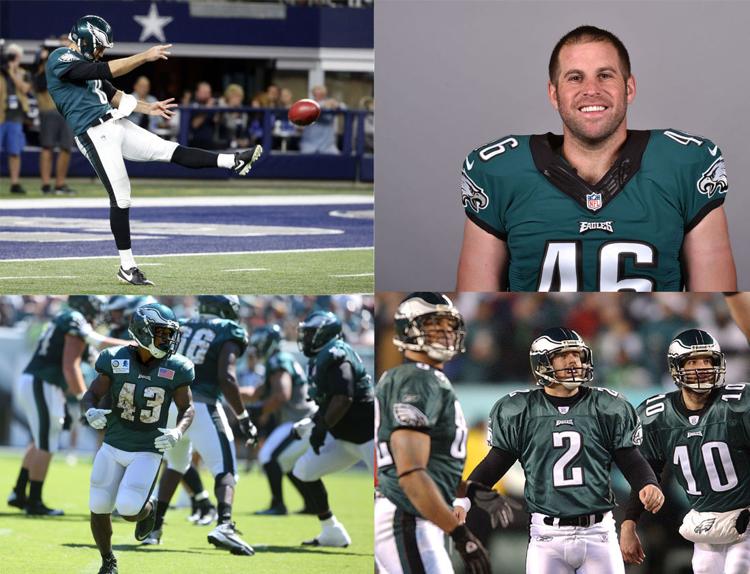 David Akers (kicker), Donnie Jones (punter), Jon Dorenbos (long snapper), Darren Sproles (returner)
Akers is in the Hall of Fame. Jones' career average is best in franchise history. Dorenbos gets a small nod over Mike Bartrum. Sproles edges out Westbrook, Jackson and Brian Mitchell.