OCEAN CITY — Coach Andrew Bristol stood in the third base coaching box and wondered what he would soon say to the Ocean City High School baseball team April 5.
Bristol and the Red Raiders trailed Cedar Creek 2-0 and were three outs away from their third straight loss and a 1-3 record to start the season.
"I'm thinking, 'How do I keep these guys together,'" Bristol said.
The Red Raiders, however, tied the game in the top of the seventh inning and won 5-3 in extra innings.
"We were 2-2 instead of 1-3," Bristol said. "That was a huge difference."
The win changed Ocean City's season. The Red Raiders (14-3) are ranked No. 10 in The Press Elite 11. Ocean City took a nine-game winning streak into Wednesday afternoon's game against Middle Township.
Rain canceled the game in the bottom of the fourth with the score 2-2. Ocean City had the bases loaded and no outs. The teams will play from scratch next week.
The rain out was just a momentary setback for the Red Raiders.
Ocean City is winning with pitching and hitting.
The Red Raiders have not allowed more than a run in any game during the winning streak. Meanwhile, the Ocean City offense is averaging 7.7 runs during the streak, which began when the Red Raiders went 3-0 and outscored their opponents 27-2 on an Easter break trip to Florida.
"It's hard to hit here," Bristol said as he stood in the Ocean City rain. "We went down to Florida and hit really well. We came back with a lot of confidence."
Bristol said the Red Raiders have put an extra emphasis on situational hitting this season.
"Every day in practice we take different counts," Bristol said. "We try to drill in their heads that their approach has to change according to the count. That's really helped a lot."
Cleanup hitter A.J. Campbell is batting .419 with 27 RBIs. Tom Breazeale, who bats fifth, is batting .364 with 15 RBIs. Leadoff hitter Jaden Millstein has scored a team-high 21 runs.
Ocean City pitcher Bobby Lashley struck eight in four innings against Middle Township. He leads a deep pitching staff. Lashley is 5-0 with a 0.27 ERA and 35 strikeouts in 26 innings.
Freshman pitcher Tm Finnegan is 3-1 with a 1.40 ERA, while sophomore Matt Nunan is 2-0 with a 1.27 ERA.
"We feel like we have aces all the way through," Bristol said. "If we go out there and go a couple of runs, we're going to win the game."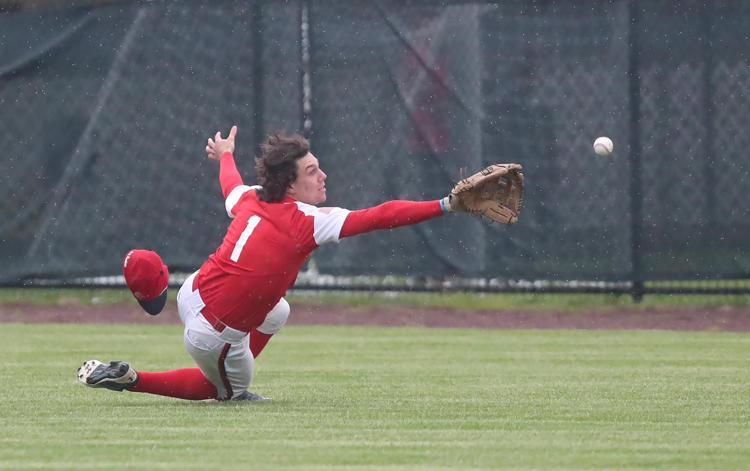 The winning has established the Red Raiders as a Cape-Atlantic League National Division and South Jersey Group III contender.
"Everyone on our team wants big situations," Lashley said. "We're not scared. We don't look past them and try to find someone else to put in there. We all want to be that one in the big situation."