Local teams look to advance in the state football playoffs
South Jersey Group I Semifinal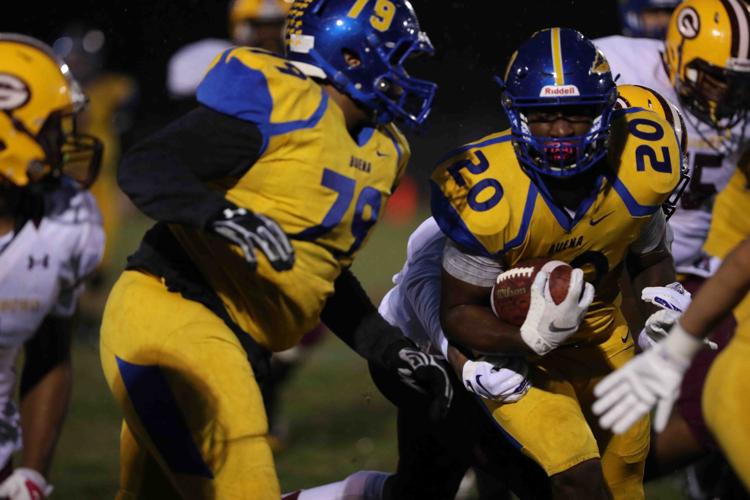 Buena at Penns Grove
There are six undefeated high school football teams left in South Jersey.
Two will play Saturday.
Fourth-seeded Buena Regional (9-0) will play at top-seeded Penns Grove (10-0) in a South Jersey Group I semifinal. Kickoff is at noon. The winner advances to next weekend's South Jersey final.
Buena is trying to reach its first sectional final since it lost to West Deptford in the 2002 South Jersey Group II title game. Buena has won 11 straight, dating back to last season. The Chiefs have won eight of their nine games this season by at least double digits. Buena will try to control the ball and the game with its running attack.
Penns Grove is No. 11 in The Press Elite 11 ranking. Penns Grove lost to Paulsboro 34-24 in last year's South Jersey Group I final. Penns Grove has won 17 of its last 18 games.
Key players:
Buena Regional: Chris Doughty, RB, 91 carries for 1,178 yards and 19 touchdowns; Jaden Roberts, RB, 103 carries for 842 yards; Luke Santiago, QB, six touchdown passes.
Penns Grove: Kavon Lewis, QB, 80 of 125 for 1,370 yards and 18 touchdowns; Nasir Robinson, RB, 117 carries for 871 yards; Tyreke Brown, RB/LB, 80 carries for 742 yards and 15 touchdowns and 88 tackles; Torvone Ransome, WR, 40 catches for 668 yards; Makhi Scott, LB, 136 tackles, eight tackles for losses.
South Jersey Group V Semifinal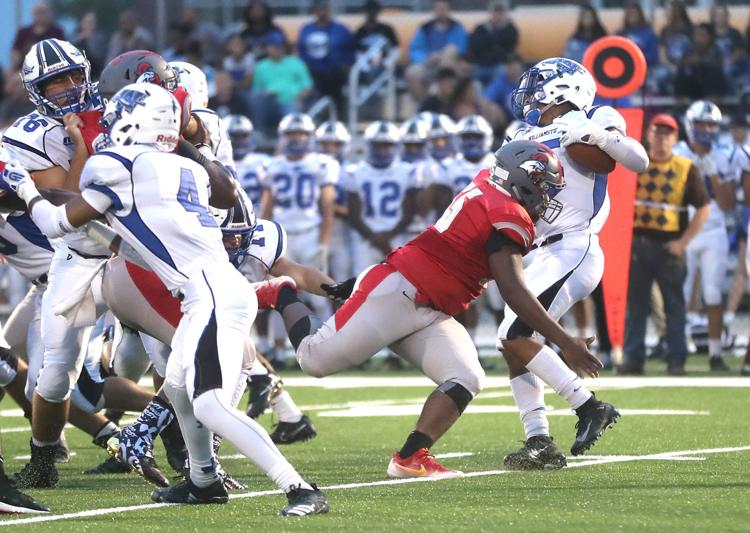 Vineland at Williamstown
The Vineland High School football team got one of its biggest wins in school history last Friday.
This Friday, the Fighting Clan is hoping for one of the biggest upsets in school history.
Fourth-seeded Vineland (4-5) will play at top-seeded Williamstown (10-0) in a South Jersey Group V semifinal 7 p.m. Saturday. Williamstown is No. 1 in The Press Elite 11 ranking.
Vineland won its first playoff game in school history with a 33-0 win over Toms River North. Vineland won without starting quarterback Ryan Shelton, who is out with a broken collarbone.
Wide receiver Tyreem Powell took over at quarterback and ran for three touchdowns. Nahzir Broome also sparked the Vineland running game with 16 carries for 130 yards.
Vineland and Williamstown met in the season opener with Williamstown winning 24-7. That game, however, was tied 7-7 entering the fourth quarter.
Key players:
Vineland: Tyreem Powell, WR/DB/QB; Isaiah Blakely, RB/DB; Nahzir Broome, RB/LB; Phil Blackwell, LB; Anthony Arthur, RB; Jonathan Toney, RB/DB; Anthony Reyes, TE/DE.
Williamstown: J.C. Collins, QB; Wade Inge, DB/RB; Damonte Campbell, RB/DB; Aaron Lewis, OL/DL; Julian Gravener, LB/RB.
South Jersey Group IV Semifinal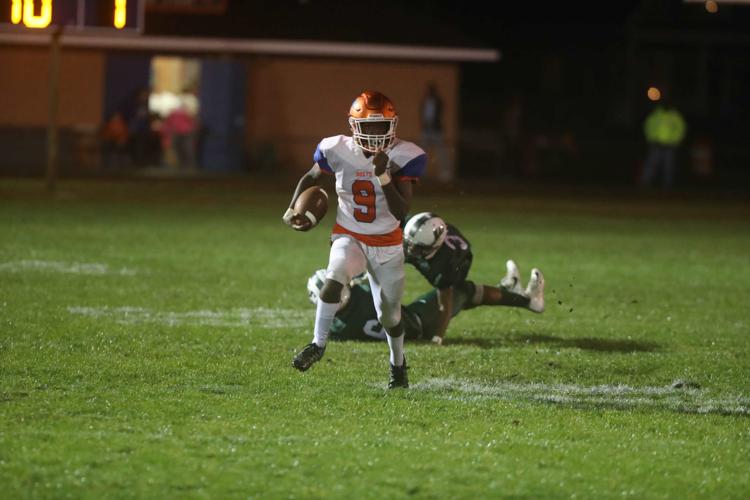 Shawnee at Millville
The Millville High School football has won six straight.
One more victory and the Thunderbolts will play for a South Jersey title.
The top-seeded Thunderbolts (6-3) will host fourth-seeded Shawnee (3-6) in a South Jersey Group IV semifinal 2 p.m. Saturday.  The winner advances to next weekend's championship game.
Millville opened the season with three straight losses to St. Peter's Prep, St. Joseph and Williamstown. Those three teams are a combined 24-5.
Millville hasn't lost since its victories have been by an average of 26.7 points. The Thunderbolts are No. 10 in The Press Elite 11 ranking.
Shawnee cannot be judged by its 3-6 record. The Renegades are the defending champion and a perennial power with seven South Jersey championships. Shawnee also played a difficult schedule this season and beat Mainland Regional 25-7 in last Friday's quarterfinal.
Key players:
Shawnee: Joey Dalsey, QB, 57 of 102 for 722 yards and 380nruhsing yards and nine touchdowns; Jon Searcy, WR/DB, 33 catches for 460 yards and four touchdowns and three interceptions on defense; Dalton Short, LB, 64 tackles; Joey Moore, DB, 60 tackles.
Millville: Solomon DeShields, WR/DB, 33 catches for 234 yards; Ed Jamison, QB, 84 of 139 for 1,378 yards and 17 touchdowns; Tex Thompson, RB, 133 carries for 826 yards; Kyle Yancey, WR/DB, 21 catches for 370 yards; Shamore Collins, DL; Cartier Gray, WR/DB.
South Jersey Group II Semifinal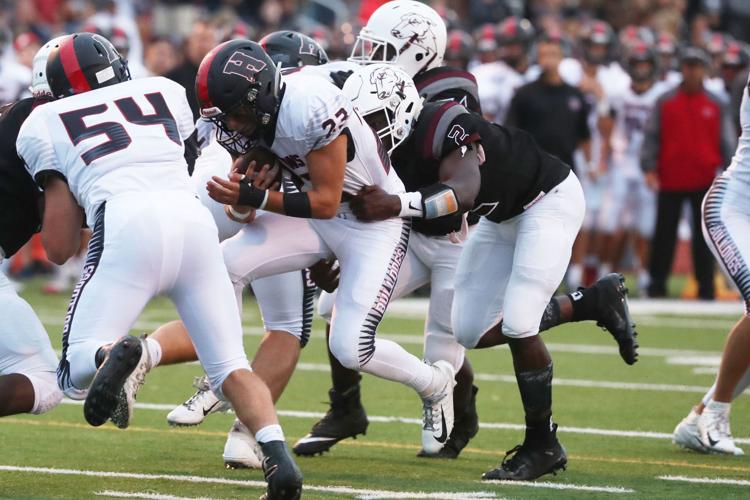 Pleasantville at Haddonfield
The Pleasantville High School football team saw its season-opening 20-7 loss to Haddonfield as a test.
The Greyhounds will find out just how much they've learned Friday night.
Pleasantville will get a rematch against Haddonfield this time in a South Jersey Group II semifinal. The fourth-seeded Greyhounds (7-2) and top-seeded Haddonfield (9-0) will kick off at 7 p.m. at Haddonfield. The winner advances to next weekend's South Jersey title game. Haddonfield is the defending champion and No. 2 in The Press Elite 11 ranking.
In the opener, Haddonfield scored touchdowns on special teams and defense to build a 20-0 halftime lead. The Greyhounds lone touchdown came in the fourth quarter.
Pleasantville comes off its best performance of the season – a 57-0 quarterfinal win over fifth-seeded Cedar Creek.
Haddonfield beat eighth-seeded Sterling 41-7 in the quarterfinals.
Key players:
Pleasantville: Sahmir Jones, QB, 725 passing yards and seven touchdown passes and 340 rushing yards and seven rushing touchdowns[mm1] ; Mohamed Toure, RB/LB, 806 rushing yards and 10 touchdowns; Joshua Kotokpo, RB, 51 carries for 522 yards and 12 touchdowns; Brian Stalworth, WR, 18 catches for 287 yards; Elijah Glover, DB, 52 tackles; Ernest Howard, LB, 39 tackles.
Haddonfield: Jay Foley, QB, 76 of 131 for 1,301 yards and 20 touchdowns; Chris Brown, RB, 109 carries for 657 yards; Johnny Foley, WR, 17 catches for 316 yards; Davis Smith, WR, 16 catches for 345 yards; Drew Gavranich, LB, 45 tackles; Gabe Klaus, DE, 65 tackles, 15 tackles for losses.
State Non-Public II Semifinals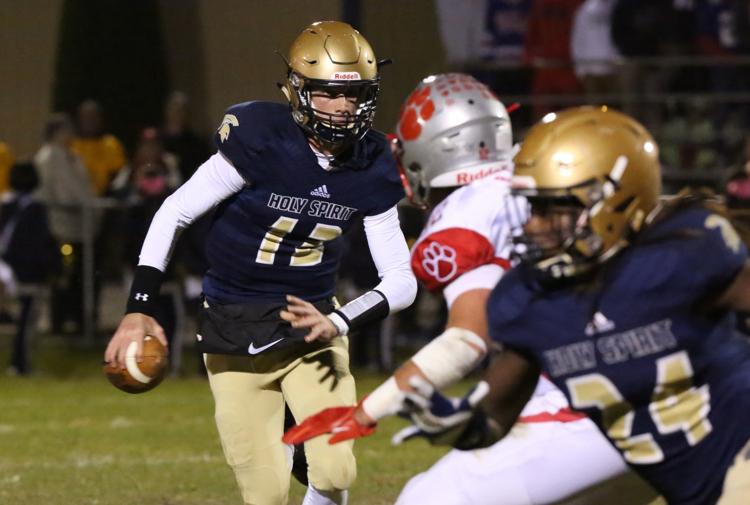 Immaculata at St. Joseph's
The St. Joseph High School football team will continue to chase its 20th state championship Saturday.
Meanwhile, Wildcats running back Jada Byers will continue to chase history.
Top-seeded and defending champion St. Joe (8-2) will host fourth-seeded Immaculata (5-4) in a state Non-Public II semifinal 1 p.m. Saturday. The winner advances to the title game at MetLife Stadium in East Rutherford on either the weekend of Nov. 23-25 or Nov. 30-Dec.2. The other semifinal matches third-seeded Hudson Catholic against second-seeded Holy Spirit on Friday night.
Byres scored six touchdown in St. Joe's 56-6 quarterfinal win over Immaculate Conception last Saturday. The 5-foot-7, 165-pound Byers has scored 190 points this season. Williams Washington Holy Spirit holds the Press-area, single-season record for points scored with 226 in 2007.
Immaculta (Somerset County) has one of the state's best football traditions. The Spartans have won four playoff championships and appeared in 11 title games.
Key players:
Immaculata: Patrick Fraunheim, QB, 36 of 87 for 546 yards; Jordan Kinsler, RB, 145 carries for 952 yards and 11 touchdowns; Tommy McGuire, LB, 82 tackles, Christian Callahan, OL/DL, 13 tackles for losses and six sacks.
St. Joseph: Jayden Shertel, QB/DB, six touchdown passes; Jada Byers, RB, 171 carries for 1,510 yards; Wisdom Quarshie, OL/DL; Sean Morris, OL/DL; Bobby Hyndman, OL/DL, 91 tackles, 16 tackles for losses; Brad Lomax, OL/DL, 224 tackles for losses; Ahmad Ross, RB/DB, 95 carries for 491 yards.
Hudson Catholic at Holy Spirit
The Holy Spirit High School football team finds itself a win away from another state final.
The second-seeded Spartans (6-3) will host third-seeded Hudson Catholic (6-4) in a state Non-Public II semifinal 6 p.m. Friday. If Holy Spirit wins, the state final will probably be played Dec. 1 at MetLife Stadium in East Rutherford.
Holy Spirit lost in the state Non-Public II semifinals last season. The Spartans played in state finals in 2016 and from 2010-14. Spirit won state titles from 2010-12.
Both Spirit and Hudson Catholic come off impressive semifinal wins. Spirit beat seventh-seeded Morris Catholic 61-8. Hudson Catholic downed fifth-seeded Gloucester Catholic 42-0. Hudson Catholic quarterback Jonathan Bates threw for three touchdowns and ran for another score in the win.
Key players:
Hudson Catholic: Jonathan Bates, QB, 79 of 142 for 1,444 yards and 15 touchdowns; Jaheir White, RB, 300 rushing yards and 218 receiving yards; Amarrie Bolden, WR, 17 catches for 406 yards; Hasan Dominick, RB.
Holy Spirit: Ryan Yost, QB, 12 of 215 for 1,587 yards and 16 touchdowns; Elijah Gray, RB, 180 carries for 1,048 yards and 10 touchdowns; Isaiah Gerena, TE, 27 catches for 327 yards; Ahmad Brown, WR, 28 catches for 351 yards; Michael Preston, WR, 26 catches for 281 yards; Azim Baker-Colely, LB, 62.5 tackles, six sacks; Malachi Valentine, LB, 46 tackles, 7.5 sacks; John Bee, LB, 5.5 tackles for losses and two sacks.
State Non-Public IV Quarterfinal
St. Augustine Prep at St. Joseph's of Montvale
The St. Augustine Prep football team will again travel to North Jersey for a playoff game Saturday.
The Hermits hope this trip is more successful.
Seventh-seeded St. Augustine (7-3) plays second-seeded St. Joseph Montvale (7-2) in a state Non-Public IV quarterfinal at 1 p.m.
The state Non-Public IV bracket is easily the toughest in the state. The bracket's power teams – St. Joe Montvale; Bergen Catholic; Don Bosco Prep; Paramus Catholic and St. Peter's Prep – are traditionally not only among the best in the state but also the country.
The Hermits are 0-5 against these teams the past five seasons with four of those games having been played on the road.
St. Augustine comes off a 41-7 first-round win over Notre Dame. Freshman running back Nasir Hill ran for 131 yards in the win. St. Joe defensive back and wide receiver Connor Grieco has committed to Rutgers. St. Joe defensive end Howard Cross is headed to Notre Dame and is the son for former New York Giants tight end Howard Cross.
Key players:
St. Augustine: Chris Allen, QB, 66 of 124 for 901 yards and nine touchdowns; Nasir Hill, RB, 149 carries for 867 yards; Jaylen DeCoteau, WR, 25 catches for 406 yards; Joe Bonczek, LB, 116 tackles; Shane Quast, LB, nine tackles for losses; Isaiah Rakes, RB/DL, eight sacks, eight rushing touchdowns.
St. Joe: Michael Alaimo, QB, 81 of 147 for 1,187 yards and 12 touchdowns; Audric Estime, RB, 107 carries for 642 yards; Gavin Sharkey, WR, 24 catches for 400 yards and seven touchdowns; Connor Grieco, DB, 43 tackles; Howard Cross, DE, 57 tackles, 15 tackles for losses.