It's almost time for high school football in New Jersey — a sport that dominates the fall and brings together family and fans who pack the stands each Friday night.
But amid the usual anticipation and excitement for another season, coaches and players must adapt to changes in preparation intended to make the sport safer.
In April, the New Jersey State Interscholastic Athletic Association approved a bill that drastically limits full contact during practice. The new rule restricts each team to 15 minutes of full contact per week during the regular season, down from the 90 minutes previously allowed, and six hours per week during the preseason.
There are mixed reviews surrounding the rule changes. Pleasantville High School linebacker Ernie Howard expressed concerns that the new rule could lead to tackling being omitted from practice altogether in the future.
"It's understandable with all the injuries lately," said Howard, 17, of Absecon. "But at the end of the day, we need to get ready and prepare like it's a real game. You only have 15 minutes a week to go head to head with someone 100%, and things can always be corrected in the game, but it's just not the same."
The NJSIAA, which governs most high school sports in the state, defines full contact as tackling to the ground.
The new rules were developed in conjunction with Practice Like Pros, an organization dedicated to reducing unnecessary injuries in high school football. Practice Like Pros reports that 58% of high school football concussions are suffered during practice, compared with 4% in the NFL.
"This decision was ultimately made in the best interest and for the safety of our student-athletes," said NJSIAA Assistant Director Jack DuBois, who is in charge of the state's football committee. "The intention is to reduce injures, and that is a positive thing."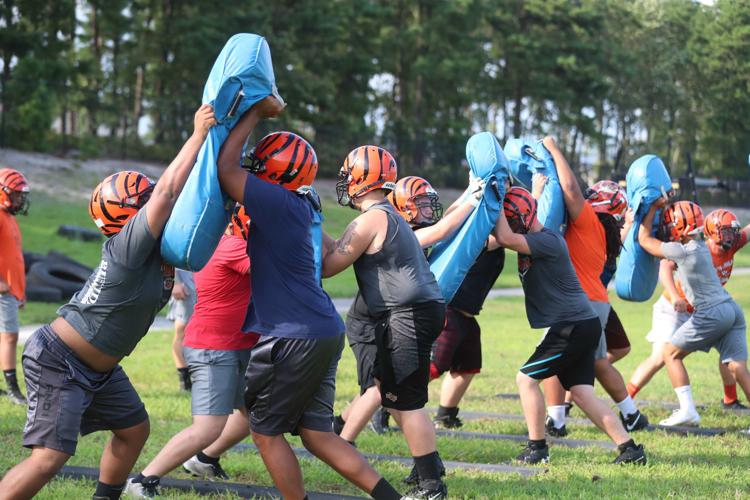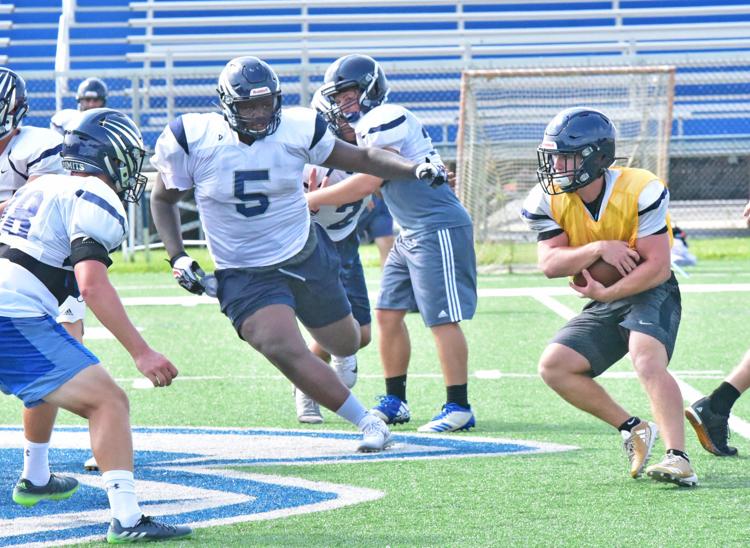 DuBois said many teams across the state normally don't tackle to the ground at practice anyway, mainly because most teams lack the depth to risk getting players injured.
"It just puts it on paper now," DuBois said. "It's going to be a great safety guard."
The new rule puts more demand on coaches to teach proper techniques, said Buena Regional High School coach Jon Caputo.
Caputo said there used to be a lot of tackling at practice, but that is unnecessary in the modern era. The new rules won't impact the Chiefs because they have not tackled during practice in four years.
"I'm all for this," Caputo said. "I think if you teach it properly, you'll still be successful. I feel like last season we had our best tackling team yet. It won't affect the game if you teach it right at practice."
Mainland Regional High School coach Chuck Smith, who avoids tackling to the ground as much as possible, allowed his players to have some full contact at practice.
Even though he will have to adjust like many other coaches, Smith is still a supporter of the new rule.
"I think it's very beneficial," Smith said. "The No. 1 priority has always been to watch the safety of our players. Right now, there is a lot of safety concerns in this sport, and something has to be done about it."
But some players aren't as accepting as coaches.
St. Augustine Prep defensive tackle Isaiah Raikes, who is committed to NCAA Division I Texas A&M University, understands the safety concern and sees it as helpful in that regard. But he believes teams should be tackling more at practice.
"It would help us better prepare for game situations," said Raikes, 18, of Woodbury. "It could impact some players, or even the game, because if there is something you need to work on, you wouldn't be able to as much."
Some question whether the new rule will jeopardize the physicality of the game.
Mainland, like many high school programs, will increase its use of tackling dummies and other noncontact tackling equipment.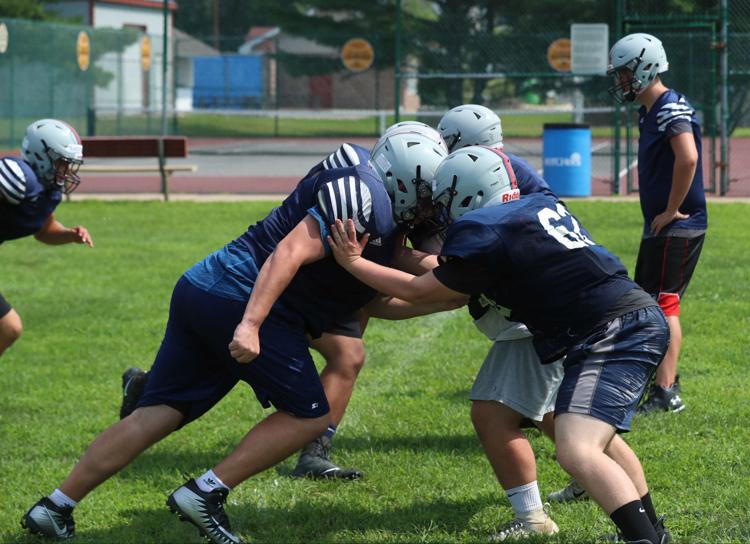 "You have to teach the proper ways of tackling to avoid injuries as much as possible," Smith said. "Sometimes you really have to look at the team and be smart during the week. The goal is to keep everyone healthy for Friday night."
Ocean City uses a motorized padded dummy for players to learn safe tackling techniques, which helps reduce head injuries from unnecessary helmet-to-helmet collisions and allows players to tackle at game speed.
But Red Raiders coach Kevin Smith said that option is difficult for schools without the budget.
"It's a well-intentioned decision, and it will certainly help reduce injuries at practice," Kevin Smith said. "There is a lot of interest in players' safety right now and reducing the risk of injuries.
"But if you don't practice in real situations at game speed and then put them into a game without the right techniques, that could be a risk, too."
As with most NJSIAA rules, teams are expected to voluntarily follow the new regulation. DuBois said there is no penalty for a team that breaks the rule, but the organization "expects each team to police themselves."
"It's a priority for us to make sure these kids are safe," Caputo said. "I don't think it'll make the game any less physical. That's why people play football. It's still going to be the same game each Friday night and Saturday."