The Southern Regional High School wrestling team captured its second straight state championship Sunday.
The Rams beat Manalapan 38-24 to win the state Group V title at the RWJBarnabas Health Arena in Toms River. It was the Rams' fifth overall state title and third in the last five seasons.
Earlier in the day, the Rams beat Passaic County Technical School 63-6 in the semifinal.
The Rams (21-1) were the top-seeded team in Group V and ranked fourth in The Press Elite 11.
Southern led 32-15 with three bouts to go, needing a win to clinch the championship. Robert Woodcock got a pin in 1 minute, 24 seconds to seal the win.
Southern also got pins from Conor Collins (106) Matt Brielmeier (132) and Eddie Hummel (138). The first-period pins from Brielmeier and Hummel capped an 18-point run for the Rams to put them in control 28-6.
106—Conor Collins S p. Anthony Vitola 1:08
113—Justin Schifter M d. Pat Iacoves 8-1
120—Jayson Scerbo S d. Chris Balzano 4-2
126—Nick Bennet S d. Calvin Burke 4-2
132—Matt Brielmeier S p. Vincent DePierro 1:54
138—Eddie Hummel S p. Jason Porcaro 0:52
145—Hunter Konstantoulas M md. Leighton Fessman 10-1
152—Cole Velardi S md. James Grande 12-3
160—Matt Benedetti M tf. Colin Boero 15-0
170—Robert Woodcock S p. John Castro 1:24
182—Dylan Waller M d. Ben LoParo 3-2
195—Gavin Claro M p. Stephen Jennings 3-2
220—JT Cornelius S md. George Zavalnik 9-1
285—Matt Kovacs M d. Jayden Smith 1-0
106—Conor Collins S p. Ricardo Balanzategui 0:33
113—Pat Iacoves S d. Steve Khunthanom-Perez 8-4
120—Jayson Serbo S d. Alex Vertedor 10-6
126—Laith PCT p. Nick Bennet :49
132—Matt Brielmeier S md. Rocco Panierino 13-3
138—Eddie Hummel S tf. Dylan Toy 20-5, 5:27
145—Leighton Fessman S p. Marcus Rivera 2:00
152—Cole Velardi S p. Anibal Sierra 1:03
160—Nolan Anderson S p. Lascelles Morrison 5:03
170—Robert Woodcock S p. Jamal Allan 4:11
182—Ben LoParo S p. Yousef Khalil :46
195—Stephen Jennings S d. Amir Higazy 4-2
220—JT Cornelius S d. Yosue Gomez 6-1
285—Jayden Smith S by forfeit
106—Nelson (1-2) forfeit L
113—Sgrignioli (2-1), p. CHE, forfeit L
120—Meltzer (1-2) p. L 3:00
126—Laboy (2-0) d. NB, p. CHE 4:45; Haas (1-0) forfeit L
132—Dugan (0-1); Middle Twp forfeit (0-1); Laboy (1-0) forfeit L
138—Gariano (2-1) d. NB 8-5, md. CHE 13-5
152—Frame (1-2) d. L 12-11
160—K. Giulian (2-0) p. NB 0:45, D. che 11-5; Adelizzi (1-0) d. L 11-5
170—Adelizz (2-0) d. NB 5-4, d. CHE 18-11; K. Giulian (0-1)
182—D. Giulian (3-0) p. NB 2:53, p. CHE 1:20, forfeit L
195—Matthews (2-1) p. NB 2:45, forfeit L
220—Farro (2-0) p. CHE 4:25, p. L 2:54
285—Galati (1-2) p. L 1:52
Note—Middle Township senior Karl Giulian picked up his 100th career win.
Southern wrestling state final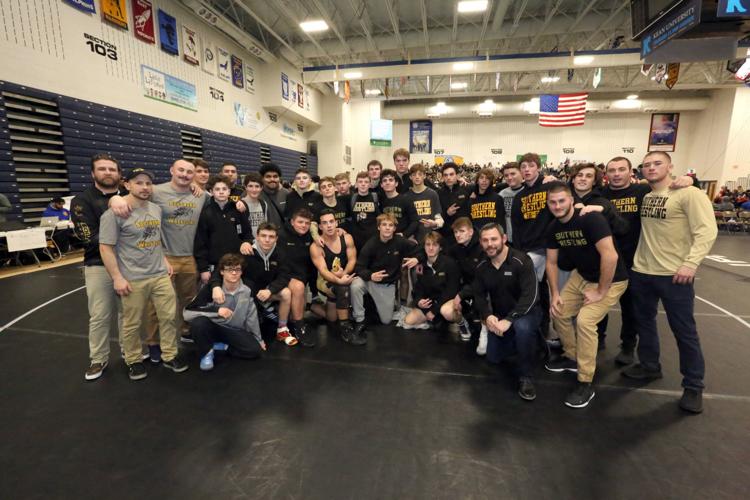 -- HIDE VERTICAL GALLERY ASSET TITLES --
Southern wrestling state final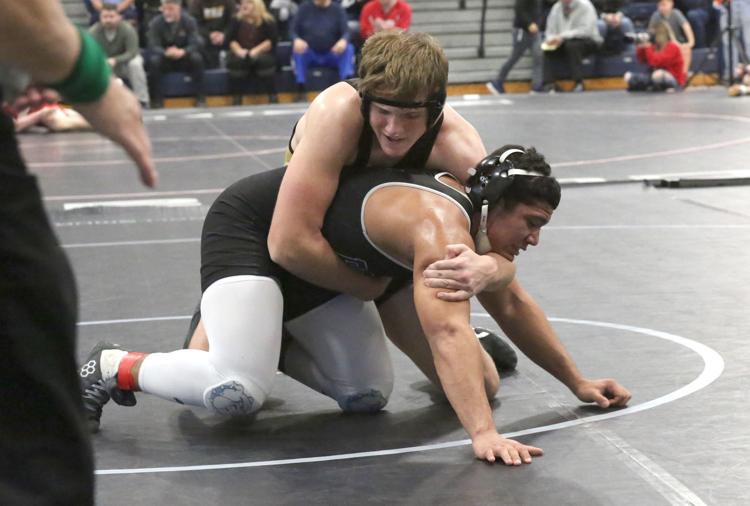 Southern wrestling state final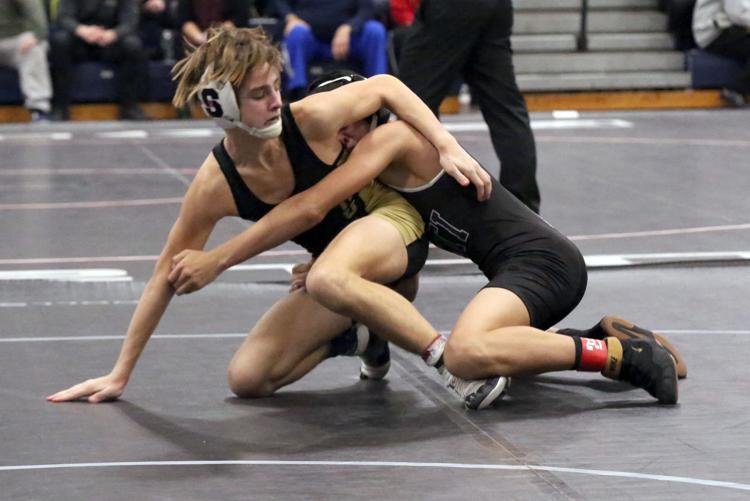 Southern wrestling state final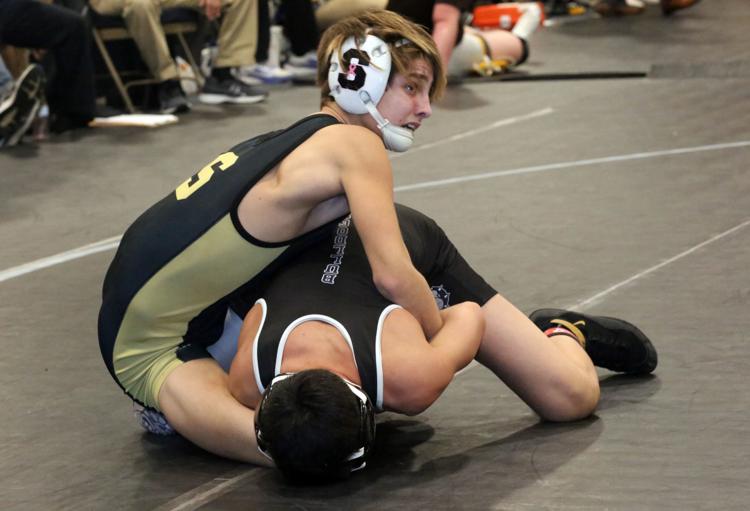 Southern wrestling state final
Southern wrestling state final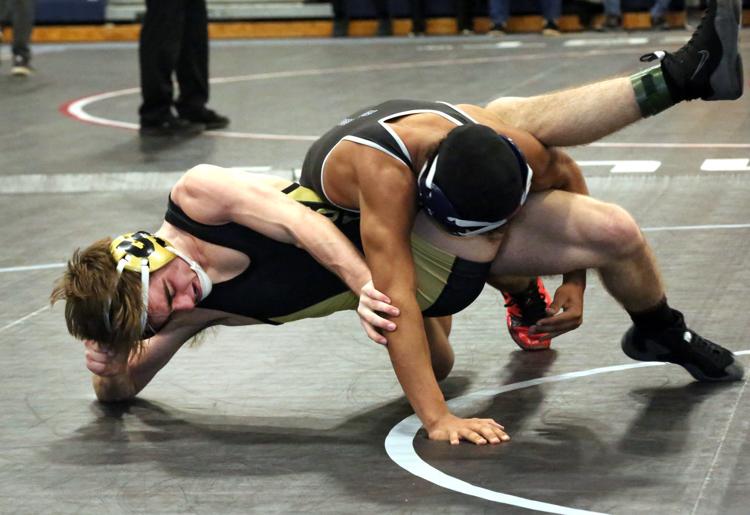 Southern wrestling state final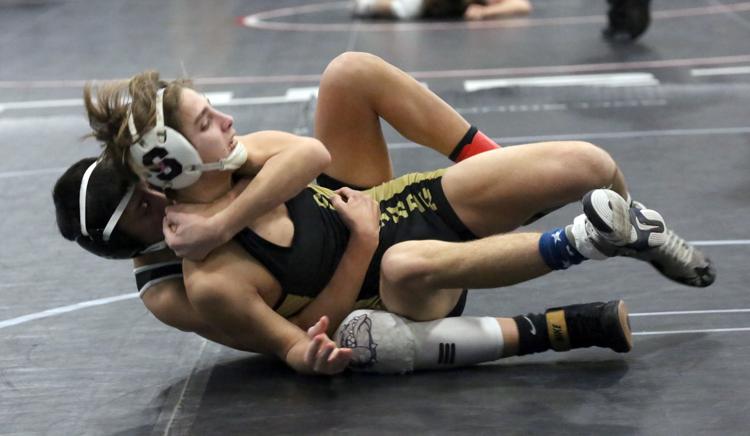 Southern wrestling state final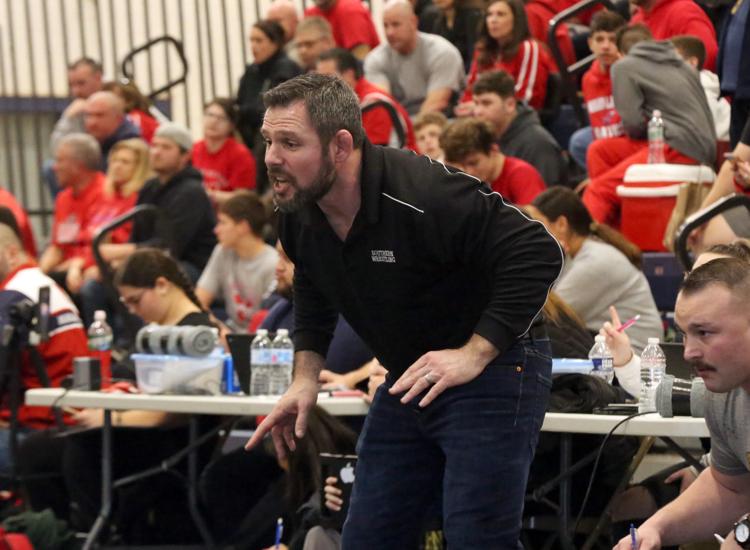 Southern wrestling state final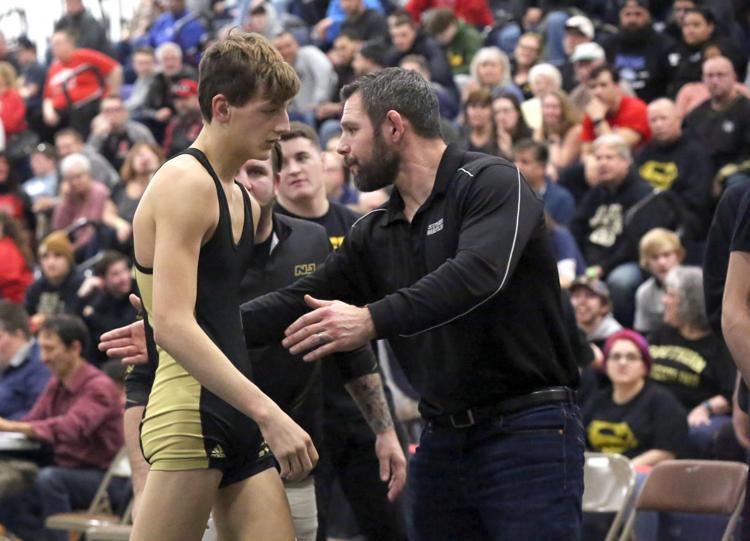 Southern wrestling state final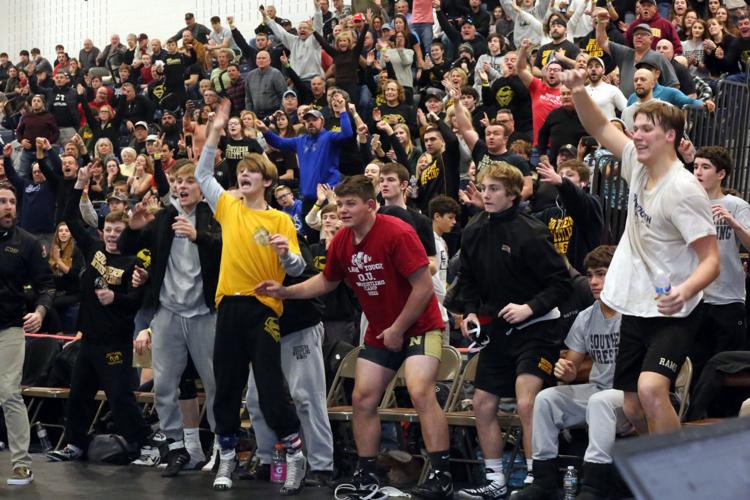 Southern wrestling state final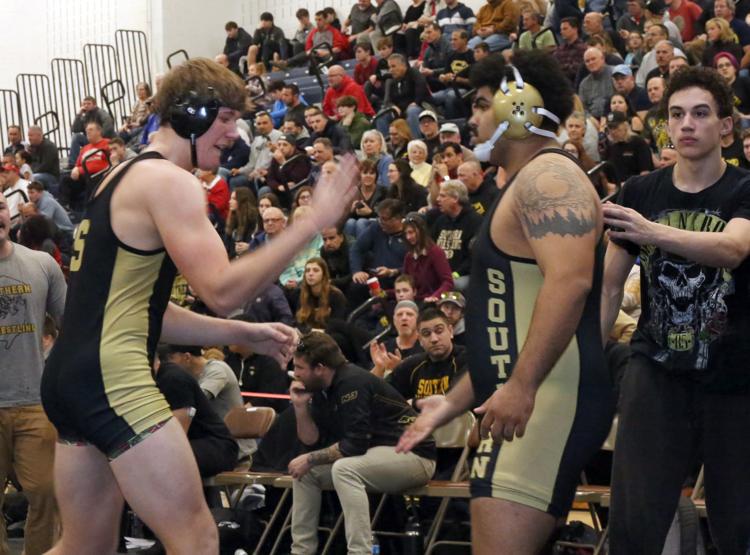 Southern wrestling state final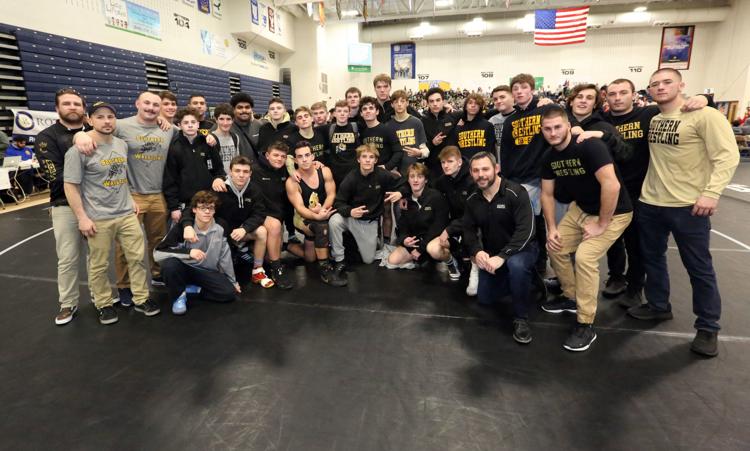 Southern wrestling state final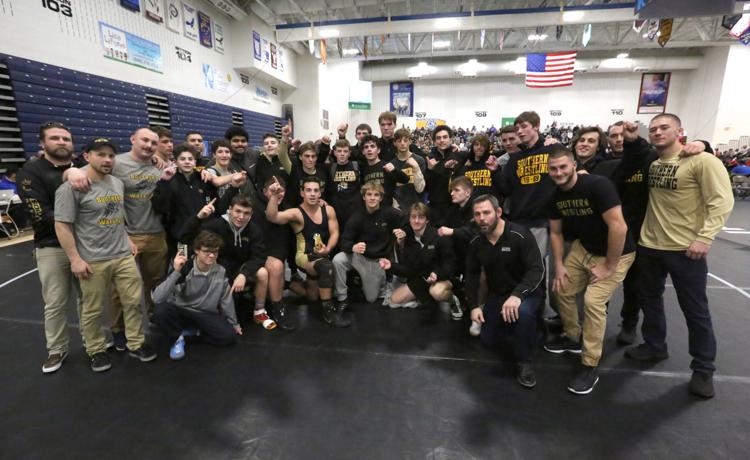 Southern wrestling state final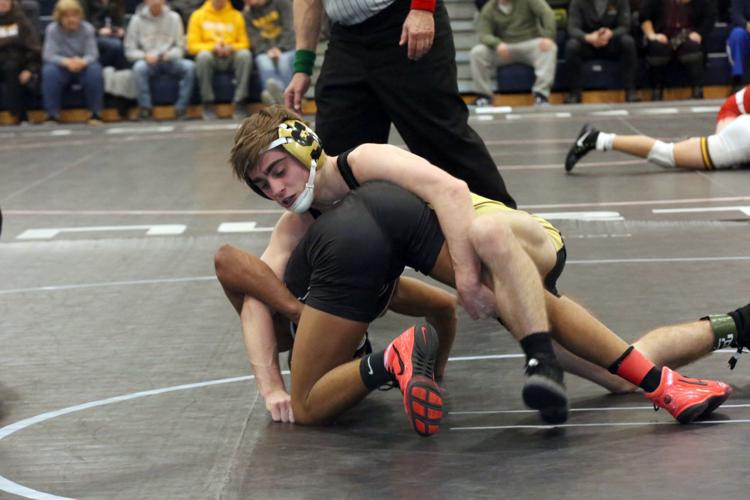 Southern wrestling state final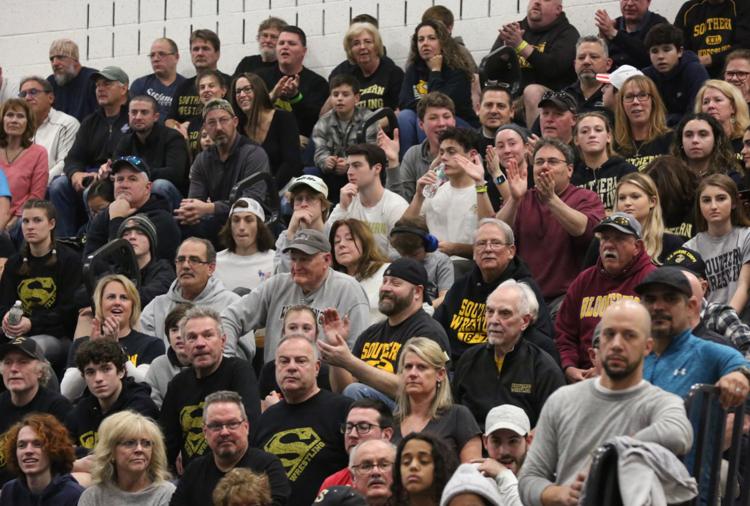 Southern wrestling state final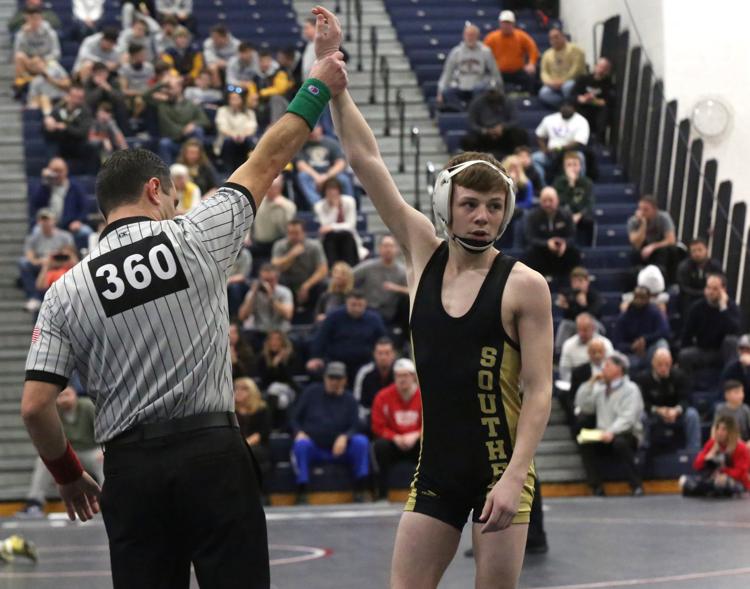 Southern wrestling state final