Gabe Kapler didn't lose his job because he communicated poorly, or because too many Phillies got hurt, or, as general manager Matt Klentak suggested, because Philadelphia is too dumb to worship his analytics.
All those reasons contributed to Kapler being fired as manager after two wordy seasons that ended in 80, then 81, wins. But they're not the main reasons.
Kapler and his principal staff got fired because a half-dozen emerging, cornerstone players regressed. It was the job of Kapler, pitching coach Chris Young, and hitting coach John Mallee to develop sluggers Rhys Hoskins, Odubel Herrera, and Maikel Franco and starters Nick Pivetta, Vince Velasquez, and Zach Eflin. Kapler and his coaches tried specific, unconventional strategies. Those strategies failed.
As the Phillies begin interviewing Kapler's replacement this week, bear in mind that they will be expected to develop largely the same group.
You can argue that the players just aren't good enough. I'd agree, except for Hoskins, who has MVP DNA, and maybe Franco, who will thrive in the right situation.
But Klentak misevaluated much of his roster, especially Pivetta, Velasquez, and Eflin, whom he believed would be better than Dallas Keuchel. Keuchel, a left-hander, signed with the Braves. His 3.75 ERA in 19 starts for the Braves would have led the Phillies' rotation.
You can contend that Phillies owner John Middleton — or maybe Meddle-ton, since it was he who fired the hitting coach, for Pete's sake — believes there was more meat on the bone in 2019. He must believe that, since it was Kapler he fired and not Klentak or Klentak's boss, president Andy MacPhail.
Kapler won as many games as could reasonably be expected considering the talent he was given and the losses the roster suffered. In fact, what he and Young did with the bullpen over the last two months of the season was utter sorcery.
But Middleton considered only wins and losses, not magic, and the younger players needed to play better. If even three of the six players in question had consistently progressed to the level of Middleton's expectations, the Phillies would have won more games. If they'd won enough, Kapler would have earned a third season. But they did not progress, so they did not win, and so Kapler is gone.
Everything else is window dressing.
Begin with Hoskins, the Phillies' most dangerous home-grown right-handed hitter since Mike Schmidt.
Hoskins batted .260 with a .922 OPS and 23 home runs in his first 105 games of 2019, as the team went 55-50. In his last 55 games, he batted .162 with a .623 OPS and six home runs, and the team went 25-30. In September, as Hoskins pressed more and more, his rate of strikeouts per plate appearance jumped from 23.3 to 30.8, or almost 25 percent.
Middleton wanted to fire Kapler in July, after the Phillies went 11-16 in June, but Klentak and MacPhial talked him out of it. On Friday, Middleton cited September's 12-16 record as a chief reason he fired Kapler.
The cost of Hoskins' slump cannot be overstated.
Hoskins bats cleanup. He's the right-handed protection for $330 million slugger Bryce Harper. He's also in just his second full season, with enormous power, a superb eye and boatloads of character. Hoskins will be back, but his two-month disappearance was reason No. 1 that Kapler won't be.
Herrera, an All-Star center fielder in 2016, hit .255 in 2018, Kapler's first season, and was hitting .222 with one home run in 39 games in 2019 when he was suspended for violating Major League Baseball's domestic violence policy. Franco, who in 2018 led the Phillies with a .270 average and was second in OPS at .780, fell to .234 and .705 and lost his job at third base.
All three hitters got worse. Middleton fired Mallee in August. The hitters were just half the story.
Led by Cy Young Award contender Aaron Nola and former Cy Young winner Jake Arrieta as the top starters, Kapler and Klentak agreed that Pivetta, Velasquez, and Eflin would complete a respectable rotation. They were miserably wrong.
Eflin finished with a 4.22 ERA as a starter, best among the three and 42nd among starters who logged at least 69 innings, which was Pivetta's season total. Velasquez, at 4.96, was 63rd. Pivetta had a 5.74 ERA, 75th.
Pivetta, considered the most promising of the bunch, became bullheaded; he got demoted to the minors twice and to the bullpen twice.
Velasquez was generally effective for four innings but was gasoline in a match factory the third time through the order: Hitters raked at a .435 clip with a 1.380 OPS. Eflin shined down the stretch, with a 2.83 ERA in his last seven starts, but that happened after he told Young to take his analytics and shove them up his computer.
Of the three, only Eflin has shown the capacity to earn a spot in a major-league rotation, but Kapler and Young were tasked with developing them all. They failed.
Kap & Co. dealt with more than their share of key injuries. Andrew McCutchen, the glue of the outfield, the lineup, and the clubhouse, shredded a knee June 3, and Phillies fell out of first place nine days later. Arrieta pitched with a bone spur in his right elbow for as much as two months before finally opting for surgery.
The biggest losses affected the bullpen, where Klentak spent millions to support his specious starting rotation. He planned to get about 300 innings of quality relief from David Robertson, Pat Neshek, Tommy Hunter, Seranthony Dominguez, and Adam Morgan. The Phillies got 84 1/3 innings of injury-addled pitching from them.
Every team suffers injuries. Without question, Klentak failed to field a roster talented enough to absorb injuries and contend for a playoff spot.
But, without question, six key, young players went backward in 2019.
That's why Kap is history. 
10.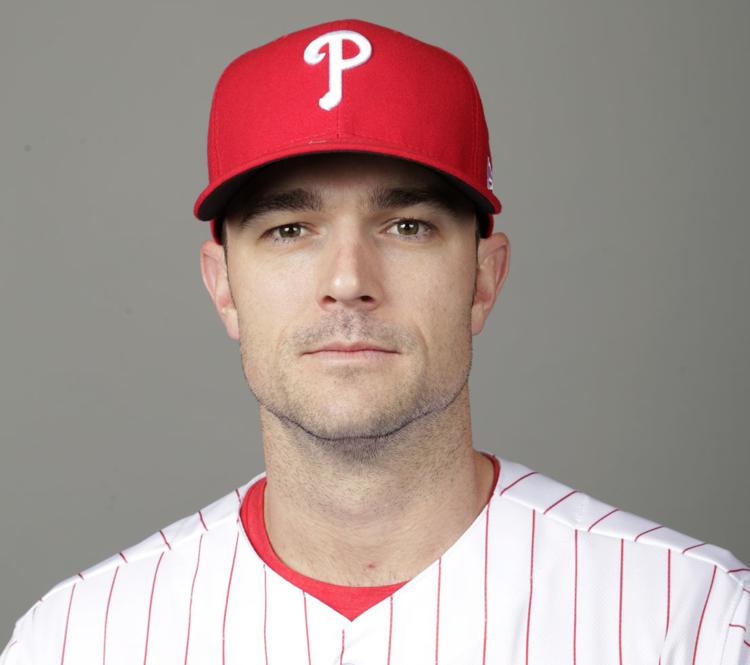 Dave Robertson will emerge as the consistent closer and save 33 games.
9.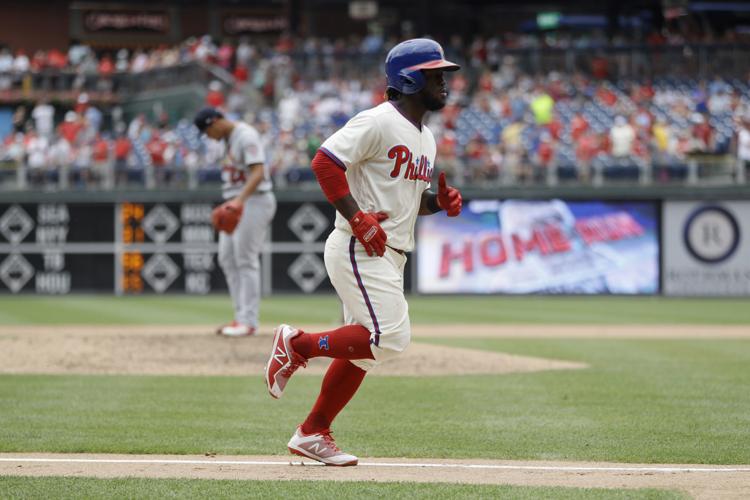 Center fielder Odubel Herrera will continue to struggle with consistency. This will be his last season in Philadelphia.
8.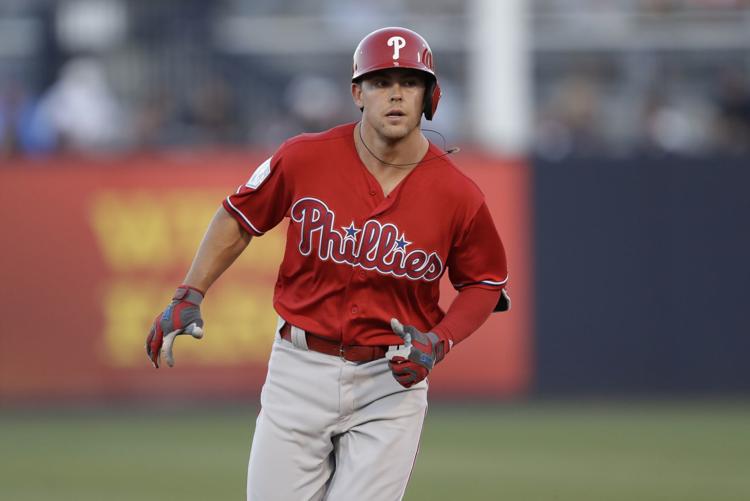 Scott Kingery will rebound from his poor rookie season, where he batted .226 and had a .267 on-base percentage. Kingery will be the Phillies every day third baseman by June 1.
7.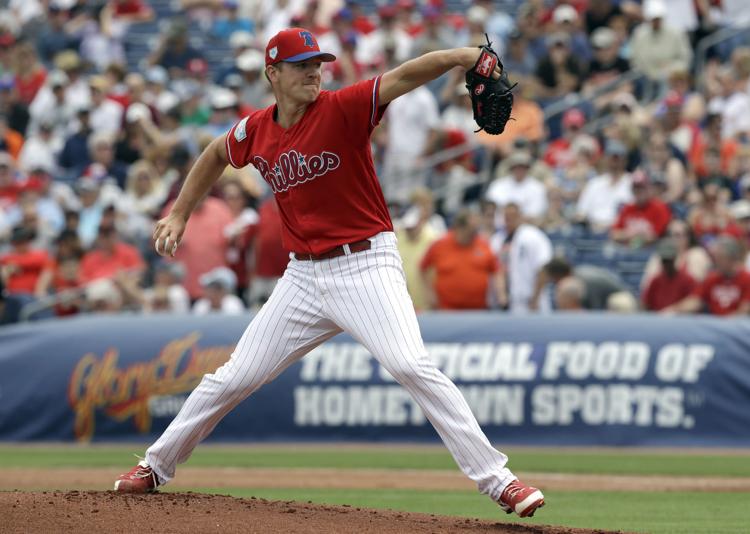 Nick Pivetta will have a breakout year. Pivetta averaged 10.3 strikeouts per nine innings last season. All he was lacking was experience. His ERA — 4.77 last season — will dip below 4.00, and he gives the Phillies a chance to win almost each time he steps to the mound.
6.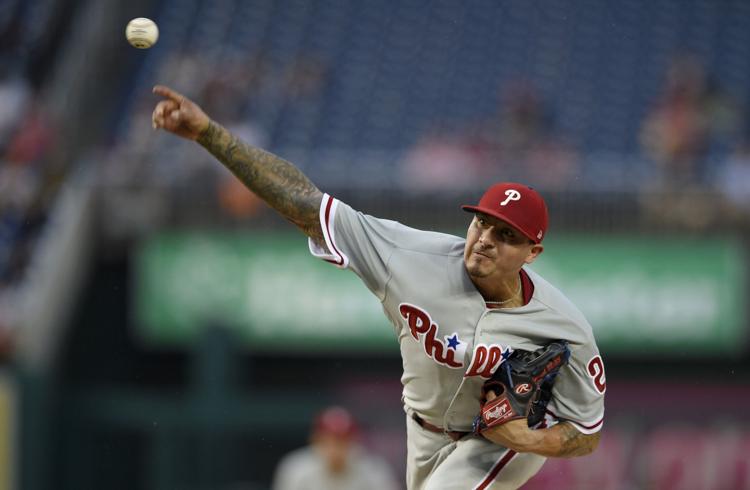 Vince Velasquez does not have a breakout season. The starting pitcher will continue to struggle with consistency. The Phillies will acquire a veteran pitcher at the July trade deadline. Velasquez will be shifted to the bullpen.
5.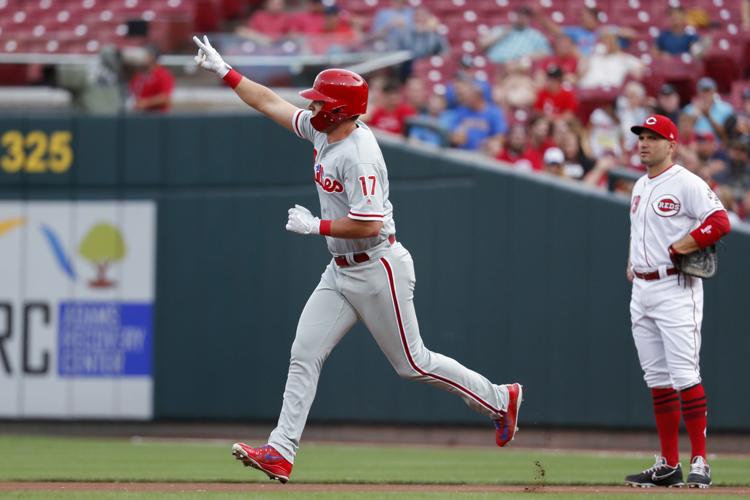 Rhys Hoskins will feel more comfortable playing his natural position of first base. It will show at the plate, where he'll hit more than 40 home runs and knock in more than 100 runs.
4.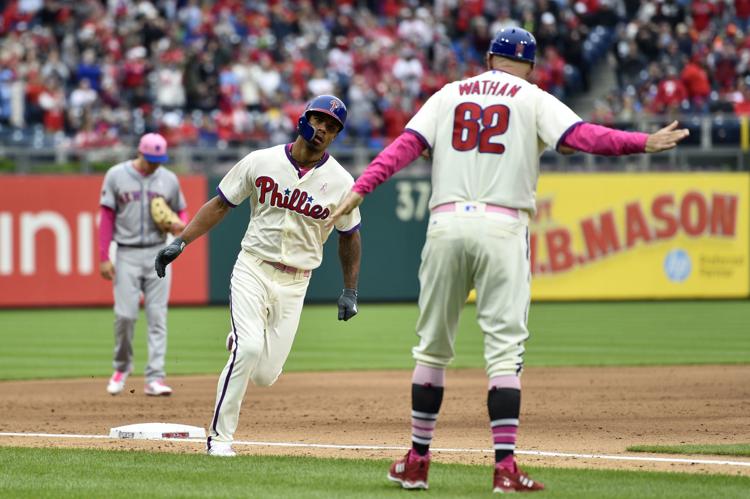 Nick Williams will come off the bench to hit two walk-off, pinch-hit home runs.
3.
Aaron Nola will continue to be one of the National League's top pitchers. But he won't be as lucky. Nola was 17-6 with a 2.37 ERA last season. Put him down for a 13-12 record with a 3.01 ERA this season.
2.
Bryce Harper's at-bats will be appointment television. The outfielder will hit a career-best 43 home runs, but he will create some angst by only batting .259. The analytics fans will counter criticism of the batting average by pointing toward Harper's career-best 100-plus walks.
1.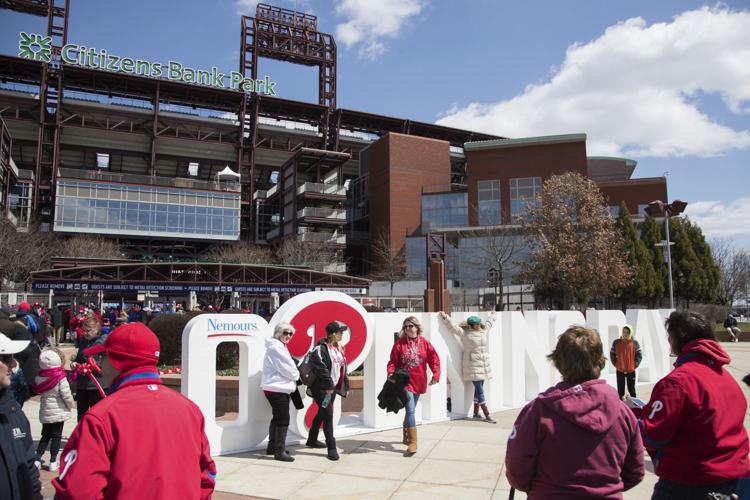 It will be an exciting season at Citizens Bank Park but not that exciting. The starting pitching will still be worrisome. The Phillies will finish 87-75 and lose to the Chicago Cubs 6-3 in the NL wild card game.
-- HIDE VERTICAL GALLERY ASSET TITLES --