HAMMONTON — Franklin Simms made his first varsity start for the St. Augustine Prep football team Saturday afternoon.
The sophomore running back couldn't sleep Friday night. He woke up twice thinking about the game.
The Mays Landing resident was all business when he arrived at school Saturday morning.
"I usually smile a lot," Simms said. "Today, I didn't want to smile."
After the game, Simms and his teammates couldn't hide their grins.
St. Augustine dominated the line of scrimmage and beat St. Joseph 28-12 in a renewal of one of South Jersey's most intense rivalries. St. Joe (2-1) is ranked No. 1 in The Press Elite 11. St. Augustine (1-2) desperately needed the win after starting its season with two defeats.
"We played nasty and aggressive," Hermits junior offensive lineman Jake Ketschek said. "This is an amazing morale booster."
St. Augustine rushed for 268 yards. The 6-foot, 215-pound Simms gained most of his yards between the tackles, rushing 22 times for 109 yards. Nasir Hill ran for 56 yards and two scores.
Hermits offensive linemen Gavin Kennedy, Dylan McNally, Chandler Bird, Angelo Fodera and the 6-foot-4, 290-pound Ketschek cleared the way for the St. Augustine running backs.
'It's a lineman's dream to able to dominate the line of scrimmage and run the ball all day," Ketschek said. "It's what I wanted to do, and we did it."
Fans filled the home and visiting bleachers and circled St. Joe's field on a steamy, sunny day to watch these rivals play. Games among these teams and Holy Spirit are dubbed "Holy Wars."
St. Joe and St. Augustine compete not only for victories but also to attract the region's top players. St. Joe leads the rivalry 25-8. St. Augustine hadn't beaten St. Joe since 2016.
Simms was the game's biggest surprise. He didn't have a carry in St. Augustine's first two games, a 20-17 loss to State College, a Pennsylvania school, and a 20-7 defeat to Lenape.
He ran for a long touchdown in a junior varsity game against Lenape on Monday.
"We just felt it was time to unleash him," St. Augustine coach Pete Lancetta said.
Simms took advantage. He rumbled over would-be tacklers and appreciated running behind the Hermits' line.
"The holes were huge," he said. "Jake Ketschek was sealing the ends. They were going crazy. It was fun running behind them."
The Hermits played with more energy and were much more aggressive than St. Joe. St. Augustine set the tone on its first possession.
The Hermits drove 60 yards on nine running plays to take a 7-0 lead, with Hill scoring on a 19-yard run. The Hermits never trailed after that score. St. Augustine never strayed from the run. The Hermits threw one pass — it was intercepted.
"We had a great week of practice," Ketschek said. "It translated onto the field. We knew coming in we were going to be running the ball."
The St. Augustine defense was just as tenacious as the Hermits' offense. St. Joe standout running back Jada Byers scored both Wildcats touchdowns but touched the ball just 10 times for 78 yards of offense.
Brady Small sparked the Hermits' defense with two tackles for losses. Hill and fellow St. Augustine defensive back RC Reynolds each had an interception.
"They beat us in every aspect of the game," St. Joe coach Paul Sacco said. "This game came down to fundamentals. They kept the ball on the ground and ate up the clock. You have to block, and you have to tackle. We didn't block anybody, and we sure as hell didn't tackle anybody. My hat's off to them."
When the game was over, Ketschek ran over to the St. Augustine sideline and lifted Lancetta into the air.
Lancetta spent the days before the game thinking about what an 0-3 start would mean to the Hermits. Would he lose the team?
"You worry as a coach," Lancetta said. "But they never stopped working and obviously they never stopped believing."
St. Augustine 7 14 0 7 — 28
SA — Hill 19 run (Snyder kick)
SJ — Byers 8 pass from Shertel (pass failed)
SA — Hill 4 run (Snyder kick)
SA — Leyman 5 run (Snyder kick)
SJ — Byers 45 run (run failed)
SA — Simms 4 run (Snyder kick)
Rushing — S.A., Simms 22-109; S.J., Byers 5-41
Passing — S.A., Leyman 0-1-0; S.J., Shertel 14-18-118
Receiving — S.J., Byers 5-37
Records — St. Augustine 1-2; St. Joseph 2-1
-- HIDE VERTICAL GALLERY ASSET TITLES --
St. Augustine vs. St. Joes football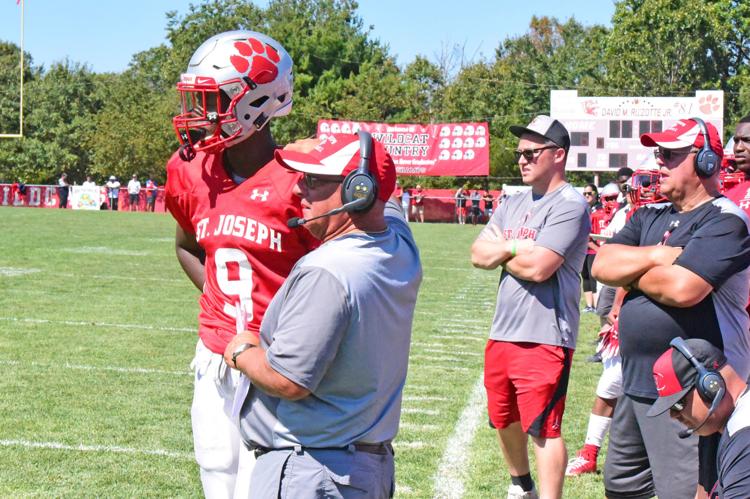 St. Augustine vs. St. Joes football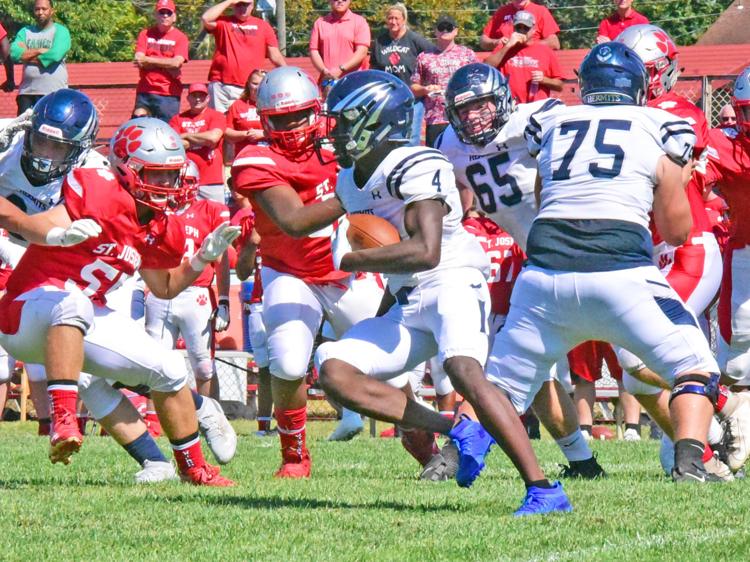 092219_gal_stjoes (43)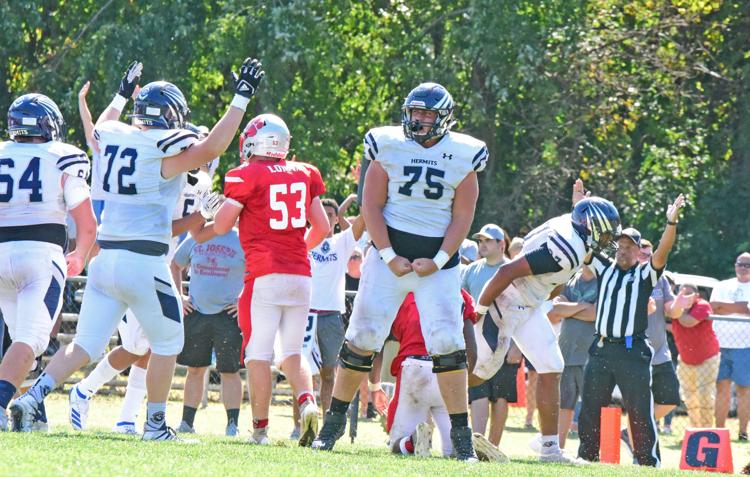 092219_gal_stjoes (5)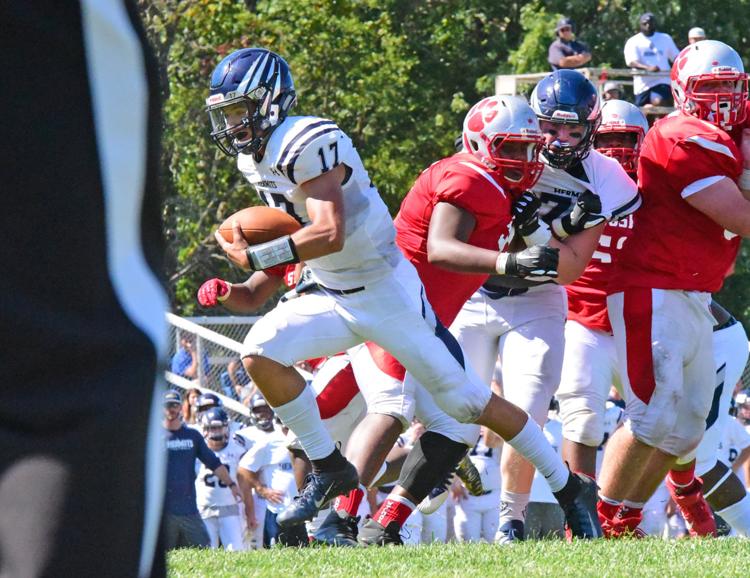 St. Augustine vs. St. Joes football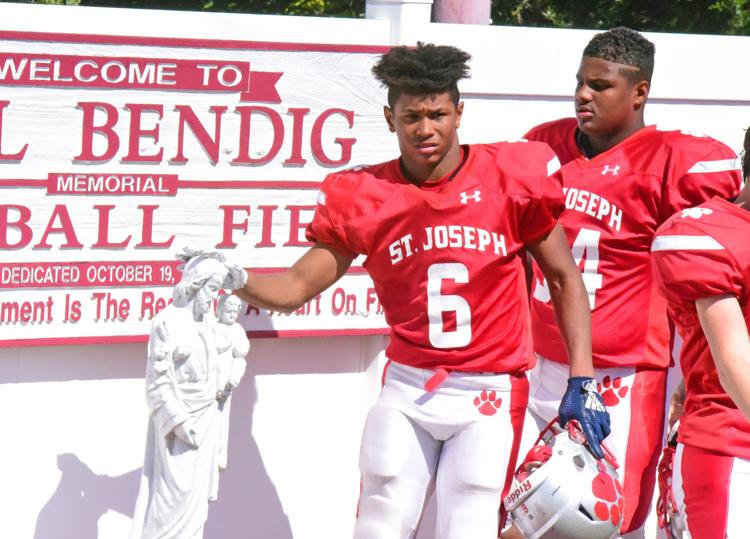 092219_gal_stjoes (23)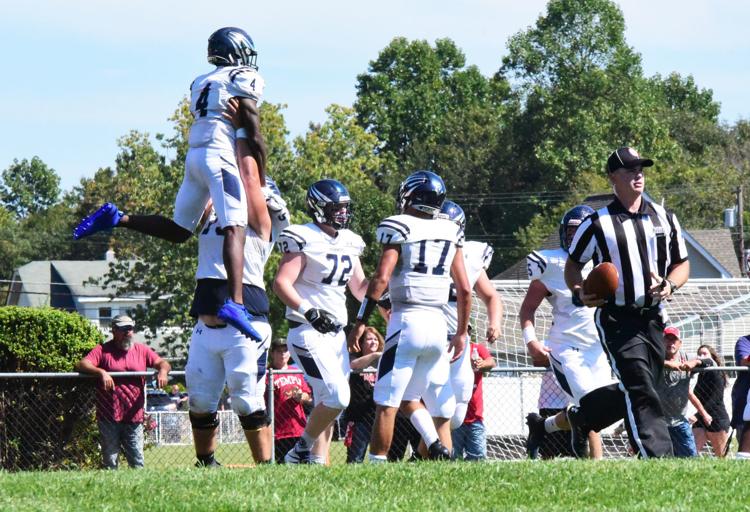 St. Augustine vs. St. Joes football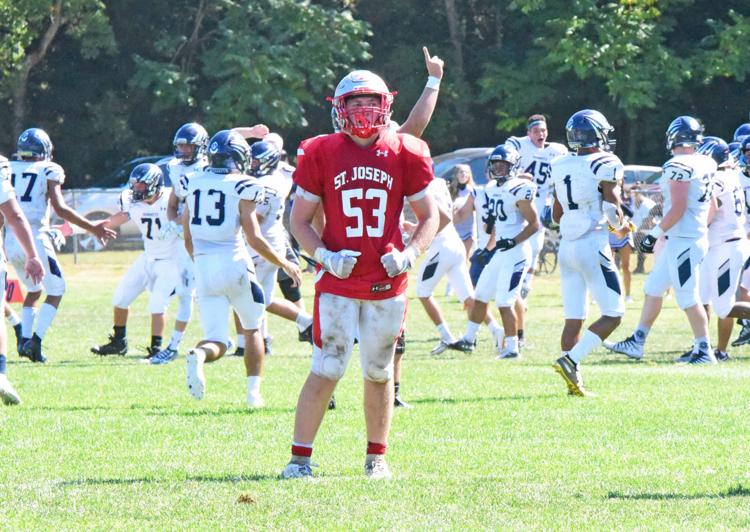 092219_gal_stjoes (20)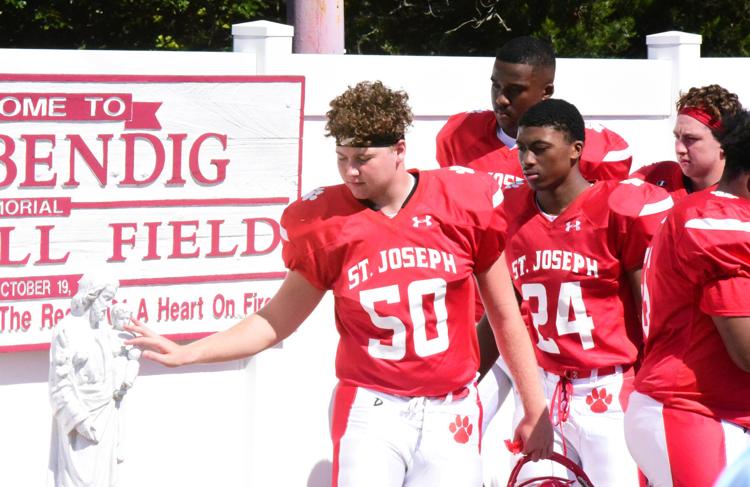 092219_gal_stjoes (11)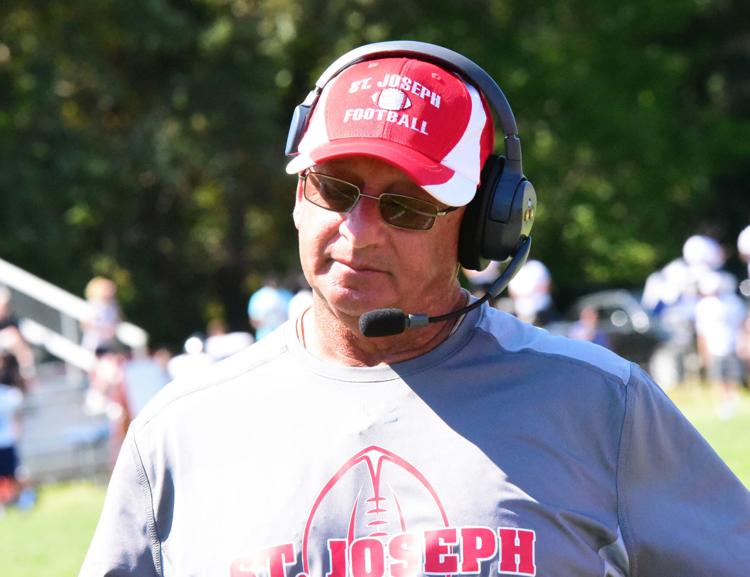 092219_gal_stjoes (36)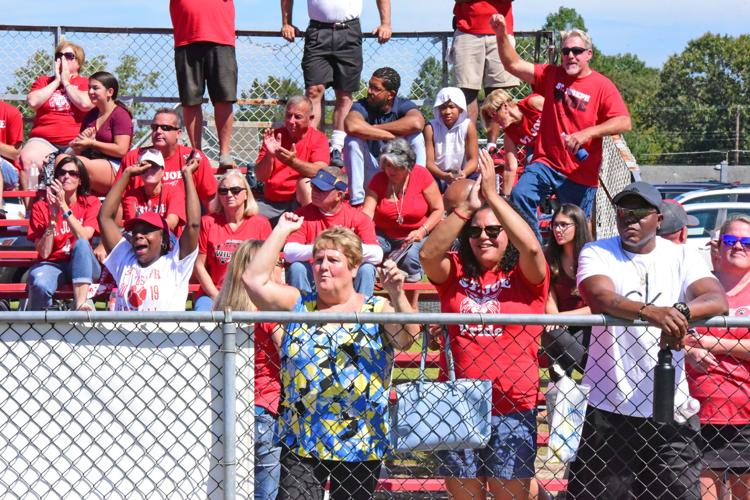 St. Augustine vs. St. Joes football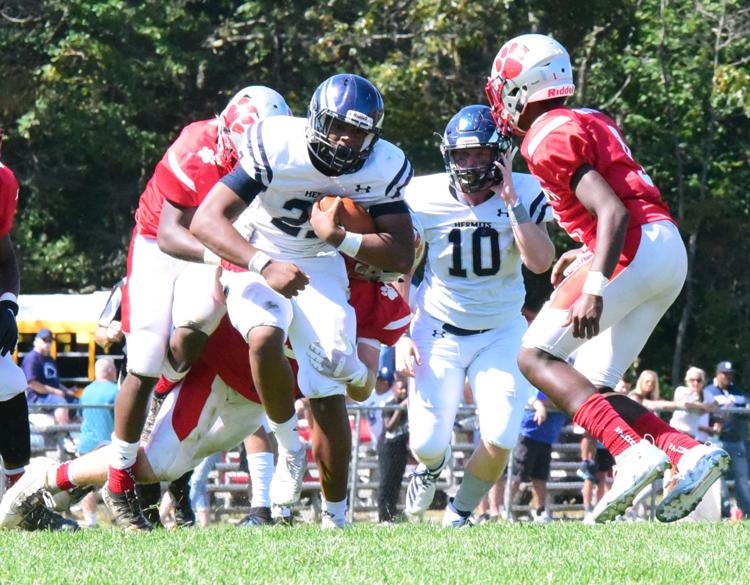 092219_gal_stjoes (24)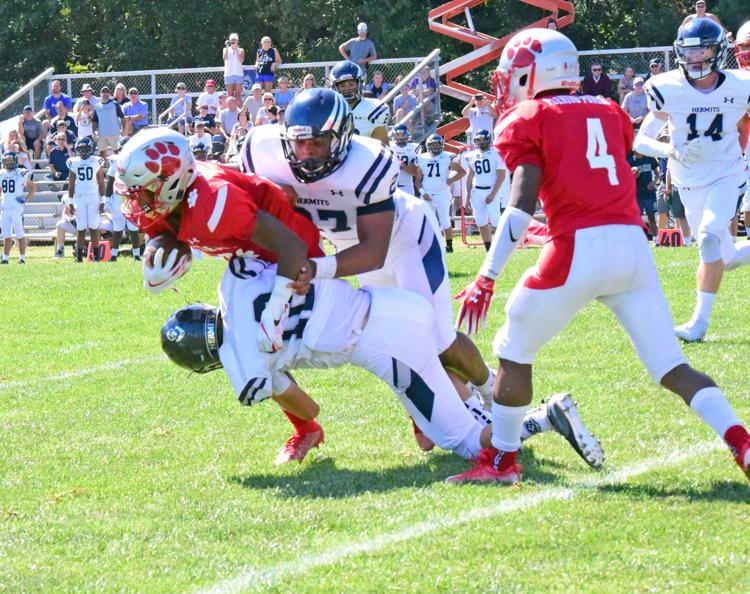 092219_gal_stjoes (9)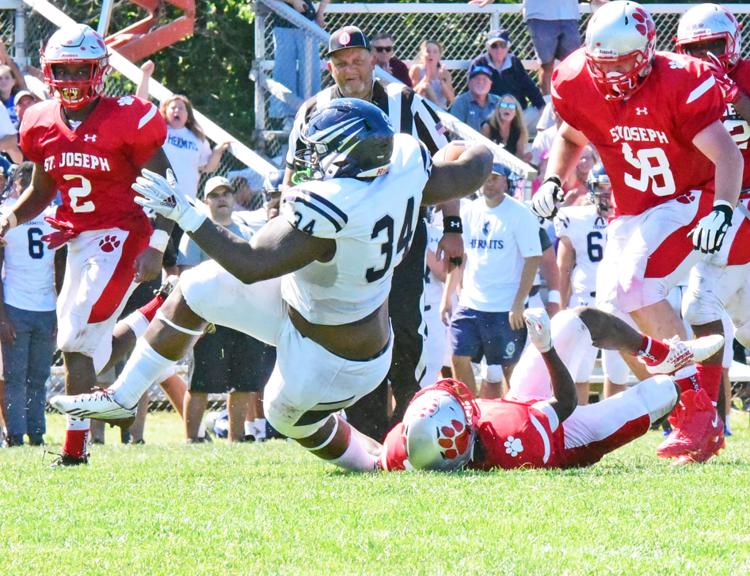 092219_gal_stjoes (2)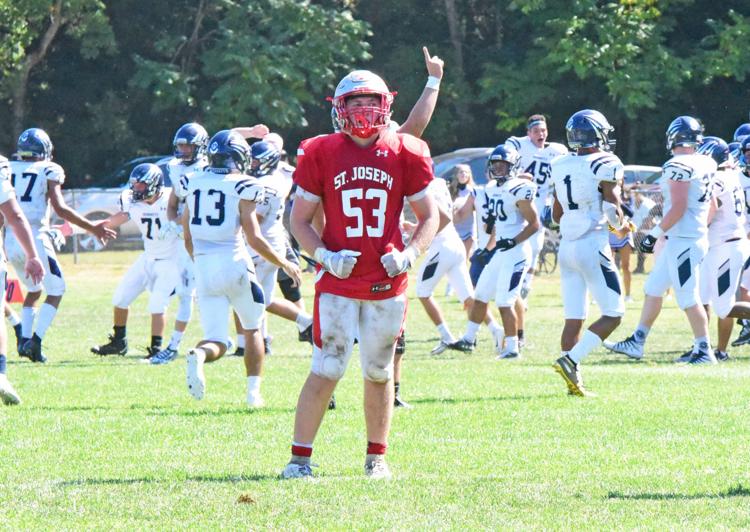 092219_gal_stjoes (40)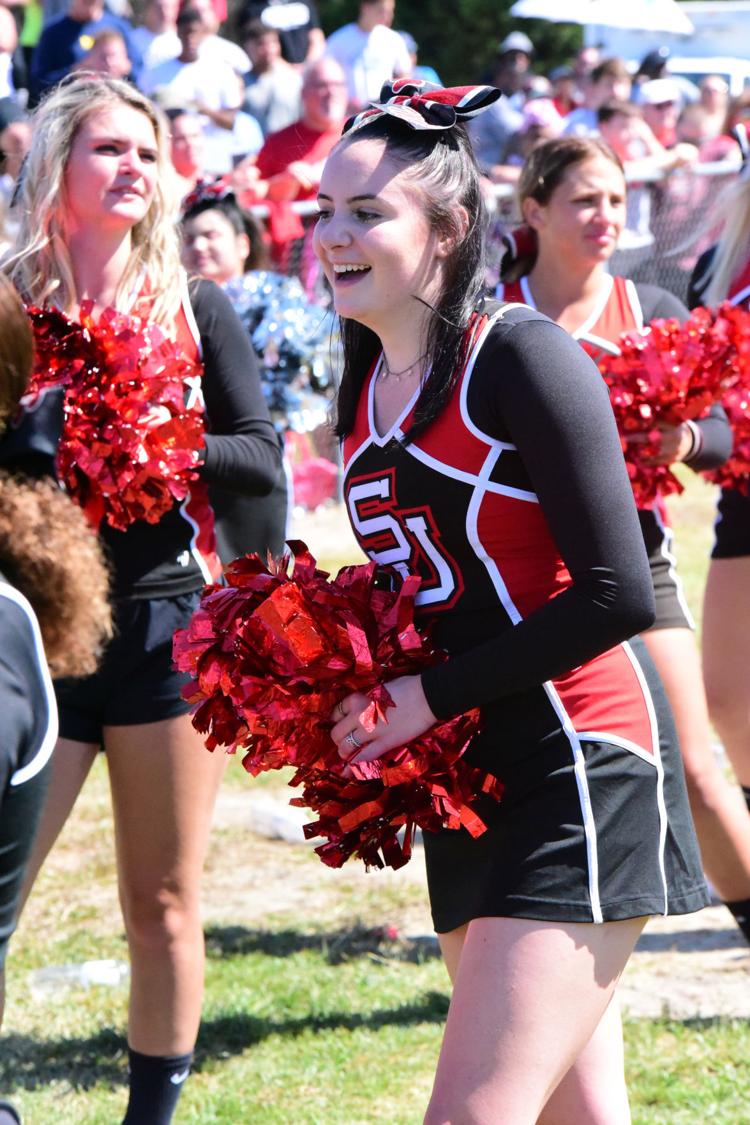 092219_gal_stjoes (29)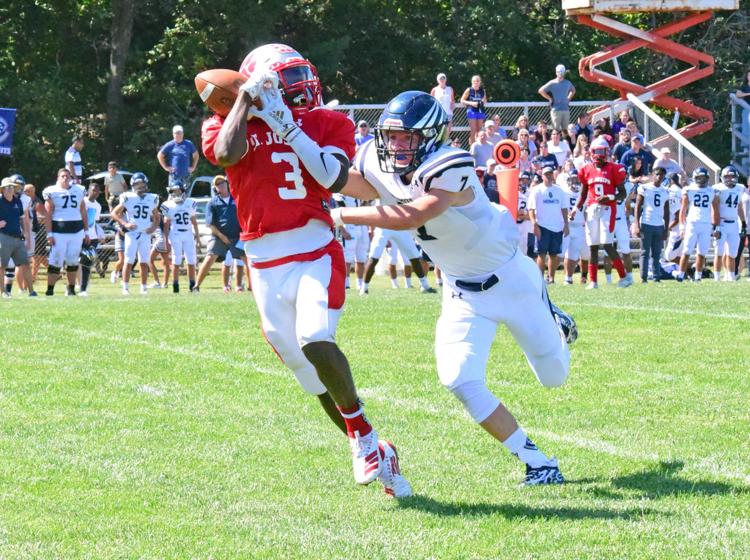 St. Augustine vs. St. Joes football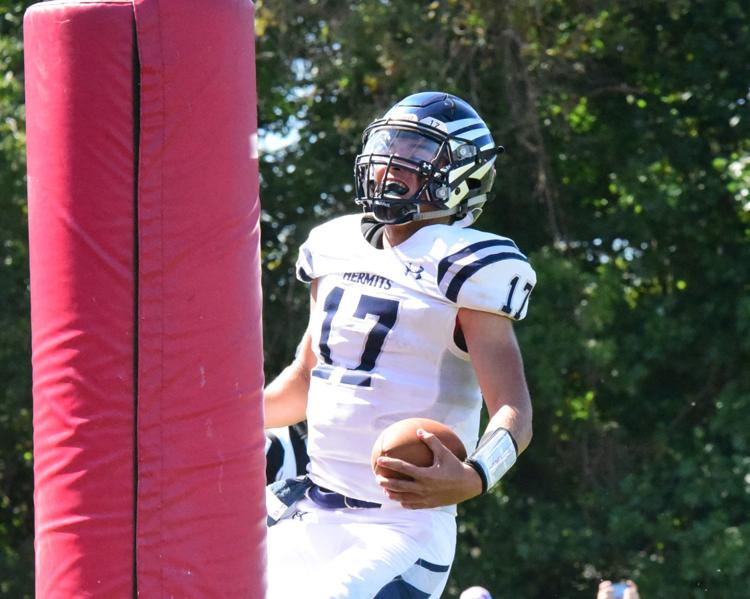 St. Augustine vs. St. Joes football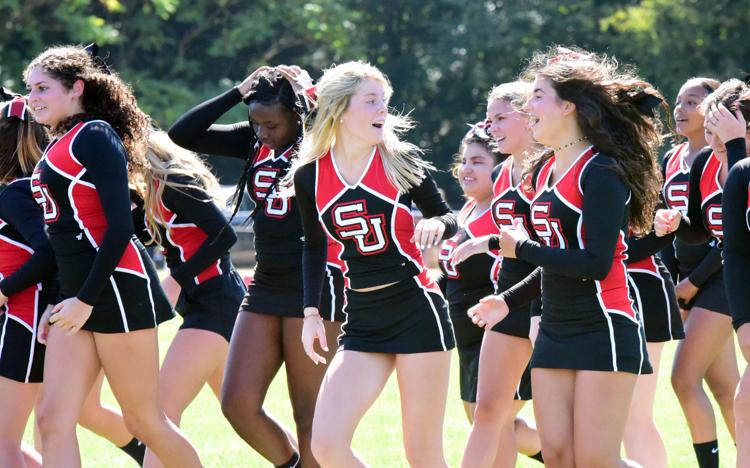 092219_gal_stjoes (12)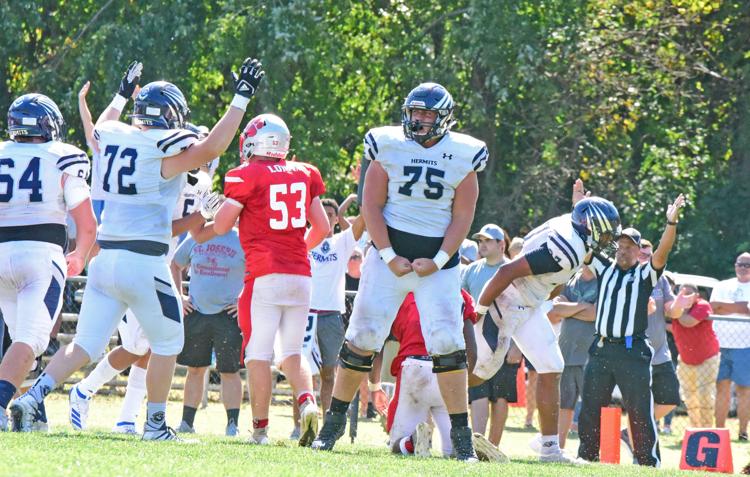 092219_gal_stjoes (28)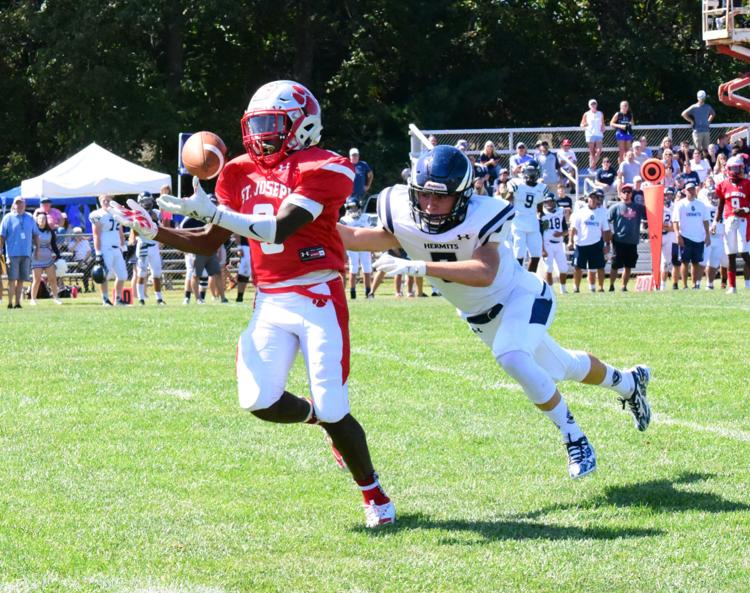 092219_gal_stjoes (22)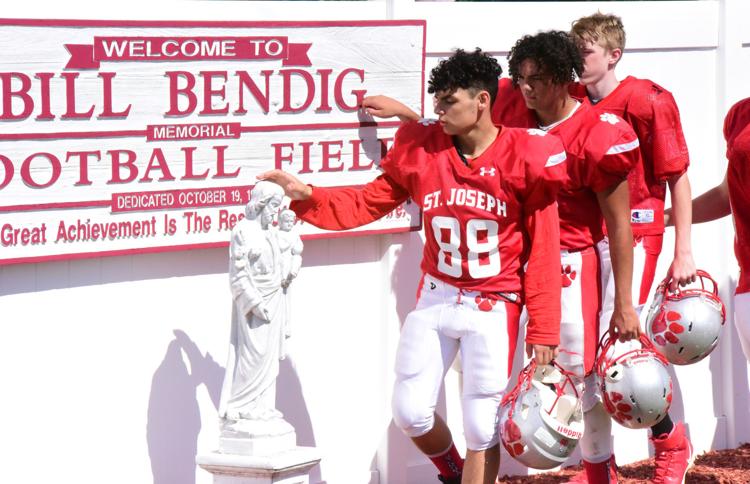 092219_gal_stjoes (39)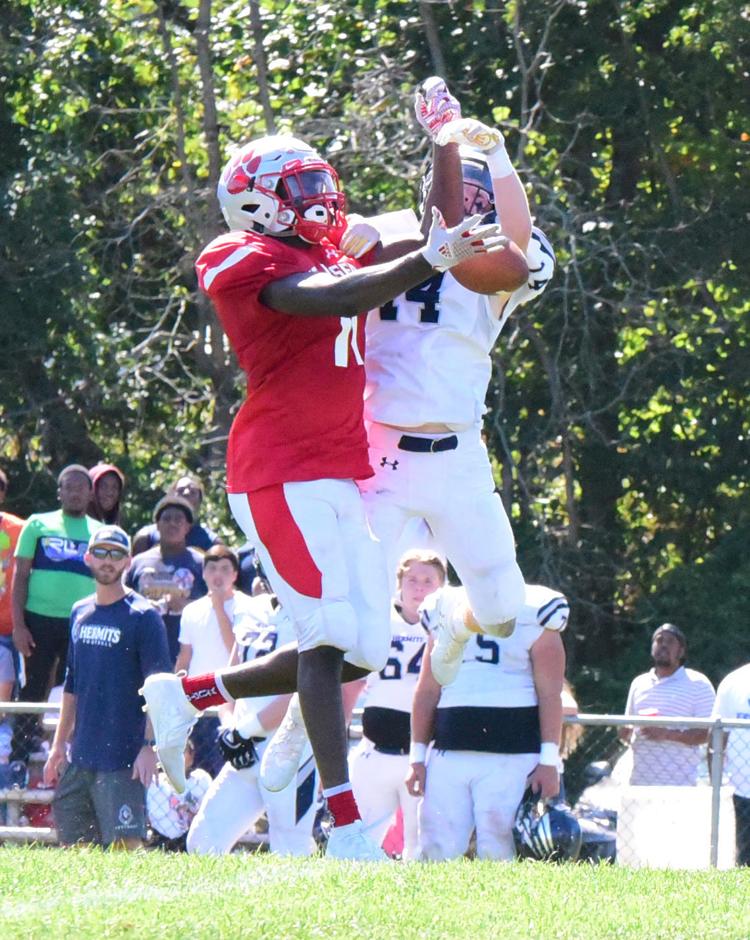 092219_gal_stjoes (27)
092219_gal_stjoes (31)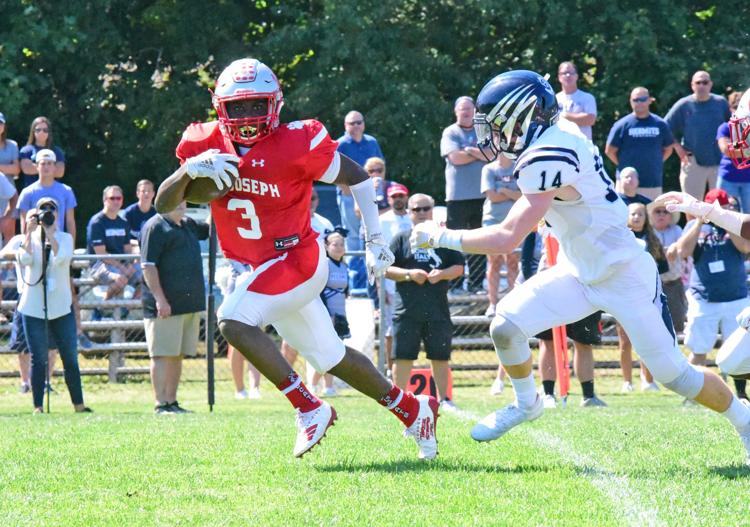 092219_gal_stjoes (4)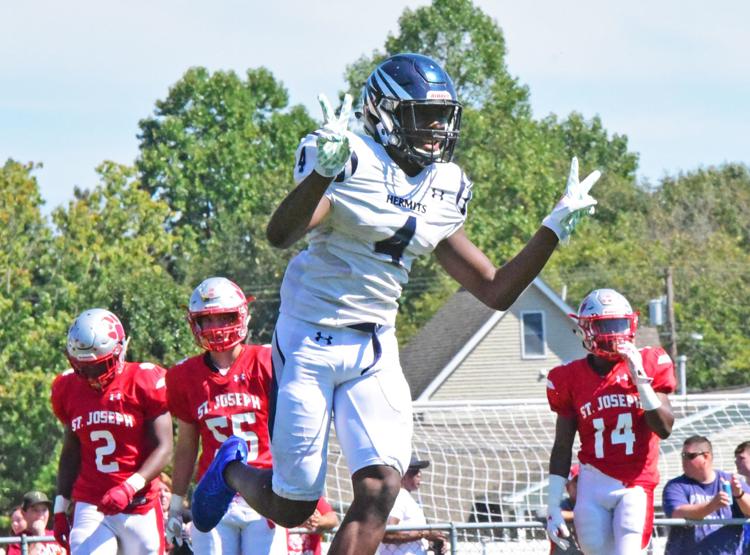 092219_gal_stjoes (14)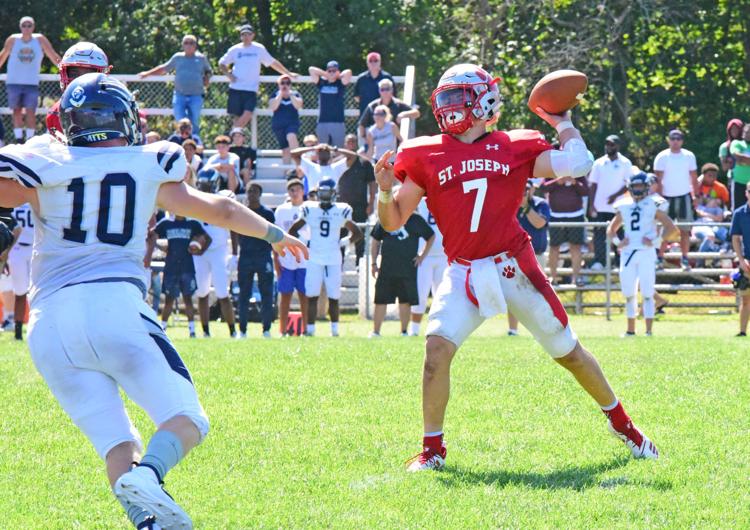 092219_gal_stjoes (25)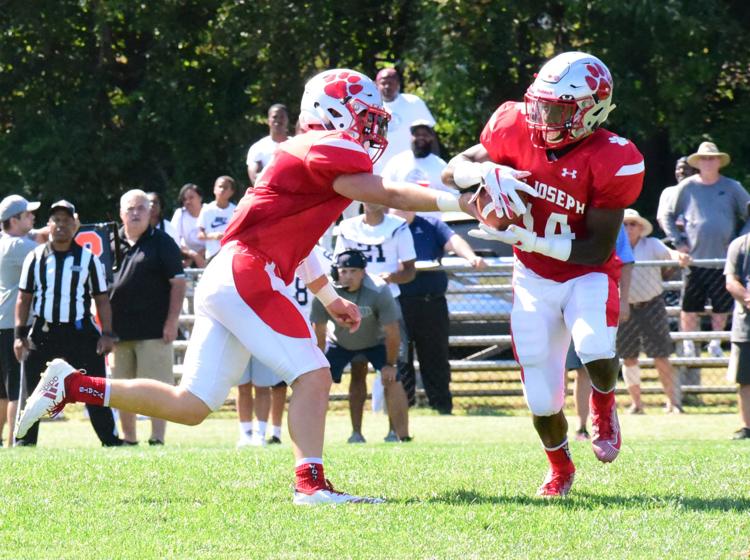 092219_gal_stjoes (7)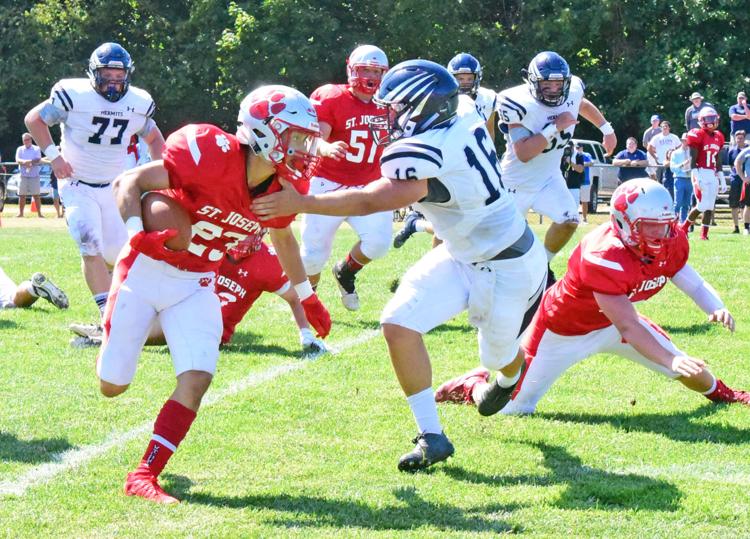 092219_gal_stjoes (8)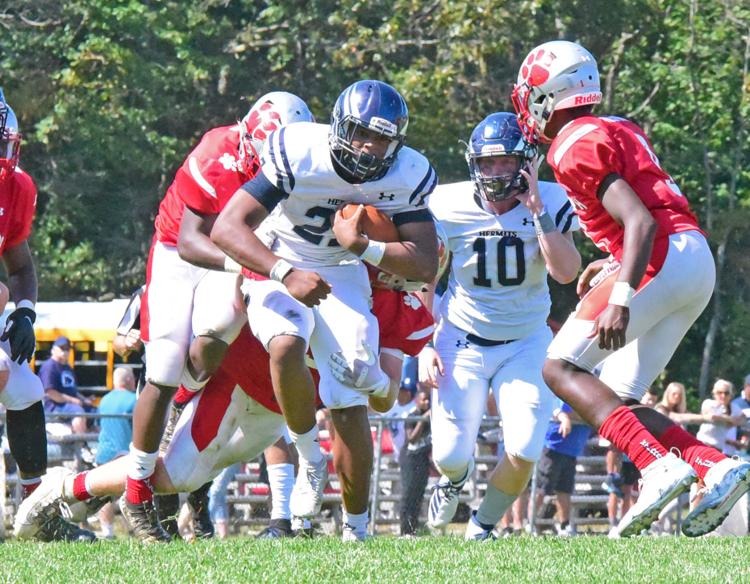 092219_gal_stjoes (30)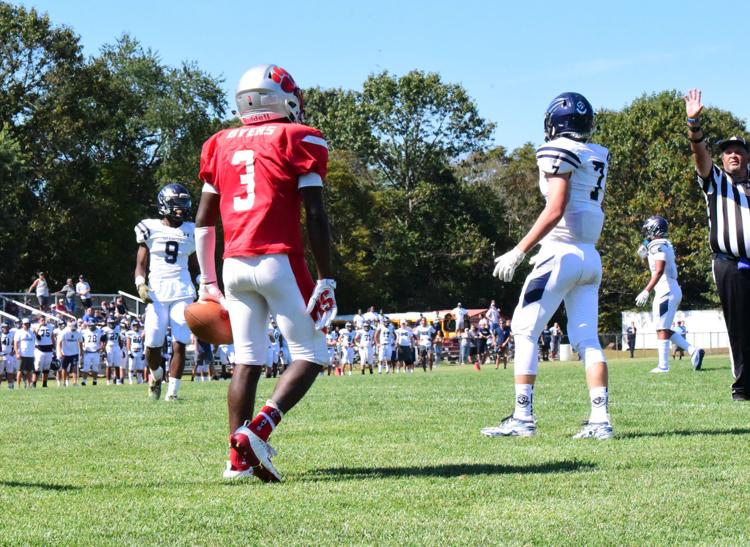 092219_gal_stjoes (21)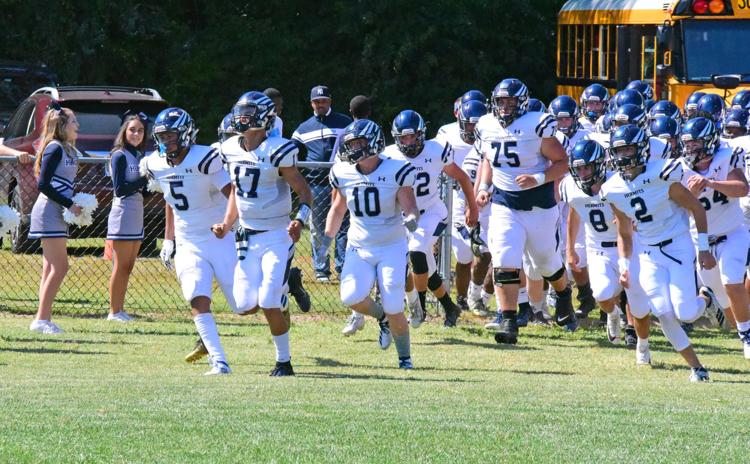 092219_gal_stjoes (26)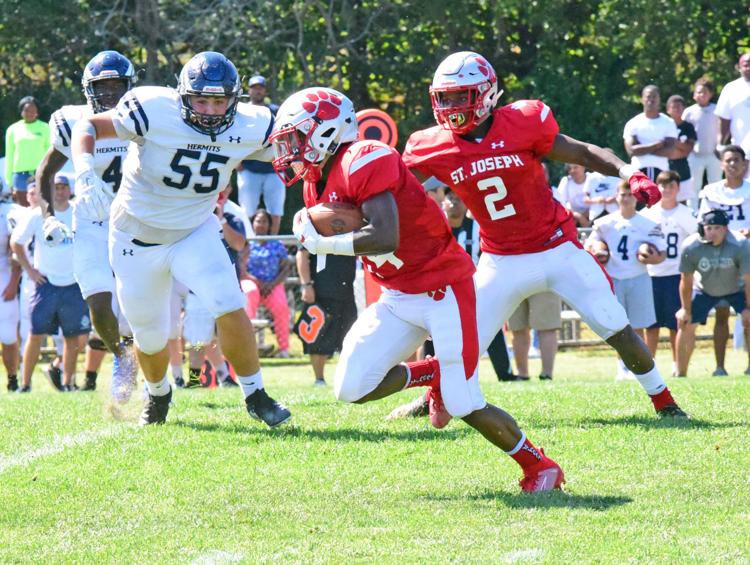 092219_gal_stjoes (38)
092219_gal_stjoes (1)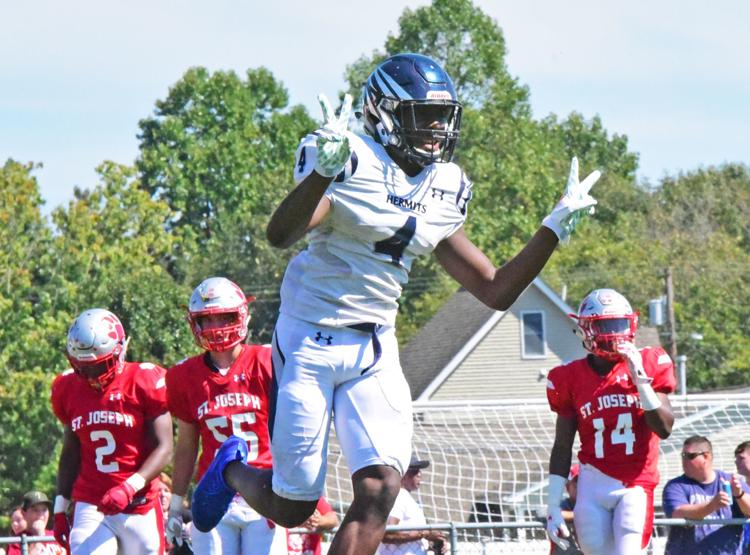 092219_gal_stjoes (13)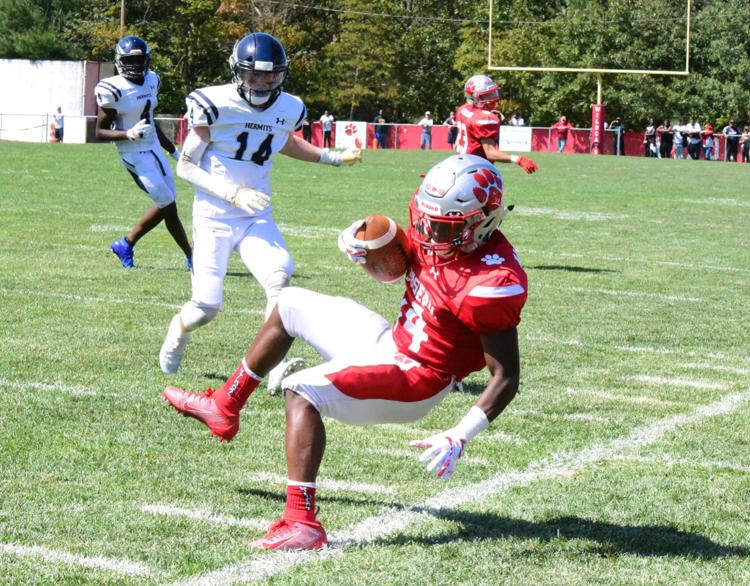 092219_gal_stjoes (18)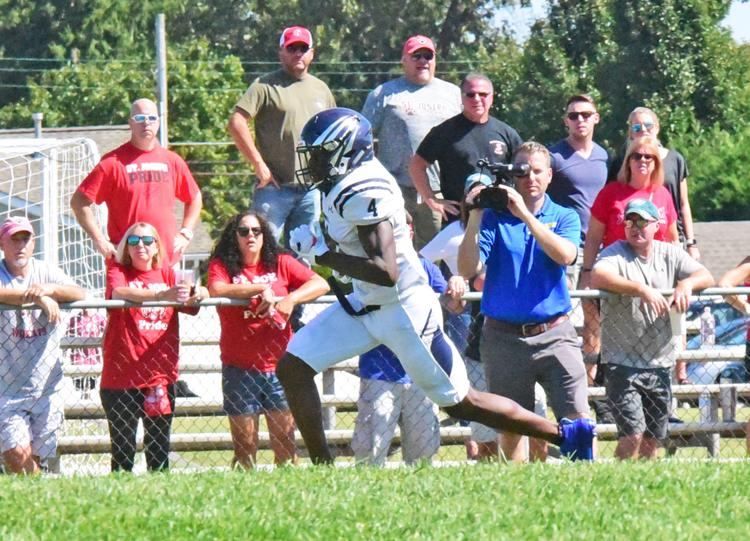 092219_gal_stjoes (10)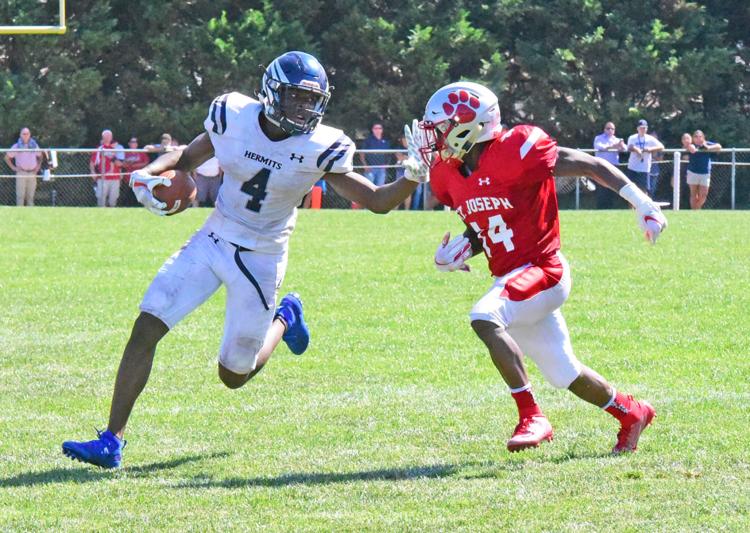 092219_gal_stjoes (6)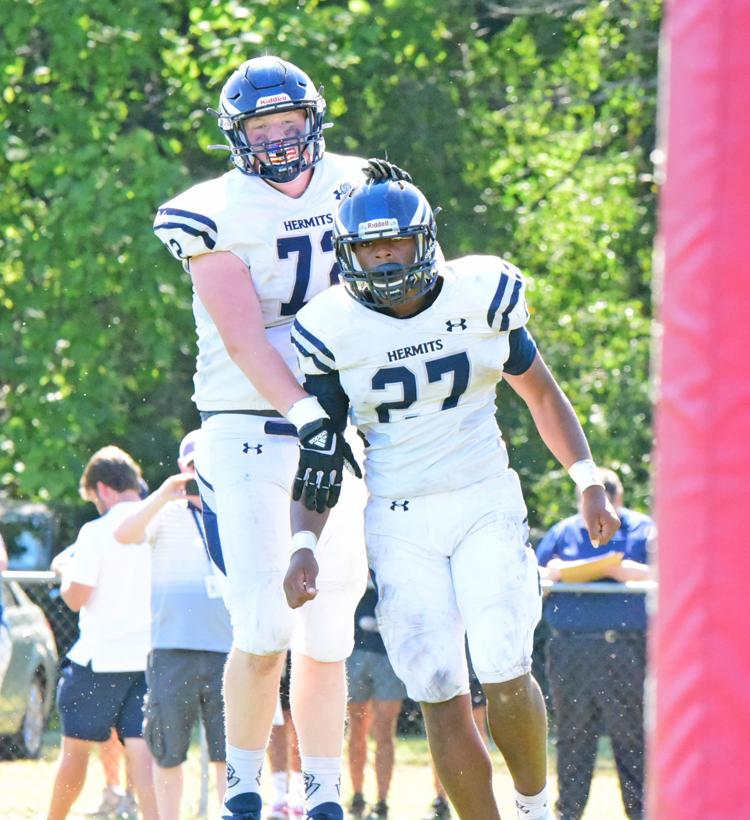 092219_gal_stjoes (35)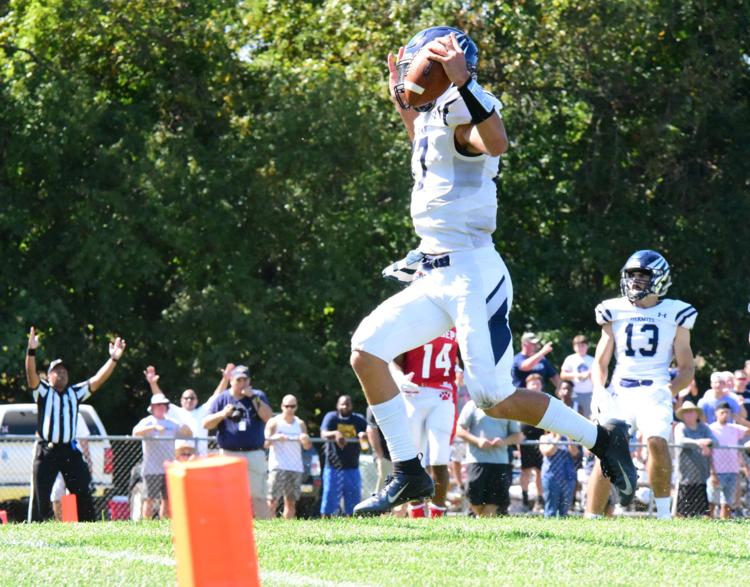 092219_gal_stjoes (16)
092219_gal_stjoes (15)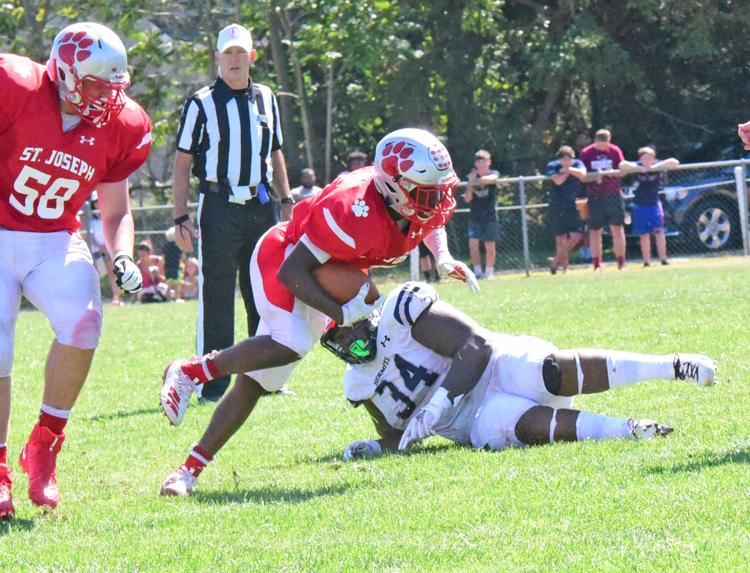 092219_gal_stjoes (34)
092219_gal_stjoes (3)