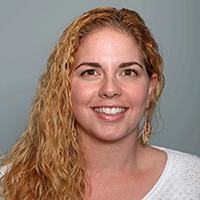 Claire Lowe
Staff Writer
Bio

I began covering South Jersey in 2008 after graduating from Rowan University with a degree in journalism. I joined The Press in 2015. In 2013, I was awarded a NJPA award for feature writing as a reporter for The Current of Hamilton Township.
TRENTON — The Buena Regional School District for two years did not follow some state and federal financial regulations and erroneously paid ou…
After months of waiting for their closing moment together, South Jersey's high school Class of 2020 finally celebrated this week the accomplis…
Visit The Press of Atlantic City Graduation Central for all of the latest on this year's Class of 2020 including photos, top students, speech …
Senior Kaylin Otten, 17, of Little Egg Harbor Township walks off the football field after participating in the Pinelands Regional High School …
Friends hug after the Pinelands Regional High School 2020 commencement ceremony Thursday, July 9, 2020.
Friends hug and pose for photos together on the football field following the Pinelands Regional High School 2020 commencement ceremony Thursda…
Seniors with last names between M and Z toss their caps in the air after Pinelands Regional High School Principal Troy Henderson certified tha…
Seniors with last names between M and Z toss their caps in the air after Pinelands Regional High School Principal Troy Henderson certified tha…
Alyssa Rodriguez, 17, of Little Egg Harbor Township; Macayla Quigley, 18, of New Gretna; and Haley Nutt, 18, of New Gretna hold up their senio…
Pinelands Regional High School seniors turn the tassels on their mortarboards to signify their transition from student to graduate at the dire…
View all