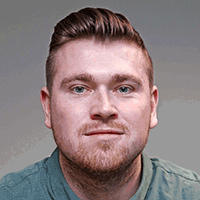 Colton Shaw
Staff Writer
Bio

I cover breaking news on the digital desk. I graduated from Temple University in Dec. 2017 and joined the Press in the fall of 2018. Previously, I freelanced, covering Pennsylvania state politics and criminal justice reform.
Margate Mayor Michael Becker said he was "very sad" to hear two of his city's firefighters, John and Thomas Sher, were among seven people char…
MAYS LANDING — An Egg Harbor Township man was convicted Wednesday of a 2015 murder and attempted murder, Atlantic County Prosecutor Damon G. T…
Pictured from left, Gayle King's son William Bumpus Jr., Stedman Graham, Oprah Winfrey, Graham's sister Anita Shelton and Gayle King.
ATLANTIC CITY — A little less than two hours before the sun rose over the city Feb. 10, Demond Tally was shot dead as he walked from his neigh…
Two Margate firefighters, a Ventnor police officer and a co-owner of Tony's Baltimore Grill in Atlantic City were among seven arrested Friday …
Thomas Sher, 46, of Margate Charged with conspiracy to commit health care fraud and wire fraud, individual acts of health care fraud and wire fraud
Thomas Sher, 46, of Margate Charged with conspiracy to commit health care fraud and wire fraud, individual acts of health care fraud and wire fraud
John Sher, 37, of Margate
John Sher, 37, of Margate works as a firefighter in the Margate City Fire Department along with brothers Thomas and Michael Sher, who were als…
View all