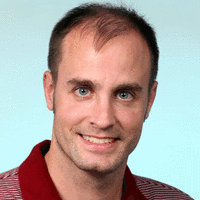 Dan Grote
Bio

Press copy editor since 2006, copy desk chief since 2014. Masters in journalism from Temple University, 2006. My weekly comics blog, Wednesday Morning Quarterback, appears Wednesday mornings at PressofAC.com.

Home page
Hobbies

Avid comics reader since 1993, started The Press' comics blog, Wednesday Morning Quarterback, in 2015. Has self-published three novels, the latest of which is Magic Pier.
Bernie Wrightson, a longtime comics artist best known for his work in horror and for co-creating the DC character Swamp Thing, died last week …
Iron Fist #1: Danny Rand is having trouble harnessing his chi (maybe he's been reading the reviews of his Netflix show, ba-dum ching). Watch o…
Comics fans woke up Sunday to news of the death of industry legend Bernie Wrightson, whose detailed line work took him from the co-creation of…
Amazing Spider-Man #25: A giant-sized 25th issue can mean only one thing: A Spidey-Norman Osborn fight. Stuart Immomen ("Nextwave: Agents of H…
Want to know how good a marksman the Suicide Squad's Deadshot is? He took out Satan.
This week's episode of FXX's "It's Always Sunny in Philadelphia" revealed a lot. So Maxwell Reil and Dan Grote are here to discuss the finale …
TOMS RIVER — An Ocean Gate man has admitted running a rental scam with a house in Lacey Township that was not his.
View all