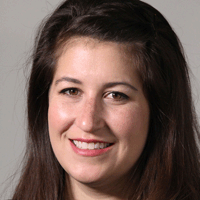 Lauren Carroll
Staff Writer
Bio

Joined the Press in November 2016. Graduate of Quinnipiac University. Previously worked as a freelance reporter in suburban Philadelphia and news/talk radio producer.
ATLANTIC CITY — NJ Transit officials couldn't say when the Atlantic City Rail Line will reopen but promised a definite date within three weeks…
EGG HARBOR CITY — Authorities are searching for a suspect accused of robbing a city bank Wednesday morning.
Police say the suspect entered the Wells Fargo on Philadelphia Avenue and handed an envelope with a note demanding money to the teller.
The suspect of a Tuesday morning robbery seen on surveillance footage entering the Egg Harbor City Wells Fargo bank branch.
MIDDLE TOWNSHIP — With changes to available programs and a growing chronically homeless population, Cape May County officials hope to come tog…
A free screening of a new movie which portrays the struggle of drug addiction will take place Tuesday night in Mays Landing.
A group of investors, including DJ Envy, Cesar Piña and LeSean McCoy, stops at a vacant lot on Arctic Avenue in Atlantic City. At far left is …
When an NFL player, a famous DJ and a million-dollar investor make their way into Atlantic City, you'd expect to see them at a nightclub or a …
Philadephia Eagles fans from across the country flocked to Broad Street, starting near the South Philadelphia Stadiums, to cheer on their Supe…
Workers load supplies from Sister Jean's Kitchen onto a truck bound for the former St. Monica's Catholic Church on North Pennsylvania Avenue i…
View all