Your ultimate resource guide to the science, storms and history of weather in South Jersey. Learn more about winter storms and storm preparedness here.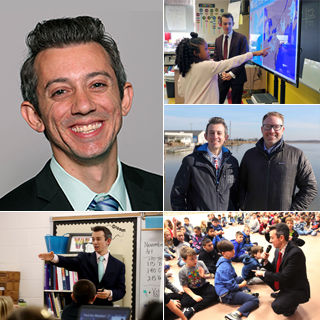 Joe Martucci, the POAC's staff meteorologist
Joe, a two-time New Jersey Press Association winner in 2018, is responsible for the four distinct seasons that call South Jersey home. Living in a region with a rich shore and agricultural history, Joe is keenly aware of the impact weather has on the tourism and economy.
Before The Press, Joe worked as a private consulting Meteorologist in New Jersey. Joe earned his Bachelor of Science degree in Meteorology from Rutgers University and is also a member of the American Meteorological Society.
Look for Joe's daily forecast videos, storm updates, articles, explainers and more here. Joe also performs numerous public outreach and school visits per year. You can e-mail Joe your story ideas and weather tips and follow Joe below.
Right Now
63°
Mostly Cloudy
Humidity:

88%

Feels Like:

62°

Heat Index:

63°

Wind:

9 mph

Wind Chill:

62°
UV Index:

9 Very High

Sunrise:

05:36:27 AM

Sunset:

08:14:04 PM

Dew Point:

60°

Visibility:

9 mi
Today
Partly cloudy skies. A stray shower or thunderstorm is possible. High 89F. Winds W at 10 to 15 mph.
Tonight
Overcast. Low around 65F. Winds NW at 5 to 10 mph.
Tomorrow
Partly cloudy skies in the morning will give way to cloudy skies during the afternoon. High 74F. Winds ENE at 5 to 10 mph.