A Blizzard Warning has been issued Wednesday for Ocean, Atlantic and Cape May Counties and Cumberland County is under a Winter Storm Warning, forecasters say.
Wind gusts 35 to 45 miles per hour will cause drifting snow and white out conditions along the coast on Thursday.
Plowable snow and winds up to 45 mph are ready to take stage across South Jersey between Wednesday night and Thursday afternoon. Three pieces of energy will merge in the Bahamas, becoming hurricane-esque as it moves up the Atlantic Ocean and brushes by. Before the storm starts, here is what you need to know to prepare for the event.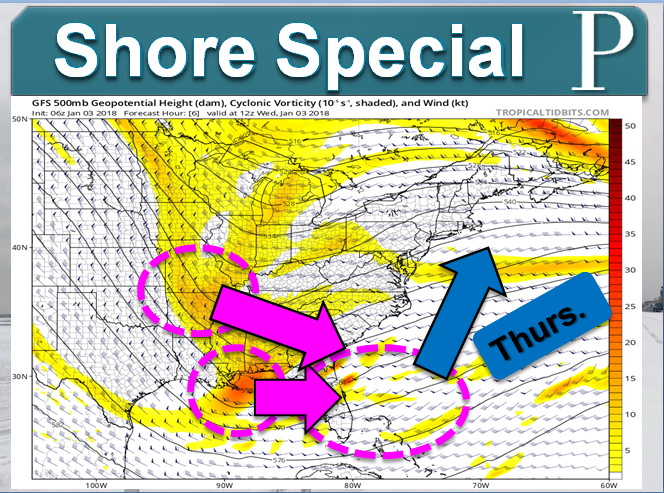 Snow will start between 9PM-12AM, from Cape May to NW Atlantic County. The worst of it will be during the morning, likely from 8AM-12PM. This will made for a tricky morning commute. The snow then ends during the afternoon, from Cumberland County to LBI, between 1PM-4PM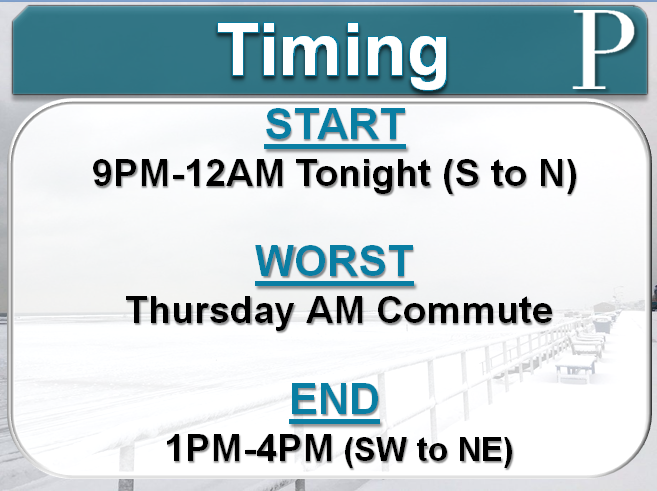 Why do I hear that this storm is like a hurricane?
The reason why you are hearing this is because of how strong and windy the system will be. To be clear, we are not expecting hurricane force winds here, though it will be windy. Sustained winds of 15-30 mph with gusts 35-45 mph will create for blowing and drifting snow. 
The comparison comes from how low the pressure will be. This storm will "bomb" (yes that's a weather word) out. A "bomb" occurs when the air pressure drops 24 millibars within 24 hours. Actually, the pressure will drop around 48 millibars in 24 hours, a double "bomb"! This is a huge feat and speaks to how strong the storm is. 
By the time the storm gets up to South Jersey, it should be around 955 millibars. That's as intense as a category 3 Hurricane! 
So there's more impacts than just snow?
The impacts from this storm reach beyond the snow and beyond Thursday. First, let us go back to the winds. Sustained winds of 15-30 mph and gusts 35-45 mph takes us through Thursday, Friday and Saturday. This will cause blowing snow on Thursday and there could be whiteout conditions along the shore at times. However, the consistent stiff winds threatens to create pockets of power outages and well as break off tree branches. This is happening at the worst time, too, since we continue our polar plunge.
Speaking of, if you thought it was cold before, wait until the weekend. With a fresh snowpack on the ground, skies generally cloud free and a reinforcing shot of arctic air, it will be record-breaking cold. Highs on Friday and Saturday will struggle to get above 15ºF! Lows will be in the single digits or even below zero in the Pine Barrens. Wind chills likely stay below zero as well. Water main breaks and bursted pipes will be an issue if they are not maintained. 
Moving to the water, minor coastal flood stage is forecasted for the Thursday morning high tide. No structural impacts are likely, but unfrozen water can move onto shoreline roadways. Many bays do have ice on them. If that moves onto the roads, detours will be needed. On the water itself, a gale warning is in effect from midnight on Thursday to Saturday morning. A heavy freezing spray watch is also in place from 6PM Thursday to 6AM on Friday. Freezing spray makes boat decks slippery and changing the center of gravity of the vessel. Not a safe day to be out on the water. 
Is this a fluffy or wet snow?
The furthest west you go, the fluffier it will become. Generally, though, it will be fluffy with higher snow ratios likely. Snow ratios could have been even higher, making for higher totals, but the strong winds will help to rip the snow apart. 
If the snow does not stick I would be surprised! Given the very cold air mass, even main roads should have accumulating snow, especially if they are untreated. 
Ok, we're ready for the totals now..
Here we go. As of 3PM, I believe all of Cape May, eastern Cumberland, eastern Atlantic and all of Ocean Counties will have 5"-9" of snow. Western Atlantic and most of Cumberland will be 2.5"-5" of snow. This is an increase from this morning.
The westward track of the storm on the computer models has helped to bump up totals. I could go higher along the coast. However, this westward shift does make the barrier island more susceptible to mixing, which would keep totals down.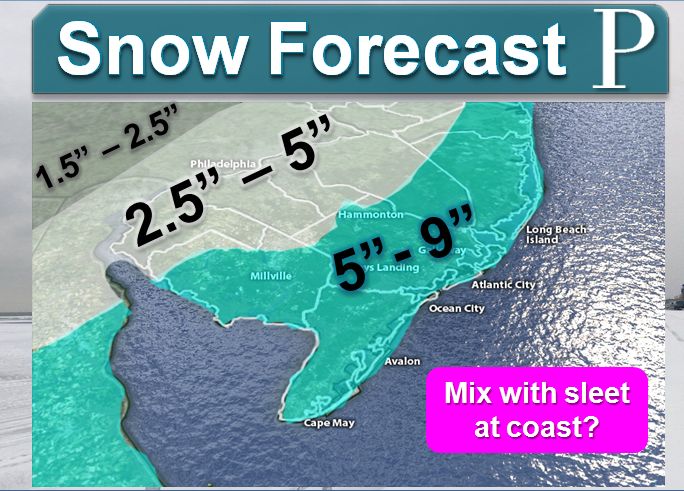 In a word, yes. Bands of snow are likely to set up over the area. Like the December 9th snow, this will produce the higher end of totals under the band, but just next to it, totals are on the lower end. Watch out for this tomorrow. 
While I am in no way a school superintendent, there could be calls tonight for school cancellations, especially along the Jersey Shore. Places west of the Parkway will likely wait until tomorrow morning to make that call. If you know of school or business closings, delays or cancellations, send them to newstips@pressofac.com.
A winter storm warning is in place for most of South Jersey. Four to 7 inches is expected in…
My supermarket is getting empty. Is this a bread and milk storm?
While people in the office said that supermarkets had empty shelves, save some money and skip the grocery store. Maybe you could put that money toward a nice, warm vacation. Just do not go to Florida, because they saw freezing rain and snow on Wednesday. This is a 1% on the Mainland, 2% kind of milk at the Shore kind of storm.