For Thursday, we wake to a clearing sky. Low pressure has now pushed off into Atlantic Canada, with the cold front rolling off the Jersey Shore. This is kicking the clouds, and humidity out. Dew points fell from the sticky low 70s at midnight to the refreshing mid-50s by 8:30 a.m.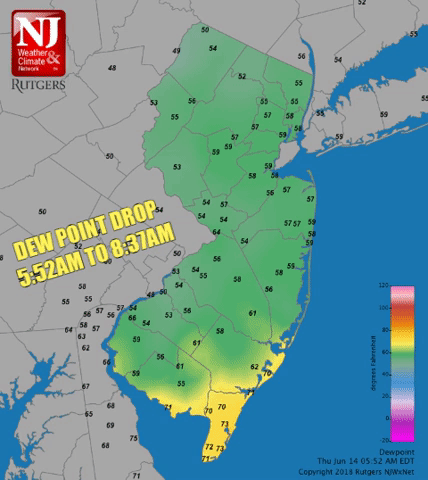 Under plenty of sunshine, high temperatures will reach the mid-80s on the mainland and the upper 70s at the shore. One aspect to watch for Thursday is the fire danger, since we will have low humidity, gusty winds and sunny weather.
The key ingredients for wildfires are gusty winds, low humidity and the dry grass, leaves an…
Thursday night will then be extremely comfortable. It'll be another night of letting the gentle breeze roll in. With a clear sky and light winds, it will be a good night for quick cooling in the Pine Barrens. The mid-50s are expected here, while the shores will be about ten degrees warmer. 
Otherwise, for those along the shore, what a weekend this will be. For the first time since April 20-22, we will have a dry one across South Jersey. High pressure will dominate the landscape during this time, passing overhead Saturday afternoon. The mid-levels of the atmosphere will develop a ridge of high pressure in the center of the country, pumping in the heat. This will then move eastward into early next week.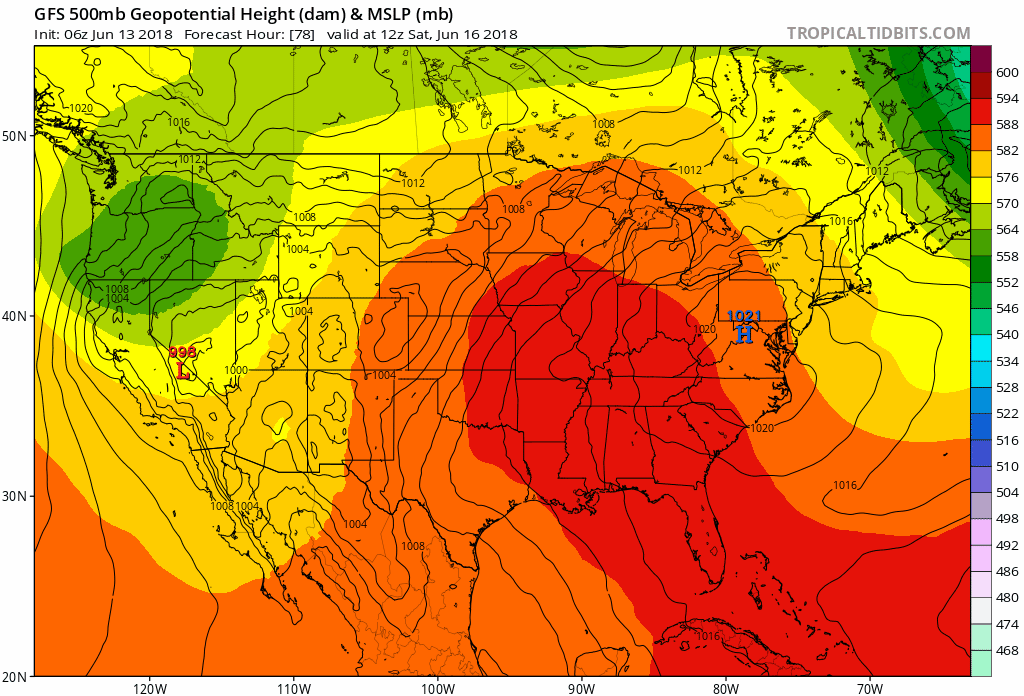 I am going with a sunny to partly sunny sky for Friday, Saturday and Sunday. Temperatures will be in the upper 70s to low 80s on Friday and Saturday on the Mainland, while the shore will be 71-76.
Sunday, with southwest winds, will make the thermometer flirt with 90! This will be the best day for the beach, as highs there will be about 80. Overnight lows will be between 60 and 70 degrees. Definitely T-shirt weather.
The peak heat will coincide with the highest humidity Monday. Highs will be somewhere in the mid-90s under a mostly sunny. Tack on dew points about 70, which are sticky, and it'll feel like the upper 90s. There will likely be heat alerts issued for here. The forecasted high of 95 is one degree shy of the record at ACY. Remember to drink lots of water and with overnight lows 70-75 degrees, please seek the air conditioning. 
Tuesday will continue to the 90s, with a Mainland high of 90 degrees. While cooler, the humidity may even be higher, feeling about the same. Under a mix of sun and clouds, a spotty thunderstorms will pop-off, bringing relief to the region.