Here comes another heat wave moving into South Jersey.
Beginning Sunday, temperatures and humidity will collectively rise. Summer is most definitely far from over. Mainland high temperatures Sunday will reach 90 and the mid-80s at the shore.
Then, they will gradually rise each day until midweek.
A foggy start to Sunday morning will turn into a beautiful day. Morning fog should clear up in a timely manner so the beach day can begin. Convective afternoon storms have a low chance of developing, but Sunday appears likely to stay dry.
The scorching summer heat peaks Monday. Highs will be in the mid-90s. Heat indices are going to skyrocket, so it will really feel like it is 100 degrees outside. This flirts with a potential heat advisory.
A mostly sunny sky will create a blazing start to the new work week. Stay hydrated and take it easy while working outdoors.
Jim Eberwine sat down with me in his "hurricane room" to talk his expertise in weather and h…
The heat will continue into Tuesday. Temperatures are expected to reach the low 90s again. Thunderstorm chances ramp up Tuesday, with a few storms capable of heavy downpours. Higher rainfall rates may induce flooding in some areas.
Storms are also likely Wednesday under a warm and muggy air mass. Partly sunny skies take us through the day with perhaps a storm or two. Temperatures will drop a measly two or three degrees. Expect highs in the upper 80s.
Drier and cooler air finally makes its way in Thursday.
Before the cold front passes, a few showers and a storm could be triggered early in the day. Thursday should see quite a bit more cloud than sun. By night, drier air will settle in, and lows fall to the mid-60s.
Friday and Saturday offer salvation from a sticky week. It will be gorgeous, cooler and mostly sunny Friday. Humidity will be seriously on the decline.
Saturday should deliver brilliant sunshine. So far, it looks like the most important days of the week are a total win.
104 degrees - July 3, 1966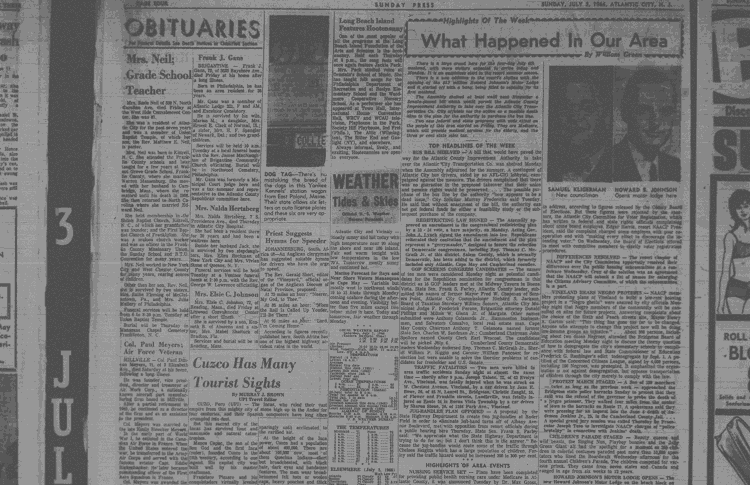 105 degrees - July 22, 2011
105 degrees - July 23, 2011
106 degrees - June 28, 1969
Weeks before the history Atlantic City Pop Festival in early August at the Atlantic City Race Track, the region broiled with a 106 degree thermometer reading. 
As of 2019, the reading still beats the next highest temperature by nine degrees. 
How does that number stack up to the rest of New Jersey?
The 106 degree reading is about as sweltering as it gets in the Garden State. It's near the top of the list for hottest days in recorded history.
Note the list is only taken from official climate stations, with the exception of the top spot, which is verified by the New Jersey State Climatologist. 
Old Bridge - 110 degrees (Official hottest location in New Jersey on July 10, 1936)
Newark Liberty International Airport - 108 degrees 
Atlantic City International Airport - 106 degrees
Trenton - 106 degrees (twice)
Millville - 103 degrees