The National Weather Service has responded by issuing a coastal flood advisory for coastal Ocean and Atlantic counties between 6 p.m. Wednesday to 12 a.m. on Thursday. You can see if you location is impacted below. 
The combination of an extremely high astronomical tide as a result of the Thursday new moon and change in wind direction associated with Hurricane Chris will make for rounds of coastal flooding starting Wednesday. 
Coastal residents, renters, day-trippers and commuters can anticipate brief, localized road closings. The first block or two of susceptible bayshore roads may have water on them as well in the hours near the nighttime high tides. The National Weather Service advises:
"Do not leave your vehicle at a location that is prone to tidal flooding. Do not drive your vehicle through flood waters. The water may be deeper than you think it is. You will be putting yourself in danger and your vehicle may be damaged...leading to costly repairs."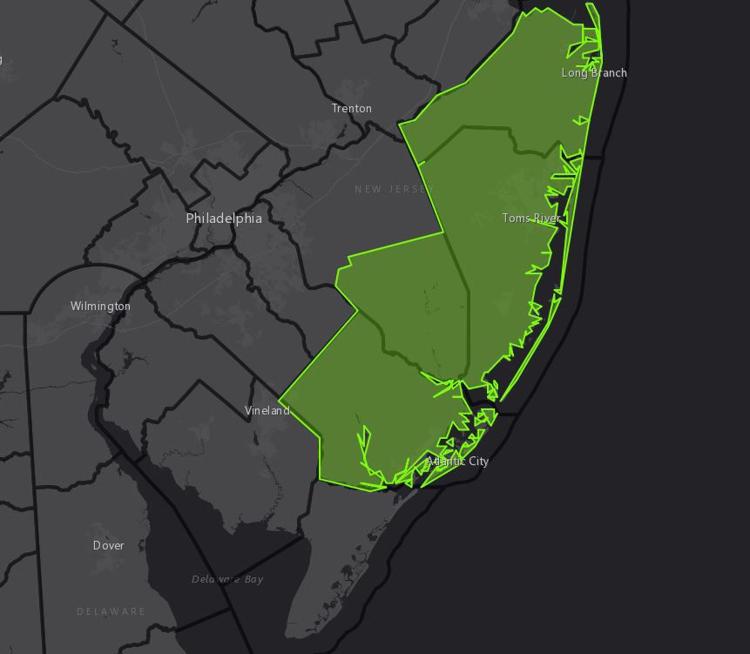 Minor coastal flooding is anticipated to begin during the Wednesday evening high tides for the Atlantic Ocean and last until Friday evening. The bays will begin to have spotty flooding Thursday evening, though not all bays will be affected. This will last until either Friday or Saturday evening. It is important to note that even though Cape May County and the Delaware Bay are not included, they will see minor flood stage waters too. It just does not meet the NWS' criteria for advisory level flooding. 
We can thank the position of the moon for this. The new moon will coincide with its closest approach to the Earth, also knows as perigee.
"The gravitational pull of the moon will be stronger than average, hence the higher tides," Anthony Broccoli, professor of meteorology at Rutgers University has previously said.
The time between each new moon is about 29.5 days, while the time between perigee to perigee is 27.3 days.
"It just so happens that they will occur at about the same time over the next few months," Broccoli said.
This brings the astronomical tide, which is what the tide level would be minus atmospheric and weather factors, close to minor flood stage. In Atlantic City, the Thursday evening astronomical tide is 5.73 feet, just 0.27 feet, or around 3 inches, shy of minor coastal flood stage. Friday's is expected to be 5.81 feet.
Chris will help push waters into flood stage. The counter-clockwise spinning system will change winds from the northwest Tuesday to an easterly direction Wednesday afternoon. This is expected to continue until Friday. While winds will not be strong, it will add an extra 0.4 feet of water to Atlantic City for the 7:42 p.m. Thursday evening high tide, bringing water levels to 6.1 feet and above the 6 feet needed for minor flood stage.
You can see if and when your location will experiencing tidal flooding below.