I don't remember exactly when it was, sometime during the holidays in 2017. I was still full of enthusiasm and eagerness. After all, the ability to reach out to you was something fresh as we went into the new year, my first full one at The Press.
The thought of "I forecast for these places, but let's actually get out and hear from the locals" kept itching at me. After all, weather is found in all nooks and crannies of the state.
So I pitched an idea to Managing Editor Buzz Keough: Let's visit all 63 towns, in under 365 days. He gave his blessing. I was pumped for the challenge.
We got to work. Mike DellaVecchia, our digital director, created the backbone of our On The Road website. Krishna Mathias, our graphics designer, found a way to combine our "Where to Live" real estate section with the answer to "What makes this town a South Jersey Special?" which was the central question I sought to answer.
Oh, and we needed a name. "On The Road with Joe" it was.
So off we went, Jan. 18, 2018. First stops (63 towns, averaging one a week would mean doubling up), Shiloh and Stow Creek Township in western Cumberland County. Never heard of them until I started here. Still, I wanted to begin there. If you haven't been, it's big-sky country, with farmlands that stretch as far as the eye can see.
We pulled up to Stow Creek Landing. You couldn't hear a thing on this frigid January day. The water was frozen from one of the longest cold streaks in recorded history.
Mayor Randy Dickinson met us there in his truck, plaid shirt and work jacket. He was down to earth, humble and even cracked a few jokes. In the video, we figured out whether it was "crick" or "creek" (crick for the natives). Then,
"What makes this town a South Jersey Special?" I asked.
"We're small, and we're proud of it," the mayor said.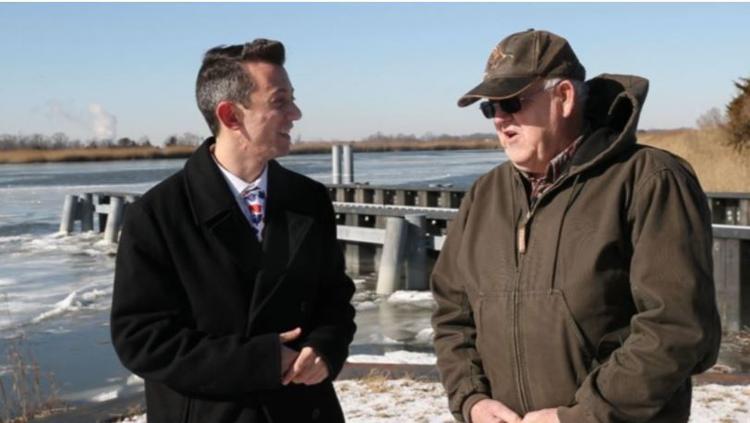 Dennis Township Mayor Zeth Matalucci reached out to me right after that first shoot to do an episode at Dennis Township Primary School. Lorie Sailor, a teacher at Frog Pond Elementary School in Little Egg Harbor Township, messaged me, too. We had a third episode in February. Thank you to both of you. It gave us early momentum.
"On The Road" helped bring part of my life full circle. I reconnected with my third-grade teacher, Mrs. Abel, at Washington Avenue Elementary School in Pleasantville, nearly 15 years after I last saw her. Since our reunion, I've been back there a handful of times and enjoyed connecting with the students.
Meteorologist Joe Martucci speaks to students at Washington Avenue Elementary school
Joe Martucci delivers a presentation to the 3rd grade students at Washington Avenue Elementary school. The children answers some weather questions using various weather charts. 10/24/2018 Press of AC
As the seasons changed, so did our themes. We went to strawberry fields in Deerfield Township and attended a Jersey Fresh event at Sheppard Farms in Lawrence Township.
Summer brought us many shore visits. We previewed America's largest crabbing tournament at the Assault on Patcong Creek in Somers Point and celebrated the Fourth of July in Galloway Township. We went to five Long Beach Island towns in August alone.
Autumn brought us back to the mainland. We celebrated Halloween in Northfield and Linwood, and did a football-themed episode with the Millville and Bridgeton high school squads.
As the home stretch came, we had our only slip-up of the year in December.
We were supposed to do a combination episode in Buena at the Saint Padre Pio Shrine and Buena Vista Township with Mayor Chuck Chiarello. The Buena Vista part was fine, and we appreciated the mayor's time. However, the audio cut out on that windy day outside at the shrine and we had to re-shoot. Thankfully Ali Dandrea, granddaughter of Marie Dandrea, the founder, was game for us to come back. We had no problems the second time around.
Then, 350 days after we began, we made our last stop at the Harbor Square Theatre in Stone Harbor. Driving over Stone Harbor Boulevard to the Garden State Parkway didn't feel any different, though. I knew it was over, it just felt like such a part of my life that I couldn't shake it.
Your response was positive, not only during the conclusion of it but throughout the series. There was a point where the latest episode was the most watched weather video three weeks in a row. I can't thank you enough for that. I hope you learned a little something from each town, and maybe paid them a visit.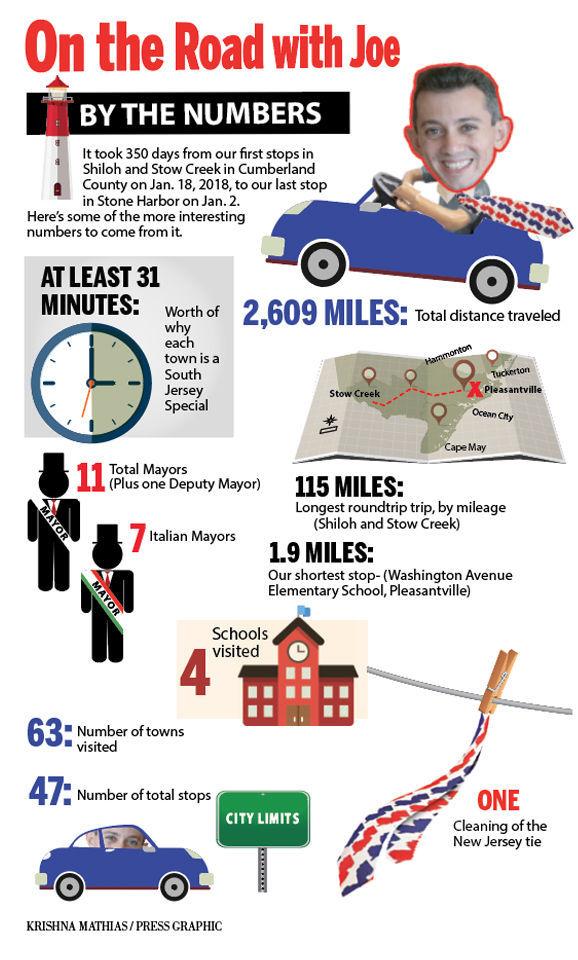 On The Road is over in its current, road-warrior form, but that doesn't mean it's done forever. We'll be taking a winter break during January, but expect us back out in February, taking part in the memorable events and places that make South Jersey home.